United Kingdom Janáček, Katya Kabanova: Soloists, Staatsopernchor Berlin (chorus director: Martin Wright), Staatskapelle Berlin / Thomas Guggeis (conductor). Staatsoper Unter den Linden, Berlin, 12.10.2019. (MB)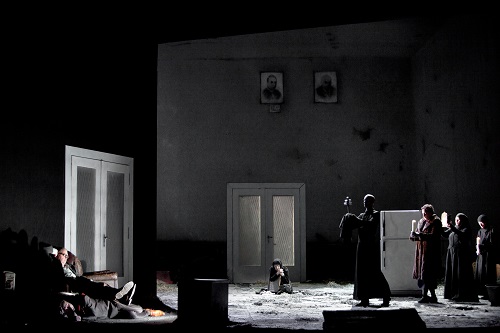 Production:
Director – Andrea Breth
Set designs – Annette Murschetz
Costumes – Silke Willrett, Marc Weeger
Lighting – Alexander Koppelmann
Cast:
Katěrina Kabanova – Eva-Maria Westbroek
Marfa Ignatěvna Kabanicha – Karita Mattila
Varvara – Anna Lapkovskaja
Boris Grigorjevič – Simon O'Neill
Váňa Kudrjáš – Florian Hoffmann
Tichon Ivanyč Kabanov – Stephan Rügamer
Savël Prokofjevič Dikoj – Pavlo Hunka
Kuligin, Passer-by – Viktor Rud
Glaša – Emma Sarkisyan
Fekluša – Adriane Queiroz
Woman – Liane Oßwald
Given the success of Andrea Breth's Berlin Staatsoper production of Wozzeck, it was perhaps not surprising to emerge from this Katya Kabanova feeling similarly drained. It had not previously occurred to me to consider the points of affinity between these two tragic operatic masterpieces of similar length, written at a similar time – Berg started composition considerably earlier and completed his work later – but Breth's approach played a suggestive role. For redemption, spiritual uplift, any such glimmer, one would likely have sought in vain – certainly at its conclusion. Where Wozzeck's expressionism was tempered or expanded by something one might characterise, with certain reservations, as realism – not that the opera 'itself' lacks that too – here it is perhaps the other way around, Janáček's drama extended in its final act by something that, if not quite expressionistic, certainly went beyond the realm of realism as conventionally understood. The storm and its aftermath are, in any case, clearly not intended purely in meteorological terms; here, however, Breth's ritualistic stylisation affords opportunity, without abdication of tragic content, for a form of starkness somewhat different from that more readily encountered.
There, as at the opening, we see action, movement, that seems either to tend towards or away from a tableau: secularised, doubtless, like Janáček's outlook itself, yet not without a sense, for better or ill, of the religious. This, it seems, is a grim, difficult world in which women especially, but many men too, are cowed by social and political rather than more strictly theological constructs. 'Modesty' of female dress is clearly no matter of choice; likewise, the shrouded identity, if one may call it that at all, of many of the women we see. Repression and hypocrisy are, at least in considerable part (for perpetrators, that is, not for victims). And, of course, whatever the social similarities Breth suggests with Wozzeck, heightened by a destitute Eastern Bloc setting perhaps even going beyond that chosen by Christoph Marthaler for Paris several years ago, a major distinction remains the centrality of women to Janáček's opera.
If anything, Breth pushes that further. We see Katya treated to the point of torture by domestic incarceration in a cupboard (or is it a refrigerator?). We witness perhaps a truly formidable Kabanicha, a fur-clad Karita Mattila, rule the roost and let her guard down in private: second-act drunkenness leading to an extraordinary scene with Dikoj, in which, rather than reject his advances, she joins him on the dinner table to masturbate him, only to react with anger when his stamina proves insufficient for her needs. And we see, likewise at beginning and close, a small girl led across the stage in quasi-religious procession. Who is she? Is she one of the female characters, whose life might have turned out differently, had it not been for this vicious society and ideology? Is it a baby girl Katya might have lost? There are various possibilities open to us; if only there had been to her.
A particular strength of Thomas Guggeis's conducting of the Staatskapelle Berlin lay in kinship with Breth's conception. No one in his right mind would eradicate Janáček's lyricism from the orchestra, let alone from the vocal line. (How could one, anyway?) That said, these remained brief moments of thwarted possibility amongst a notably dark account of the score, its niggling motivic, even cellular, possibilities pointing already to the Dostoevskyan world of From the House of the Dead. If there were times, especially during the first act, when I missed a little in the way of more conventional musical narrative, it seemed to me that this was very much an aesthetic choice – and one that had me ask why, the answers seeming more than justifiable in context. When the storm came, the unleashing of orchestral power – almost a tone poem with voices – said what must be said. As, of course, in her conception, did Kabanicha at the close.
Mattila's delivery of her final line, thanking the people for their efforts, offered an unanswerable summation not only of her richly expressive vocal portrayal; not only of her imperious stage presence, unquestionably possessed of a complicated back-story concerning whose nature we could only speculate; but also of work and tight-knit production as a whole. Equally impressive was Eva-Maria Westbroek in the title role, a character whose soul as well as her vocal line would constantly take flight, as much in societal repression as in those few, rare – in every sense – moments of free expression. Katya's, Westbroek's, and Janáček's humanity shone through, extreme difficulties notwithstanding, indeed in many ways very much on their account. Simon O'Neill, if a little lacking in stage credibility, sang clearly and convincingly as Boris. Florian Hoffmann and Anna Lapkovskaja made for a lively, engaging pair of 'secondary' lovers; at least there was some hope remaining of matters turning out better in their case. Pavlo Hunka's Dikoj and Stephan Rügamer's Tichon proved keenly observed throughout. All, then, contributed intelligently and movingly to the greater dramatic conception. What a conception that continues to be.
Mark Berry