United Kingdom Donizetti, Don Pasquale: Soloists, Chorus and Orchestra of the Royal Opera House, Covent Garden / Evelino Pidò (conductor). Royal Opera House, Covent Garden, 14.10.2019. (CC)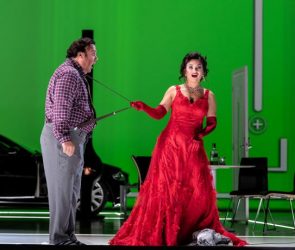 Production:
Director – Damiano Michieletto
Associate Director – Gilles Rico
Set designer – Paolo Fantin
Costume designer – Agostino Cavalca
Lighting designer – Alessandro Carletti
Video designers – rocafilm
Cast:
Don Pasquale – Sir Bryn Terfel
Ernesto – Ioan Hotea
Doctor Malatesta – Markus Werba
Norina – Olga Peretyatko
A Notary – Bryan Secombe
Is it sacrilege to suggest that Don Pasquale is as fine a piece – or finer – than L'elisir d'amore? Certainly, Pasquale is magnificently constructed, and pits moments of high comedy against true emotion and, in the right hands, can astonish. Anyone who has come across Salvatore Baccaloni in the title role can see what a gem of a piece this is (I am thinking of the 1946 Met performance with Bidu Sayão as Norina and John Brownlee as Malatesta, memorably remastered and reissued by Immortal Performances a couple of years ago).
So, immediately how much of a helping hand the score needs is up for discussion. Damiano Michieletto seems to think it needs a lot: video projections and Muppet puppets, not to mention totally gratuitous mobile phone humour. After the puppet show is over, the puppets are re-used by Sir Bryn Terfel and Markus Werba in their duet – recycling of a not so laudable nature, possibly.
The stage is minimalist: characters walk through doors that are not attached to walls and the shape of the house is achieved via strip lighting. That minimalism, though, does not stretch to a real car that manages to take centre-stage at one point. A non-speaking role for a maid offers humour (a bit Fawlty Towers). But it all feels rather effortful.
The contrast between ramshackle bachelor house and a forensically clean-cut space after the match is achieved between Don Pasquale and Norina is definitely effective. Norina's narcissism is shown via an on-stage TV camera that shoots her against a single colour background – her image is projected onto a larger screen at the back, against, for example, Nature. She simply has to be the centre of attention. All credit to the expertise of rocafilm (Roland Horvath and Carmen Zimmermann) for the video machinations, but one has to wonder is it all necessary?
No such interventionist problems from the pit with the incredibly experienced Evelino Pidò in charge, who conducted a memorable Gounod Faust in 2011. He was absolutely in his element, inspiring glorious ensemble playing from his orchestra and superb solos (not least from the trumpet). His sense of pacing over Donizetti's large spans (Acts I and II together took 85 minutes, Act III alone 45) ensured the music made sense on a global level as well as illuminating many minutiae.
Cast-wise, there are some surprises. What was not a surprise was Bryn Terfel's excellence in the title role. This was his role debut, but it felt as he had inhabited the role as long as he had clearly inhabited the dressing gown he wore. Terfel's comic-book expressions were beautifully judged – he is as lovable here as he is in Falstaff. The voice might not be quite as commanding as it once was, but it remains an imposing instrument.
How wonderful, in one sense, that he was equalled by his Norina – wonderful in that this should not necessarily be a one-man show. Olga Peretyatko, a Russian-German soprano who was making her Covent Garden debut, was simply spectacular, relishing the attentions that were lavished upon her, throwing herself into the costumes and posing, and singing simply like an angel. Her voice is agile yet expressive. Just occasionally, the coloratura could have been a touch freer, but one wonders if that will not come as the run progresses, anyway. Her lower register is full and firm. For her, the evening was a triumph, and one itches to welcome her back.
Terfel's Pasquale was well matched by Werba's Doctor Malatesta. Both of them are patter-experts, and Werba has a commanding way with the stage (if he is not quite as expert at comedy as Terfel). Bryan Secombe made the most of the Notary.
But the disappointment was the Ernesto of Romanian tenor Ioan Hotea, who simply sounded strained and, often, at sea. His voice has a hard edge, and it was difficult to find a resonance or sympathy with his character. He improved in the second act, finding more musical expression (as he hugged his teddy bear).
While the production (to be seen in cinemas on 24 October) also seeks to deepen some aspects of the characters (Don Pasquale sometimes carries a picture of his mother, suggesting the tie was never broken), it is over-fussy and too clever for its own sake. Bravo to Pidò, Terfel and, in particular, Peretyatko for creating such magnificent music.
While there are elements that need to settle in, it is that feeling of being crowded by a production over-powering Donizetti's text that is the real problem here. Go for the music, though, and there is plenty to enjoy.
Colin Clarke
For more about performances at the Royal Opera House click here.