Switzerland Verdi, Aida: Soloists, Choir of Grand Théâtre de Genève (chorus master : Alan Woodbridge), Orchestre de la Suisse Romande / Antonio Fogliani (conductor), Grand Theâtre de Genève, 12.10.2019. (ALL)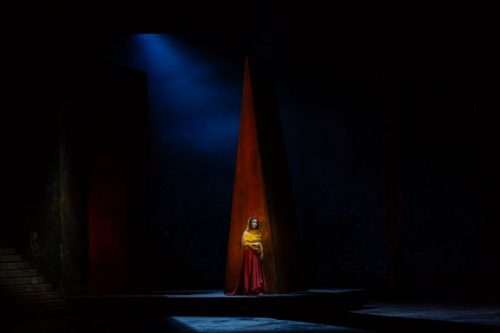 Production:
Director – Phelim McDermott
Assistant – Joe Austin
Scenography – Tom Pye
Costumes – Kevin Pollard
Choregraphy – Basil Twist
Lighting – Simon Trottet
Cast:
Aida – Elena Stikhina
Radames – Yonghoon Lee
Amneris – Marina Prudenskaya
Amonsaro – Alexey Markov
Ramfis – Liang Li
The King of Egypt – Donald Thomson
A Messenger – Denzil Delaere
High Priestess – Claire de Sévigné
It is never a good sign when the opera director appears on stage, microphone in hand at the beginning of a performance. Aviel Cahn, the dynamic and innovative new director of the Grand Théâtre quickly reassured the audience of the good health of the artists but explained that rehearsals had been made difficult because of a faulty security system which twice flooded the stage. He praised the efforts of the Grand Théâtre team and the Swiss Romande Orchestra, who worked until the last minute so that this performance could take place.
Indeed they deserve to be applauded, but it is likely that the many unfortunate incidents had an adverse impact on the evening. In most opera houses, productions gain strength and polish the more they are performed. Orchestra and singers learn how to balance themselves and coordination always improves, allowing expression and dramatic tension to develop. However, this felt very low voltage for such a dramatic work. Singers and chorus weren't quite there yet. All the notes were accurate, but expression was too restrained, as if it were a dress rehearsal.
This was a pity as the cast is definitely of high quality. In the title role, Elena Stikhina, who sang Medea in Salzburg, has a superb voice for Aida with plenty of color and volume. Her 'Numi, pietà' had some lovely floating pianissimo notes. By her side, Yonghoon Lee's Radames was somewhat less at ease with softer passages but displayed impressive, powerful high notes. Marina Prudenskaya was slightly overpowered, reminding us that the Grand Théâtre is a big stage to fill. Alexey Markov (Amonasro) and Liang Li (Ramfis) had Verdian phrasing. Claire de Sévigné is a member of the Grand Théâtre's Young Ensemble and had a small part as the High Priestess, but she made quite a lot of it. She will appear in several productions throughout the season, in roles such as Blondchen from Mozart's Entführung as well as the Angel in Messiaen's Saint François d'Assise and seems a talent to look out for.
The orchestra played with care for Antonio Fogliani, who was making his debut in Geneva. The chorus, which is usually one of the assets of the Grand Théâtre, was however lacking in presence and will likely improve with further performances. The staging, a co-production from the English National Opera and Houston Grand Opera, was rather pale. Costumes were imaginative and there was little to complain about, but little that was amazing. In the end, one was reminded that Aida contains some glorious music but as a story lacks the dramatic qualities of other Verdi masterpieces such as Otello, Falstaff or Don Carlo.
Aviel Cahn has designed a thought-provoking season with a series of works reflecting many aspects of Geneva. The season started with Philip Glass's Einstein on the beach in reference to Geneva's CERN. This was a bold choice, which met with great success and attracted a young audience to the Grand Théâtre for the first time. Radames's freeing of the prisoners of war is a direct reference to the Geneva Convention. Further operas will include Meyerbeer's Les Huguenots, a natural choice for Calvin's city. More than a nod is given to modern opera with Christian Jost's refugee-related opera Vers l'espoir and the first Swiss performance of Messiaen's Saint François d'Assise with the Swiss Romande Orchestra under the baton of Jonathan Nott.
As a whole, this premiere may simply have suffered from a case of bad luck. Productions in Geneva tend to come into their own and this Aida has the potential to become a genuine winner. Make no mistake: the positive energy emanating from the Grand Théâtre will not be dampened by a few inches of water.
Antoine Lévy-Leboyer
For more about what is on at the Grand Théâtre de Genève click here.