United States Mozart, Bruch, Montgomery, Haydn: Amit Peled (cello), CityMusic Cleveland / Amit Peled (conductor), St. Stanislaus Church, Cleveland, Ohio, 19.10.2019 (MSJ)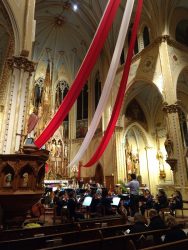 Mozart – Symphony No.35 in D major, K.385, 'Haffner'
Bruch – Kol Nidre, Op.47
Jessie Montgomery – Strum
Haydn – Symphony No.104 in D major, 'London'
This concert was an auspicious debut for Amit Peled as music director of CityMusic Cleveland. More known as a cellist — and particularly as the person who for a number of years played Pablo Casals's 1733 Goffriller cello — Peled is also an accomplished conductor and teacher.
With Peled's background as soloist, it was ideal to include that calling card on his opening program — and with Max Bruch's Kol Nidre, a creative setting of a traditional Jewish chant associated with Yom Kippur. As a preface, Peled offered a compact but highly informative tour with orchestral examples, demonstrating the work's growth from opening platitudes to true fervor. The result was incandescent, and Peled's tone penetrated through the generous acoustic of Cleveland's St. Stanislaus Church. The orchestra was with him every step of the way, demonstrating that the piece is, by some distance, Bruch's best composition.
Showing what freshness he can bring, Peled opened the second half with a work by Jessie Montgomery, a 38-year-old American composer. Strum is delightful, compelling in its rhythmic verve. While it is tonal — or at least modal, in its harmonies — it is at times angular, sometimes dissonant, and always unpredictable, striking a balance between approachability and ingenuity. Montgomery is a voice I hope we hear more of, and in the tricky score, the orchestra was deft and joyous.
Referencing the concert's theme, 'Between Two Giants,' were the evening's bookends, two traditional favorites by Mozart and Haydn. Mozart tends to get all the press about being a genius — and don't get me wrong, I love his Haffner Symphony — but it's not as great as Haydn's Symphony No.104, the last of his works written for a pair of excursions to London. The Mozart is extracted from movements the composer wrote for a serenade, and that origin determines its overall style: straightforward, cheerful, bright, and in primary colors, though those were muted in the cathedral acoustic of St. Stanislaus. Nevertheless, Peled made no concession to the surrounding acoustic and set brisk tempos throughout, blurring the passages of frantic fiddling in the opening and closing movements. That said, the conductor applied an informed sense of period style, which would have come off crisply in less reverberant venues.
In the Haydn symphony, the wider range of orchestral shades felt more at home in this acoustic, which made the first movement introduction sound grave and grand. The performance again showed a fine sense of style with vigorous tempos, and the players responded urgently to Peled's insistent drive, which in authentic classical style relaxed between structural sections, avoiding a sense of being harshly driven.
In his opening talk to the audience, Peled spoke of future ideas he hopes to incorporate at CityMusic Cleveland, including ways to break down the barriers between musicians and audiences. 'We are just like you,' he said. 'We have mortgages to pay, divorces, good things, bad things. We are no different.' He spoke of removing stale customs such as banning between-movement applause, hushing cell phones, and poking sleepers, and adding such things as inviting the audience to join in on Bach chorale sing-alongs. With his bold ideas and eager leadership, Peled stands ready to bring CityMusic Cleveland into the future.
Mark Sebastian Jordan