United Kingdom Shakespeare, As You Like It: Royal Shakespeare Company, Barbican Theatre, London, 29.10.2019. (CS)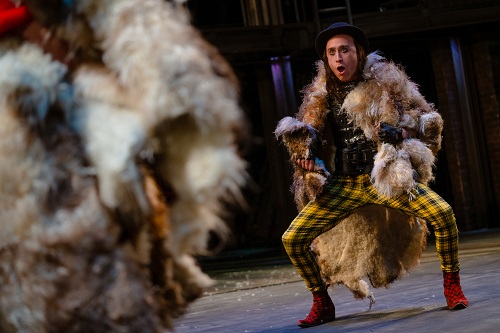 Creative team:
Director – Kimberley Sykes
Set Design – Stephen Brimson Lewis
Costumes and Lighting – Bretta Gerecke
Music – Tim Sutton
Sound – Jonathan Ruddick
Movement – Ayse Tashkiran
Fights – Rachel Bown-Williams, Ruth Cooper-Brown
Puppetry – Mervyn Millar
Cast:
Rosalind – Lucy Phelps
Duke Senior/Duke Frederick – Antony Byrne
Orlando – David Ajao
Celia – Sophie Khan Levy
Touchstone – Sandy Grierson
Amiens/Le Beau – Emily Johnstone
Oliver – Leo Wan
Jaques – Sophie Stanton
Silvia – Amelia Donkor
Phoebe – Laura Elsworthy
Corin – Patrick Brennan
Charles/Lord – Graeme Brookes
Adam – Richard Clews
Audrey – Charlotte Arrowsmith
William – Tom Dawze
Jaques de Bois/Dennis – Aaron Thiara
Martext – Karina Jones
Lord – Alex Jones
Kimberley Sykes' production of As You Like It has opened the RSC's Barbican season in exuberant and engaging fashion – albeit in a manner which emphasises the play's comedic physicality rather than its thematic seriousness.
Above all, Sykes seeks to harness Shakespeare's use of metatheatre to explore 'human reality' to her own purpose.  Thus, Duke Senior's attempt to console the melancholy Jaques – "Thou seest we are not all alone unhappy./ This wide and universal theatre/ Presents more woeful pageants than the scene/ Wherein we play in" – and the contrarian's celebrated response, reminding us that "All the world's a stage,/ And all the men and women merely players", is used by Sykes as justification and prompt to repeatedly break down the fourth wall … though it is infrequently in this production that such devices illuminate the relationship between the protagonists' retreat to the "golden world" of Arden and universal human experience.  The poetic function of Jaques' 'wise' words is, after all, to set the human endeavours of the play within the context of time, in keeping with the play's themes of mutability and mortality.
Stephen Brimson Lewis's design is, however, both simple and appealing.  The "edenic orchard" from which Orlando and Adam will be expelled is a plain circle of green; a rope fence will transform it into a wrestling ring for Orlando's bout with the pugilistic Charles.  The transference from the court to the forest of Arden takes us not to an atemporal pastoral idyll, however, but rather 'backstage', the wood and its creaturely inhabitants replaced by costume rails and behind-scenes carousing and commotion.
I'm not sure that I found this dismissal of the pastoral mode entirely convincing – particularly in relation to the metatheatrical dimension of the play.  It seems to me that Shakespeare's parody of the pastoral explores the implications of artifice and generic convention; and, as some critics have proposed, the deliberate artifice reminds us that the characters' experience in the play reflects our own experience of the play.  They withdraw from their "working-day world", as do we, to a pastoral Arden, and they and we both return with a new understanding: 'the play is our Arden'.  Thus, when Duke Senior asks, "Are not these woods/More free from peril than the envious court?", his question suggestions that Arden is superior to the "painted pomp" and (theatrical?) artifice of the court.
That said, the 'back-drop' of the gracious 'fan' of the greenwood tree – which stands for man's rites of passage: birth, copulation and death – is an effective focus, one enhanced by Amiens' song even while the latter's gentle ironies are not always honoured.  Indeed, the songs – and As You Like It has numerous – are, here, more generally part of the riotous backstage behaviour rather than evocations of the forest and subtle but sad reminders of the characters' banishment.
Bretta Gereckes' lighting design is also problematic.  We begin in darkness: presumably a metaphor for the injustices and fear which pervade the court.  Our transference to Arden is accompanied by the turning up of the house lights.  Does this suggest illumination and truth?  Perhaps.  But, the 'scheme' is not consistent: Rosalind clicks her fingers to brighten the stage, but she is not always speaking honestly when she does so.  Then, Shakespeare's Arden is itself an ambiguous "golden world" where Duke Senior and his subjects "fleet the time carelessly".  In fact, as soon as Duke Senior learns that he can reclaim his dukedom and restore the lands of his lords who "have endured shrewd days and nights" with him in Arden he does so, abandoning the pretence that "the uses of adversity" are fortunate.  Eager to enjoy his "returnèd fortune", Duke Senior rejects Amiens' declaration, "I would not change it", and abandons the pastoral idyll, echoing Touchstone's honesty, "Now am I in Arden, the more fool I.  When I was at home I was in a better place."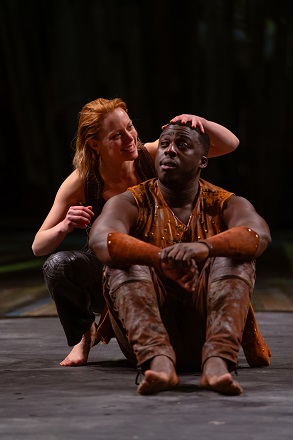 The glaring house lights are, however, part of Sykes' determination to involve us all in the drama, for she contrives several opportunities for audience participation.  Orlando has pinned his verses, each ending with a rhyme on his beloved Rosalind's name, to the forest trees.  While Shakespeare mocks the innocent intemperance of his besotted lover through Orlando's contrived elongated vowel-rhymes – "Let no face be kept in mind/But the fair of Rosalind" – there is no suggestion that his passion is insincere, only that it must be complemented by acquired self-knowledge and experience.  When several audience members are called onto the stage to hold up letter placards spelling Rosalind's name, the romance dissolves.
David Ajao's Orlando is, though, appropriately puppyish and impetuous, conveying the bliss, and coyness, of 'first love', although in his enthusiasm some of Ajao's lines are a little rushed and swallowed.  Lucy Phelps relishes Rosalind's physical exuberance: hers is a performance of unaffected spontaneity – a high-spirited openness shared by Sophie Khan Levy as Celia.  Initially the two lasses are party-girls out on-the-town, in their glad rags, prosecco-quaffing, their eyes peeled for 'talent'.  Phelps uses her face expressively: her 'nudging' winks and raised eyebrows make us complicit in the counterfeit and artifice, but she also communicates the genuine torments of love.  This Rosalind's mental and physical agility is thus matched by a convincing philosophical bent.  If she is an analyst of romantic love, then Khan Levy's Celia is her resourceful and confident associate, though Khan Levy's projection is not always sufficiently vigorous.
Antony Byrne's Duke Ferdinand is a volatile and vindictive egoist – and, aren't we familiar this this 'type' these days … Byrne puts the blank verse to imperious service when he banishes Rosalind and dismisses Orlando, but is no less eloquent as Ferdinand's estranged brother, Duke Senior.  And, the latter is well-served by Emily Johnstone's Amiens, who sings most beautifully.
Leo Wan is evidently motivated by malicious sibling rivalry: after his testament to Orlando's gentility and nobility, "of all sorts enchantingly beloved", he recognises his own weakness and shortcomings, fading into snivelling insignificance.
Gender fluidity is, of course, integral to the play; but Sykes pushes it as far as it will go without – just about – breaking.  Sophie Stanton evinces an air of sophistication as the 'moral philosopher', Jaques, though the latter's wisdom neither prods nor probes with sufficient vigour as the production keeps Jaques in the side-lines.  The melancholic moraliser may be contemplative, but he is not anti-social; indeed, his self-conscious posing and semantic calculating require an audience, so it's a pity that Stanton isn't invited to engage more integrally.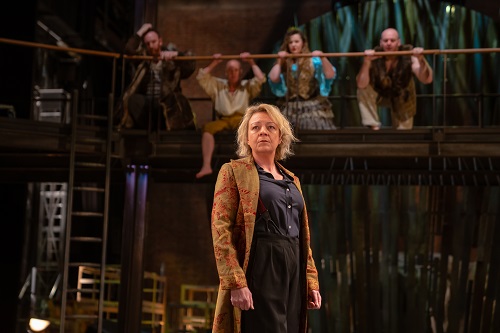 The misguided lovers, Silvius and Phoebe, here become Silvia and Phoebe.  A programme article by Melissa E. Sanchez, associate professor at the University of Pennsylvania, suggests that this gender bending is justified by the words of Hymen in the final scene masque.  As Hymen essays to "make conclusion/Of these most strange events", she remarks:
(To Rosalind and Orlando): You and you no cross shall part.
(To Celia and Oliver): You and you are heart in heart.
(To Phoebe): You to his love must accord/ Or have a woman to your lord.
And so, says Sanchez, Hymen suggests that 'same-sex union may not be so impossible after all' for the 'distance between "must" and "or"' intimates 'the possibility of marriage between two women, one already anticipated by Celia's declaration that she and Rosalind are 'one' and cannot be 'sundered'.  Mmm.  I would not question that Rosalind's epilogue mischievously exploits As You Like It's trans-sexual disguise: in Shakespeare's time, the boy actor, playing a girl, would metaphorically or literally step out of their female garb and declare, "I charge you, O women, for the love you bear to men, to like as much of this play as please you […]  If I were a woman, I would kiss as many of you as had beards that pleased me …"   But, Hymen's verse surely celebrates both the cosmic and the social importance of marriage, connecting celestial and terrestrial harmony: "Then is there mirth in heaven/ When earthly things, made even,/ Atone together."  The symmetries of the lines quoted above represent the interlocking planetary spheres, celestial harmony being echoed by social harmony.  As Duke Senior says, "Play, music. — And you brides and bridegrooms all,/ With measure heaped in joy to th' measures fall.  To return to the theme of human mutability and mortality, it is our physical reproduction, through wedlock, that ensures our perpetuality.  The rather ungainly presentation of the two pastoral lovers – the verse of Phoebe and particularly Silvius/Silvia does have real elegance – denies the sincerity of the instinctive love which is a central aspect of the pastoral genre; and, the intrinsic irony of their lines is lost.
Which brings me to Sandy Grierson's Touchstone, a riotous, even lawless, satirical nonsense-mongerer, startling in sequined tunic, chequered trousers and lanky wig, complete with bald pate.  Grierson's energy is enervating – he swings like a trapeze artiste, balancing a suitcase dexterously on his ankle, from a balcony, landing with the grace of an acrobat – but, while one can't deny the virtuosity of the performance, Grierson increasingly threatens to overwhelm the production.  Certainly, Touchstone evidences shrewdness, but his 'scholarship', while slickly expressed, is illogical.  He really is "Nature's natural" and "motley fool" and his wit serves nothing but nonsense – as Corin, whose own euphuistic utterances make simple 'sense', comes to realise.  Touchstone's satire is the double-talk of the failed philosopher and highlights the artificiality of the court to which he would return.  And, in any case, such satire is not needed in Arden.  To make Touchstone, through his sheer physical and linguistic dominance, the 'touchstone' of reason, as Sykes appears to attempt, seems incautious.
And, thus, the production becomes increasingly anarchic, Charlotte Arrowsmith's deaf Audrey and her besotted William joining in the boisterousness and brashness. The masque must provide formal resolution: but, instead of the entrance of one of the characters – a Lord, Amiens or Corin, or even Sir Oliver Martext (here, naturally, Martext, a clergywoman) – in the guise of a robed, crowned Hymen, to present Rosalind before her father, Sykes gives us a magical, monstrous-sized deus ex machina.  It's a visually impressively coup de théâtre, no doubt, but does little – as it surely should – to make the play that we've just seen more 'real'.
Rosalind's final speech does have some gravitas; and, finally, there is some acknowledgement of the play's philosophical examination of the values of romantic love.  But, it's rather too late.  As the esteemed critic Frank Kermode said, 'unless we see that these mature comedies are thematically serious we shall never get them right'.
 Claire Seymour