United Kingdom Angela's Ashes – The Musical (music and Lyrics by Adam Howell, book by Paul Hurt [based on a memoir of Frank McCourt]): Ensemble of Angela's Ashes -The Musical and musicians / David Hayes (musical director). Ashcroft Playhouse, Fairfield Halls, Croydon, 5.10.2019. (JB)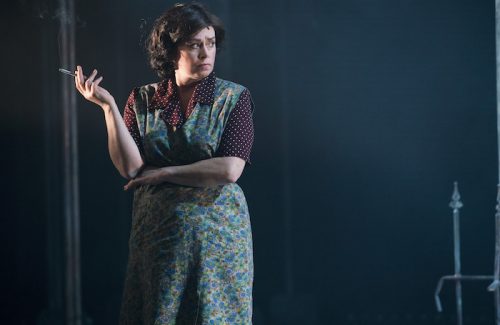 Production:
Director – Thom Southland
Set and Costume design – Francis O'Connor
Lighting design – Sinead McKenna
Sound design – Jason Fallon
Movement director – Ste Clough
Musical supervision – Mike Dixon
Cast:
Angela – Jacinta Whyte
Frank – Eoin Cannon
Nora – Fiona Browne
Quasimodo – Bryan Burroughs
Malachy Jnr – Conor Gormally
Billy Hefferman – Michael Joseph
Malachy – Marty Maguire
Grandma – Amanda Minihan
Uncle Pat – David O'Meara
Mr Griffin – Mark O'Reagan
Mrs Finucane – Norma Sheahan
Theresa Carmody – Brigid Shine
Frank McCourt's memoir on the horrors and hopes – but mostly the horrors – of growing up in 1930's Catholic Ireland, was a publishing sensation when it came out in 1996. It has remained so ever since. Now, 2019, comes the Musical. Really? Well they did it for Les Misérables and a lot of us wished they hadn't, our prejudices confirmed when the BBC filmed a rather good serialised story only of it, without music. All was forgiven for Les Mis. Victor Hugo has a good tale to tell and adding music to it obfuscates his story!
So, it was with some trepidation I went to see Angela's Ashes – The Musical. I need not have worried. This musical works for the same reason that Ernest Newman explained the workings of La bohème: it laughs as well as it weeps. 
And that, for those who may not know, is a very Irish approach to life. As well as a live-and-let-live stance, from whichever quarters you come. There used to be an Irish joke doing the rounds that told of a young woman who returned to her Irish village after establishing herself in London. So how's London Mary O'Sullivan?  asked the village priest. O it's a fine place, father came the reply, especially since I became a prostitute. Since you became a WHAT? roared the priest. A prostitute said she. O thank God said the priest, I thought for a minute you said a protestant. 
Like all the best jokes that answers more questions than it asks.
Irish jigs and reels abound in Adam Howell's imaginative score. So does heart-wrenching funeral music. Ireland in reality (and there's a lot of reality in this show) is a country of changeable weather without notice. Of the band members, Katie O'Connor was movingly funereal in her muted violin solos. I thought this was a viola. Was it an Irishman who said that the viola is the same as a violin but with a bad cold? Ms O'Connor certainly knows how to turn up that bad cold on her violin: apply the mute, play on the lower strings with all the hairs of a slow-stroking bow. You want to blow your nose when you hear it.
Francis O'Connor's set is made up of backcloths and very useful steel staircases on wheels, which like so much Irish life lead nowhere. They are most apt in moments when characters are singing at a distance in duo. Some very good use of the Playhouse's lighting here by Sinead McKenna too.
There are really only two principals in the show – Frank and his mother, Angela. The others are cameo roles – always convincingly performed. I especially warmed to Amanda Minihan's grandma.
The programme calls Ste Clough the movement director. That is too modest. He is an excellent choreographer both with the soloists and especially the ensembles. There are moments when the story freezes –sometimes in joy but more often in tragedy. Perfect timing. Perfect musicality. A key element of the staging.
Sometimes a singer is so completely into a role that it is impossible to conceive of anyone else performing it. That was the case with Jacinta Whyte's Angela. She has a stage presence to compare with the greatest. It is hard to look at anyone else when she is on set. And that is most of the time. She has a couple of what in another context would be called operatic arias, carried off with great aplomb. Her unusual voice has perfect diction, combining the mischief and daring of the voice of Cathy Berberian with the husky, smoky voice of Marlene Dietrich. It always feels as though she is giving the part her whole.
Eoin Cannon also fills the stage with a musical and dramatic presence as Frank. When Frank and mum are on stage together it can feel overcrowded. And this happens often. Deliberate of course on the part of Paul Hurt's book. All life and death are on display in the most arresting way. The Dalai Lama once told me that there isn't much difference between life and death. I'm sorry that His Holiness will not be seeing this great show.
Jack Buckley