United States Massenet, Manon: Soloists, Metropolitan Opera Orchestra / Maurizio Benini (conductor). Metropolitan Opera House, New York City. 2.10.2019. (DS)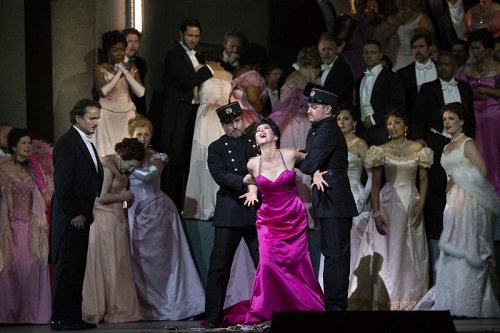 Production:
Director – Laurent Pelly
Set Designer – Chantal Thomas
Costume Designer – Laurent Pelly
Lighting Designer – Joël Adam
Choreographer – Lionel Hoche
Revival Stage Director – Christian Räth
Cast:
Guillot de Morfontaine – Carlo Bosi
De Brétigny – Brett Polegato
Poussette – Jacqueline Echols
Javotte – Laura Krumm
Rosette – Maya Lahyani
An Innkeeper – Paul Corona
Lescaut – Artur Ruciński
Guards – Mario Bahg, Jeongcheol Cha
Manon Lescaut – Lisette Oropesa
Chevalier des Grieux – Michael Fabiano
A maid – Edyta Kulczak
Comte des Grieux – Kwangchul Youn
The Met Opera's 2019-2020 season has opened with great fanfare — and deserved — for a much anticipated new production of Porgy and Bess. But a diamond-in-the-rough, Massenet's Manon, has glistened through with the role debut of lyric coloratura, Lisette Oropesa. Framed by a 'tableaux vivant' style set that evoked many a nineteenth century Impressionist canvas (a one point, ballerinas styled after Degas' dancers leap across the stage), Oropesa's fresh energy and perfect embodiment of Manon made this production a rousing feast for both ears and eyes.
The story is a mixture of comedy and tragedy. Manon and Grieux (played by Michael Fabiano) are torn French lovers, in the truly Parisian modernist sense. Beguiled by the offers of Parisian glamor and glitz, promised by conniving rich men-about-town, Manon abandons her beloved Grieux, who reacts to loss in the extreme by taking a priestly vow, albeit in the heart of the Left Bank at the church of St. Sulpice. Along the way, comic characters like the aging lady's man, Guillot (Carlo Bosi), keep the laughter going — for example, by hiding an overactive crotch with his hands while bellowing about his once prominent power over sought-after women. Thanks to Bosi's fantastic vocal prowess and comedic timing, the humor never ventured into the realm of silly or pedantic.
As with any production, all the elements must hold their own to create the alchemy. The costumes were eye popping: Chorus men in tails and top hats reminiscent of painter Caillebotte's afternoon 'flaneurs' boldly strode across stage. Oropesa's silky, beckoning voice was showcased in one stunning gown after the next in scenes of her fast but anxious Parisian life. Tasteful sets that neither cluttered the action nor were too stark carried the narrative forward delightfully. In Act III a simple string of electric lanterns in front of sketched images of the famous 1881 Paris World's Fair re-invented the space.
Most importantly, the chemistry between singers lit a match that didn't burn out until standing ovations were long over. Arias stood out just enough to punctuate the narrative with moments of reflection. Most notably, Oropesa sang Act II's famous 'Goodbye, our little table' with a mix of determination, nostalgia, innocence — and guilt. Each duet sung by Oropesa and Fabiano blended with a texture that perfectly matched the story's momentum. As innocent lovers, they sang a youthful, touching love duet in their stolen-away Left Bank studio (complete with slanted roof). By Act IV, they have reunited — in Grieux's priestly quarters, and both tainted by the ravages of modern life — for the St. Sulpice duet, arguably the highlight of the night. Even more than in Act II, Oropesa and Fabiano pulled out sustained and powerful phrases, evoking a no-longer innocent but highly complex love. Both singers captured intimacy so mature and raw that audience members were transformed into voyeurs, as the two characters fell into an embrace on a bed.
The story ends in tragedy — not unlike another French woman of greed and self-destruction, Flaubert's Emma Bovary. Manon's hunger for a rich life and subsequent attempt to attain it — by inducing Grieux to gamble — ultimately leads to their demise. As a woman scorned, she takes the brunt of the punishment and is sent off to a grim French prison, but Manon is a bit luckier than the truly unloved Bovary, for Grieux comes to her rescue. Holding Manon, he tries to give her hope even as she dies in his arms.
Oropesa sang the finale with a firm yet gentle touch, combined with wisdom and sadness, and tying together all of the qualities from Manon's past — from her beginnings as a naïve, suburban girl, to the exhausted, beaten woman who tries to recapture love amidst a complex life. Oropesa is an artist who knows how to achieve wants she wants, and she consistently revealed that the character of Manon carries much meaning, even today. With such a commitment to re-igniting standard repertory, it will be exciting to behold where she will take us next.
Daniele Sahr
Additional performances of Manon: October 19, 22, 26 (matinee).  The Saturday, October 26 matinee will be transmitted worldwide as part of the Met's Live in HD series.