Sweden Lionel Bart, Oliver! (Lionel Bart [Lyrics and book] and a new Swedish translation by Ulricha Johnson): Soloists of Gothenburg Opera, ensemble and children's ensemble, Gothenburg Opera Orchestra / Bjorn Dobbelaere (conductor), Gothenburg Opera, 27.9.2019. (NS)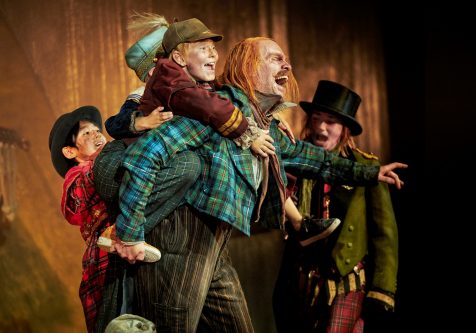 Production:
Director and choreographer – Fredrik Benke Rydman
Co-director – Victoria Brattström
Set – Frida Arvidsson
Costumes – Lehna Edwall
Lighting – Tobias Hallgren, Lumination of Sweden
Orchestral arrangement – William David Brohn
Cast:
Oliver – Viktor Werlenius
Dodger – Wilmer Hellsten
Fagin – David Ljungqvist
Nancy – Micaela Sjöstedt
Bill Sikes – Tobias Ahlsell
Mr Bumble – Markus Pettersson
Widow Corney – Anna-Maria Hallgarn
Mr Sowerberry – Lars Bethke
Mrs Sowerberry – Åsa Fång
Charlotte Sowerberry – Emilia Hallstensson
Noah Claypole – Nils Reinholtz
Bet – Sigrid Thomas Lyri
Mr Brownlow – Lars Hjertner
Old Sally – Ingahlill Wagelin
Mrs Bedwin – Kajsa Reingardt
Dr Grimwig – Ole Forsberg
Fagin's gang: Captain – Theodor Barasin Andersson, Dipper – Vilmer Jendevi, Charlie Bates – Gustav Kjelbye, Handwalker – Darius Manzoor, Nipper – Leo Stadelman Andréas
Fredrik Benke Rydman's new production of Oliver! was eagerly awaited, in my case particularly because I was so impressed with his Firebird in 2015. As usual in Sweden the work is sung in Swedish, though unusually both Swedish and English surtitles are provided. Ulricha Johnson's new Swedish translation was successful and wisely avoided trying to translate everything literally, but as a Briton born and bred I sometimes wished that the original lyrics with their puns and Cockney slang could have been used for more than just the English surtitles.
The sets (by Frida Arvidsson) and lighting (by Tobias Hallgren) were very atmospheric, successfully evoking the smoggy streets of Victorian London. Fagin's lair, revealed by part of the floor rising, was particularly good, and the ramp lit with bright white light representing London Bridge was a striking centrepiece for the final scene and Nancy's murder. Lehna Edwall's costumes struck an effective contrast between the drab workhouse uniform and the colourful rags of Fagin's gang. The adult costumes were deliberately exaggerated, with huge hats and voluminous breeches giving the audience a small child's view of the adults' clothes.
Both Oliver and the Artful Dodger are played in rotation by three different children for each roll, all recruited from the 'Oliver school' that the Gothenburg Opera set up to prepare children for this production. In total there are 69 children in the ensemble. For my performance Viktor Werlenius was Oliver, and he acted very well. He sang 'Where is love?' with quiet sincerity and his happiness in Mr Brownlow's home was genuinely moving. Wilmer Hellsten as Dodger made a terrific impression from the first, with strong, confident singing in 'Consider yourself' and nimble dancing. In fact, all of the children in Fagin's gang were impressive, particularly in their dance routines.
Markus Pettersson had an attractive tenor but suitably grotesque acting as Mr Bumble, and Anna-Maria Hallgarn also vividly brought out the equally Dickensian characteristics of Widow Corney. But for me the production really took off with the arrival of Mr and Mrs Sowerberry (Lars Bethke and Åsa Fång). Mr Bethke in particular excelled in his strange mannerisms and they both made 'That's your funeral' into a fantastic song-and-dance number.
The much more sympathetic Mr Brownlow was given both dignity and warmth by Lars Hjertner, and Mr Brownlow's housekeeper Mrs Bedwin (Kajsa Reingardt) likewise showed great affection towards Oliver and understanding to Nancy (the undeserving Mr and Mrs Bumble were chased out of the Brownlow home by Mrs Bedwin brandishing a duster). Tobias Ahlsell made a spine-tinglingly menacing first impression in a silent first entry as Bill Sikes (during Act I) and was always a powerful presence when on stage, but his voice lacked the extra layer of darkness that one would expect from such an evil character.
Nancy, as played by cover Micaela Sjöstedt, lacked absolutely nothing vocally. On the contrary, Ms Sjöstedt's voice blew me away in 'As long as he needs me' with heart-wrenching emotion without sacrificing clarity or her youthful sound. She was also a compelling presence both on stage and vocally in every ensemble of which she was part, shining particularly in 'It's a fine life' and 'Oom-pah-pah' which was a rousing opening number for Act II. Her acting deftly blended the fear, love and stubborn independence that make Nancy one of the two most complex characters in Oliver!
David Lundqvist was outstanding as Fagin. His acting explored all the facets of this character: the jolly rogue, the intimidating crime boss, the introspective fearing his old age. His singing was equally versatile, jovial in 'You've got to pick a pocket or two' but quickly switching to rasping anger in the spoken scene where he fears Oliver has seen his secret savings and his meeting with Sikes. Mr Lundqvist also showed superb comic timing and gamely engaged in slapstick, which combined with his sorrowful singing rendered 'Reviewing the situation' simultaneously comic and full of pathos.
What united the whole production was the fantastic choreography of Fredrik Benke Rydman. His skills were already on show in the opening number 'Food, glorious food' (as were the impressive performances of the children's ensemble) but the choreography got even better; 'Consider yourself' effortlessly expanded from Dodger's individual welcome to Oliver to an ensemble routine which worked perfectly with the set. Movement and choreography were almost constant parts of this production, being used to add to the characterisation of the characters. My anticipation was justified.
Niklas Smith
Playing until 26 April 2020, see the Gothenburg Opera website click here.