Britten, Stravinsky and Rachmaninov: BBC Singers, BBC Symphony Orchestra / Dalia Stasevska (conductor), Barbican Concert Hall, Barbican Centre, London, 26.10.2019. (AS)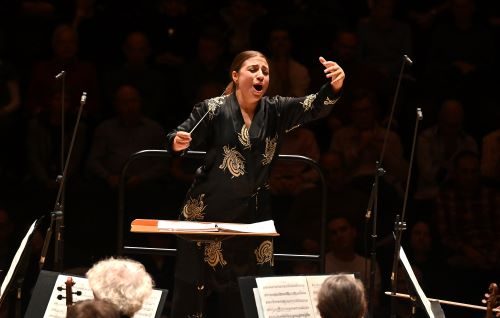 Britten – Sinfonia da Requiem, Op.20
Stravinsky – Symphony of Psalms
Rachmaninov – Symphonic Dances, Op.45
What an interesting juxtaposition of composers. Stravinsky was jealous of Britten's rise to success, and the two men wrote scathingly about each other's music. Stravinsky described Rachmaninov as a 'six-and-a-half-foot-long scowl', which was a little ungenerous, since Rachmaninov made overtures of friendship towards his fellow ex-patriot in the USA: he admired his Oiseau de feu and Petrushka ballets, and respected Le sacre du printemps, though he had little time for any later works.
This was Dalia Stasevska's debut Barbican concert in her new role as the BBC Symphony Orchestra's Principal Guest Conductor. The programme was clearly designed to give her an opportunity to show her abilities, and she certainly took full advantage it.
If only Britten had written more music such as the Sinfonia de Requiem, which shows genuine rather than contrived expression of emotion: clearly the quite recent loss of his parents in particular had enveloped his soul and inspired his creativity to a remarkable degree.
Stasevska responded to this powerful work with powerful conducting. The slow-moving opening movement, 'Lacrimosa' was brimful of vivid, obviously heartfelt emotion, with screaming brass and shrill upper strings making extraordinarily potent contributions. The rapid-moving central 'Dies Irae' had a strikingly hectic, urgent, almost panicky quality and if there was some feeling of consolation in the final 'Requiem aeternam' movement Stasevska also brought out the underlying sense of unease in the music to great effect.
Stravinsky's Symphony of Psalms is acknowledged to be one of the greatest of his works from the so-called neoclassical phase of his compositional career. As such, its emotions, unlike those in the Britten work, are experienced rather at arm's length and under a surface façade or should be in a faithful performance. Stasevska took the opening 'Exaudi expectavi meam' at a slightly too brisk a tempo and in a more subjective style than was ideal, and woodwind detail, though expertly delivered, inevitably sounded a little rushed and scrambled. The double fugue that lies at the heart of the slow central movement was however beautifully projected and adorned by some lovely solo wind playing. And in the last 'Alleluia, Laudate Dominum' the soulful opening phrases were perfectly shaped, and the ensuing quick section had extra sharp attack, so that the final, grave paean of praise to the Almighty, taken appropriately slowly, with rock-like security of pulse, made a hugely effective contrast and a most satisfying conclusion to the work. The reduced forces of the BBCSO were excellently supported by the BBC Singers.
Nothing could be further in style from Stravinsky's self-imposed discipline in his Symphony of Psalms or the astringency of Britten's Sinfonia da Requiem than the extravagant warmth of Rachmaninov's Symphonic Dances. This piece, along with Strauss's last works, represents a last great outpouring of romanticism in music, vastly out of its time when one considers that it was composed during the same period as the Britten and nine years later than the Stravinsky.
Here was Stasevska's chance to show her paces in a big, lavishly scored orchestral score. She shaped the contrasting ebbs and flow of pace and mood of the first movement with great skill and judgement, from the arresting chords of its beginning to its poignantly poetic close. The central waltz had a wonderful, swirling rhythmic quality, the bitingly sardonic brass interjections brilliantly made, and there was both gorgeous warmth and subtlety of detail in evidence.
The precision of the playing in the last movement was remarkable, and this attribute vitally enhanced the sense of drama that Stasevska drew from the inherently exciting, tumultuous music. The feeling of warmth in the quieter interludes was once more very affecting, and then the Dies Irae chant made a darkly menacing contribution before a concluding and overwhelming climax to the work. The playing of the BBCSO here and indeed throughout the concert was of virtuoso standard. Dalia Stasevska is clearly a conductor of the first rank even at this early stage of her career, and one looks forward to more of her collaboration with this orchestra.
The concert was not broadcast live but recorded for transmission by BBC Radio 3 at 19.30 on Monday 4 November: it will also be available to stream or download via BBC Sounds for 30 days thereafter. A hearing of it is strongly recommended.
Alan Sanders
For more about the BBCSO click here.