Sweden Mozart, Trollflöjten (The Magic Flute): Soloists, Chorus and Orchestra of the Royal Swedish Opera / Anna Skryleva (conductor), Royal Swedish Opera, Stockholm, 18.10.2019. (GF)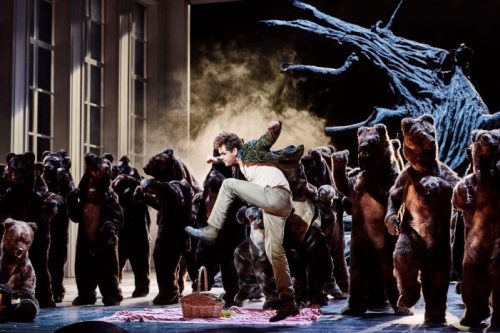 Production:
Direction and Sets – Ole Anders Tandberg
Costumes – Maria Geber
Lighting design – Ellen Ruge
Choreographer – Anna Koch
Dramaturge – Katarina Aronsson
Cast:
Tamino – Joel Annmo
Pamina – Hanna Husáhr
The Queen of the Night – Tetiana Zhuravel
Sarastro – Kristian Flor
Papageno – Jens Persson
Papagena – Frida Johansson
Monostatos – Göran Eliasson
The Speaker – Jogan Edholm
First Lady – Marianne Odencrants
Second Lady – Sara Olsson
Third Lady – Kristina Martling
A Priest – Anders Blom
The Watchmen of Death – Jon Nilsson, Alar Pintsaar
Three Spirits – Vile Melin, Emma Horisk, Oskar Stenson
Trollflöjten, the header says, which means that this production is sung (and spoken) in Swedish. That was good news for the majority of the audience, but I can't help but wonder what my English-speaking neighbour thought of it. The surtitles were also in Swedish. In both Helsinki and Tallinn – where I regularly attend performances, there are surtitles in the vernacular and in English; in Helsinki also in Swedish. Nonetheless I believe that even those who do not understand Swedish will find much to enjoy – musically above all – although Papageno's merry pranks will probably be unintelligible, in spite of Jens Persson's expressive body language. I had fairly clear memories of this production, which I first saw almost seven years ago to the day. I remembered the somewhat perplexing opening scene, during the overture, with a classroom where a group a students are taking a biology test and a shy late-comer – Pamina – appears and tip-toes to an empty desk. I also remembered a gentleman in the first row of the stalls who suddenly stood up and started to sing. It was Tamino. His cries for help resulted in three ladies from the opera house's staff running in: one of them relieved him of the dangerous snake that had attacked him. I then remembered Papageno singing his bird-catcher aria with bird-whistles replacing his traditional pan flute. Things happen in Ole Anders Tandberg's productions, and he is not always uncontroversial. Sarastro, for instance, and his Council of Priests, are a group of boy scouts and what looks like a tent for two turns out to hold more than a dozen boys. The brown bears who sing so beautifully and dance so elegantly are as cute as they can be. One of them also usurps Papageno's glockenspiel and plays it with great insight. So the show is great fun and the only time there are objections is towards the end, when Papageno and his Papagena both undress to make love… although when Papagena starts taking off her bra the orchestra shout "NO!".
A few of the singers from the original cast have survived, among them Johan Edholm's Speaker. The greatest difference is the choice of Tamino. In 2012 it was the spinto voiced Daniel Johansson who since then has taken on roles such as Siegmund and Lohengrin. Joel Annmo is an extremely lyrical tenor who sings with exquisite nuances, very much like Claes-Håkan Ahnsjö who was my first Tamino in Stockholm in the early 1970s. But scenically he is a little pale by comparison. His Pamina is Hanna Husáhr, whom I praised lavishly for her Pat Nixon in Nixon in China three years ago. Besides singing possibly even better now, her sensitive stage presence makes her the ideal Pamina. Tetiana Zhuravel's Queen of the Night seemed too weak and her lower notes failed to carry in the first act, but 'Der Hölle Rache' in the second act was formidable with secure coloratura and brilliant top notes. Her counterpart Sarastro, sung by Kristian Flor, did not have a truly dark lower register but was a warm and human scout-leader. Jens Persson's Papageno stole the show every time he appeared on stage, and, as I mentioned above, his body language is utterly telling. The lecherous Monostatos is a dream role for Göran Eliasson, who played it with customary elegance. Frida Johansson was a cute Papagena, the three ladies acted convincingly and the three young spirits, dressed in white, were touching in their acting.
The Russian born Anna Skryleva, who made her debut at the Royal Opera and is to come back with The Nutcracker later this season, took over this season as General Music Director at Theater Magdeburg. She led the performance admirably. Overall it was a pleasure to renew the acquaintance with Ole Anders Tandberg's Trollflöjten. And the dancing bears are delightful!
Göran Forsling