United States Festival O19 [2] – Philip Venables, Denis & Katya: Emily Edmonds (mezzo-soprano), Johnny Herford (baritone), Branson Yeast, Rose Bart, Jean Kim, Jennie Lorenzo (cellos) / Emily Senturia (musical director), Philadelphia Opera, The Suzanne Roberts Theatre, Philadelphia, 28.9.2019. (RP)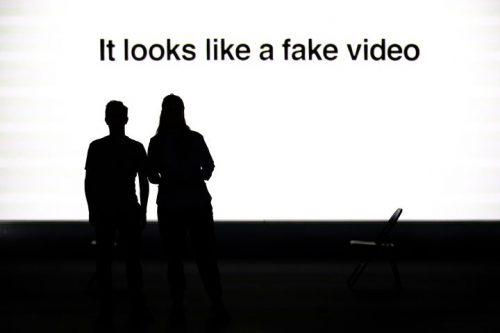 Production:
Director – Ted Huffman
Co-Creator & Dramaturge -Ksenia Ravvina
Sets & Lighting – Andrew Lieberman
Costumes – Millie Hiibel
Sound – Rob Kaplowitz
Video – Pierre Martin
I go to a fair number of new operas, and many are plagued by two defects: unfocused, sprawling plots and texts that just don't sing. Seldom are the performers to fault. Denis & Katya, a gripping work of musical theater from the creative team of Philip Venables, Ted Huffman and Ksenia Ravvina, falls prey to neither. The result is all the more impressive because the two teenage protagonists in this senseless, unfathomable tragedy do not appear onstage, and their voices are never heard.
Denis and Katya were Russian teenagers who began streaming from a hunting cabin on 14 November, 2016. Their parents disapproved of their relationship, and Katya's stepfather beat her in front of Denis. They barricaded themselves in the cabin and started down their path to self-destruction, shooting at police cars and neighboring buildings. Denis blasted the television and threw it out the window. Katya's mother paid a well-intentioned but unfortunate visit. Special Forces and the police ultimately stormed the cabin to find the teenagers dead.
Over three days, Denis and Katya became an internet sensation with an audience that numbered in the thousands. The mainstream media, including the BBC and The Daily Mail, jumped on the story. The online viewers were not just spectators, but actively engaged in the standoff. Lewd comments were intermingled with darker observations, and conspiracy theories took root. One viewer urged the police to 'just kill them already'. Within days, their story was eclipsed by another tragedy, a husband who killed his wife and three children, only to resurface in this compelling opera.
Not wanting to dramatize Denis and Katya's story, which the creators deemed would be insensitive to their very real tragedy, they instead tell the tale from six different viewpoints: journalist, friend, teacher, teenager, neighbor and medic. The characterizations are fluid, as all roles are assumed by two performers; one sings while the other speaks, at times translating from Russian. Texts from viewers, journalists and others are displayed in real time. Unwittingly, the audience is manipulated into becoming participants in the action. Granted, it is a passive role, but then that was also the case with the majority of online viewers.
This performance benefited from the perfect casting of mezzo-soprano Emily Edmonds and baritone Johnny Herford. (There were alternating casts, but I did not have the opportunity to see Siena Licht Miller and Theo Hoffman in the roles.) Edmonds, fresh-faced and pretty, brought an energetic, almost naive sense of wonder to her various personas. Her almost breathless narratives immediately captivated me, as did her singing.
Herford, on the other hand, was more the dreamer, a bewildered idealist at heart. Whether speaking or singing, he captured each character and situation with precision and an air of intimacy, as if he were singing an art song. I was fascinated by him as Denis' friend, a bewildered teenager trying to make sense of it all, who really just wanted to be left alone. The young man's tension and confusion manifested itself in the nervous energy coursing through Herford's left leg, a simple movement that upped the tension exponentially.
The journalists, whose words were sung by Edmonds and spoken by Herford, made the most visceral impact. They were just doing their jobs, instructed by editors to cover the story. Their texts and conversations were mundane stuff: discussing the rights to the videos and whether real names of minors could be used in their reporting. Their studied air of professionalism and detachment was a damning indictment of the 24/7 news cycle.
Huffman has a penchant for using a single instrument in his compositions, and he scored Denis and Katya for four cellos. To me, the cello is the instrument that comes nearest to approximating the human voice, and thus there were six singers on stage rather than two. The musical textures were clear and transparent, but with a richness that would have made any other sound extraneous. His setting of the text, much of it taken verbatim from the real-life event, clicked. I'm not sure what makes the union of text and music work, but I know it when I hear it.
The set was a white square enclosed on three sides with a low wall, with the entire text projected behind it. In each corner sat a cellist. Out of this blank canvas, director Ted Huffman created unique spaces, defined only by movement, a few chairs and lighting. As with the four cellists, anything else was unnecessary.
Journalists were sent to Strugi Krasnye, a work settlement in Western Russia with a population of around 8,000 where the incident took place, to get the story. A videotape of a train departing from the village was the only actual footage used in the production, and the small town quickly disappeared into a dreary, early spring landscape of grey skies and birch trees. It was filmed long after the incident, when the snow had melted and the two dead teenagers were all but forgotten by the outside world.
Denis and Katya was co-commissioned and co-produced with Music Theatre Wales and Opéra Orchestre National Montpellier. The opera was awarded the 2019 Fedora-Generali Prize for Opera, which pays tribute to creativity and innovation in the field of opera, and supports artistic excellence with the aim of helping to shape the future of the art form. Under the auspices of Music Theatre Wales, this production will tour the UK in Spring 2020 with Edmonds and Herford reprising their roles. If you are in the UK, I urge you to try and see it.
Rick Perdian
For more information on Music Theatre Wales, click here.