United States Takemitsu, Hartmann, Mozart: Noah Geller (violin), Joanne Lunn (soprano), Roxana Constantinescu (mezzo-soprano), Lawrence Wiliford (tenor), Morgan Smith (baritone), Seattle Symphony Chorale and Orchestra / Masaaki Suzuki (conductor), Benaroya Hall, Seattle. 17.10.2019. (ZC)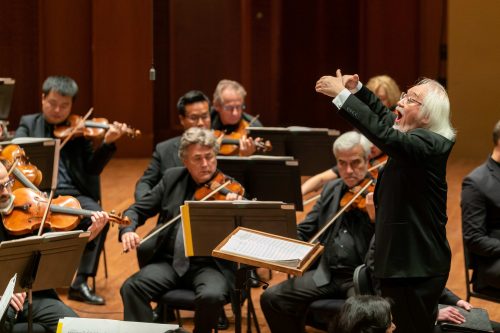 Takemitsu – Requiem for String Orchestra
Hartmann – Concerto funebre
Mozart – Requiem
Masaaki Suzuki is renowned as one of the world's foremost interpreters of J.S. Bach's sacred and orchestral music, and for good reason. Recent projects, however, have challenged the notion that Bach is Suzuki's only bailiwick, borne out by the conductor's appearances with the Seattle Symphony.
Equipped with a chamber-sized ensemble, Suzuki explored death, memorial, and remembrance through three stylistically divergent compositions. On the front end, the conductor paired Toru Takemitsu's Requiem for String Orchestra with Karl Amadeus Hartmann's Concerto funebre. For the main course, Suzuki presented Mozart's Requiem in a new edition by his son, Masato Suzuki. In the conductor's acclaimed recordings of Bach's cantatas, polished sound distinguished his interpretations over others. Suzuki elicited this same quality with the Seattle players for all three works.
Premiered in 1957, Takemitsu's launched his international career with the Requiem for String Orchestra, given its premiere in 1957. A relatively early work, it showcases the spiky influence of the mid-20th Century and the gauzy sounds of impressionism. Suzuki and the musicians rounded off the rough edges while also indulging in mournful sonorities.
Hartmann's Concerto funebre — one of his most-performed works — continued the exploration of mortality and memorial. Born in Munich in 1905, he remained in his native city most of his life, and actively composed throughout the Nazi era. But during that time, he withdrew from Germany's musical and cultural life during and forbade performances of his music in his home country.
For these concerts, Suzuki's soloist was the orchestra's concertmaster, Noah Geller. In presenting Hartmann's profound sadness — created from austere motifs, spare orchestrations, and relentless rhythmic passages — and Geller was appropriately and eloquently suppressed. But too much refinement from the orchestra, as well as a conductor who seemed reluctant to indulge the savage moments, limited the emotional impact. The composer's palette sounded more sweet than sad.
An infamous story of its origins, coupled with movie-born myths, help sustain the popularity of Mozart's Requiem, but underneath this hype rests a work of profound inspiration. Mozart died before its completion, leaving some portions without orchestration and others undone. Mozart's pupil, Franz Sussmayr, undertook the most famous attempt at completing the work, but for his Seattle performances, Suzuki used a version completed by his son Masato. The most apparent deviation from the Sussmayr version is a short, one-minute fugal 'Amen' after the Lacrymosa. The change doesn't add much, but it does divide the piece into two relatively equal halves and gives listeners a chance to refocus. An excellent quartet of soloists matched splendidly with the always stellar work of the Seattle Symphony Chorale. For this masterpiece, Suzuki eschewed dark spookiness in favor of tender restraint. His approach didn't always convince, but it did remind anyone who follows his career that in the choral canon, he can always be counted on to shape memorable performances.
Zach Carstensen