New Zealand Beethoven, Whitehead, Glinka, Bruch, Brahms: Jacquin Trio (Jessie Grimes [clarinet], Kay Stephen [viola], Charis Hanning [piano]). Old Library, Whangarei, New Zealand. 13.10.2019. (PSe)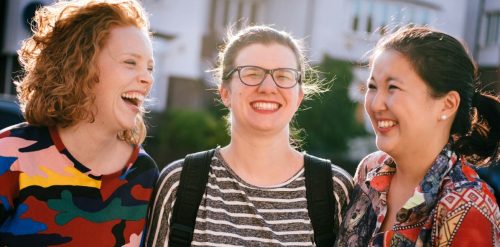 Beethoven (arr. Klengel) – Trio in B-flat major, Op.11
Gillian Whitehead – 'Arapātiki' for Solo Piano
Glinka – Trio in D minor 'Pathétique'
Bruch – Eight Pieces, Op.83 (Nos. 5, 7 and 3)
Brahms (arr. Jacquin Trio) – Clarinet Trio in A minor, Op.114
Shockingly, this was the last of the four recitals in Whangarei Music Society's 2019 season – 'shockingly' because it seems only yesterday that I was attending the first. For me, 'Where does the time go' is starting to become a very serious question. As well as the last, it's also a first, because the previous three recitals all featured performers with NZ connections, whereas the Jacquin Trio (JT) is a visitor from London, coming to us via Chamber Music NZ and the Royal Overseas League Arts New Zealand.
JT, which has been around for almost a decade, describes itself up-front as 'an audacious classical chamber ensemble'. You may wonder whether that adjective – implying willingness to take surprising risks – applies to repertoire or performance. Based on this one showing I couldn't vouch for repertoire, but it wouldn't be too far wide of the mark regarding performance, for the players certainly seem inclined to take the music by the throat and give it a jolly good shake. Generally, I am not impressed by performers who indulge in contrived and exaggerated 'expressive' movements, but I am all for movements that harmonise with the music. Jessie Grimes and Kay Stephen are very good movers, using their bodies freely and naturally to 'enact' the music – an approach followed, necessarily rather more modestly, by the seated Charis Hanning.
The proof of this particular pudding lies in the effect – and, judging by their playing of Beethoven's Trio in B-flat major, Op.11, the result is a resounding QED. JT's choice of Paul Klengel's arrangement for viola (instead of violin) was immediately ear-catching, the viola conspiring with the clarinet to impart a subtle velvety quality. However, this was not at the expense of the music's dynamism: all was fresh, clear and brimming with vitality, the florid lines punctuated by good, strong accents. This was 'classical' Beethoven – graceful and refined as well as rudely robust.
Taken at a suitably relaxed, 'singing' tempo, the opening of the ensuing Adagio further justified the arrangement, especially in the lovely hushed sound of the central episode and the reflection of phrases by the viola and clarinet. JT's finale erupted, all jaunty, jolly and bristling with 'bounce'. Deftly they danced through Beethoven's moody minefield, hitting the brake or the gas with consummate precision, positively nailing each of the widely contrasted variations.
In his Trio Beethoven had allotted solo spots for the piano, a generous gesture seconded by JT in their second item, which was a solo piano piece. Dame Gillian Whitehead's Arapātiki, or The Path of the Flounder, is a 'landscape prelude' depicting the cycle of the tides. The composer – who now has a residence in Ruakaka just a few miles down the road – was in the audience and gave us the benefit of a personal introduction to the work. The materials comprised the brilliant, clangourous call of the bell-bird and a deep, mysterious chordal progression, which were alternated, combined and expanded, the bell-bird motif evolving into melody, the music ebbing and flowing between remote calm and elemental surges – all of which Charis expressed graphically and with no mean virtuosity. Looming large was the shadow of Messiaen – a composer of whom, as Gillian told me afterwards, she is very fond, but on whose characteristic style she hadn't consciously drawn. Be that as it may, I was thrilled by the allusion – for, surely, far too few composers (go on, name one!) have ever picked up Messiaen's ball and run with it.
Absorbing as that was, for me the highlight of the recital was Glinka's Trio in D minor 'Pathétique' (with its original bassoon part played on the viola). Knowing Glinka purely through his orchestral music, which – with a couple of glaringly obvious exceptions – I have found rather penny-plain, this trio came as a complete revelation. Yet, doing a quick web rummage, I turned up a fair few disdainful opinions of it. So, if that jaundice is justified, then this particular performance made a silk purse out of a sow's ear – or was this simply a cracking performance of some good music?
I would emulate the stereotypical teenager's, 'Whatever', because the bottom line is that JT made great music of it. The consummately expressive playing of the lyrical and contrapuntal Allegro moderato was enhanced by the (to me) quite unusual 'piccolo' piano, whose accompanying gestures scintillated to nape-tingling effect high above the 'foreground' instruments. Again, the brief Scherzo was notable for some almost liquid piano runs, whilst JT squeezed the finale for every last drop of its festive mood; grand flourishes, oom-pah rhythms and all. Amid these artful and engaging movements, redolent of the sunshine and operatic pleasantries that impressed themselves on Glinka, stood the dreadful, dark cloud of the Largo. JT filled the air with a subdued brooding, building to a blood-curdling clarinet solo that – certainly as Jessie attacked it – bordered on screaming, leaving in its train a grieving trio. This was something that I won't forget in a hurry.
In each presentation of this touring programme, JT made selections at whim from Bruch's Eight Pieces, Op.83 – we heard Numbers 5, 7 and 3. Short these pieces may be, but short-changed by JT they were not. No.5, something of a 'gypsy song', veered between formidable when loud and smouldering when quiet. No.7's gaily skipping scherzando dance had sharply contrasted snatches of rhythmic and lyric, punctuated by energetic accents. No.3 ran through impassioned viola declamation, mellifluous clarinet 'song', a hint of 'nursery-style', an intensely emotional viola/clarinet duet, all ending in an effusive, climactic counterpoint.
The final item was Brahms's Clarinet Trio in A minor, Op.114, arranged by JT for viola instead of cello. If this lightened the textures, it didn't signify. The brief but dramatic introduction yielded to an explosive, propulsive allegro contrasted with a fluid counter-subject, setting the stage for a movement of frequent mood shifts, often eruptive – and indeed testing the violist's right arm. JT displayed an 'instinctive' feel for the dynamics – just when to hold back, when to press on, when to be modest and when to cut loose; qualities that informed the entire work.
The Adagio felt almost conversational, with voices admirably balanced. The acceleration into and deceleration out of the rather hotter central episode sounded as natural as breathing, as did the subsequent, superbly controlled fading away. The Andantino grazioso was magical, gently skipping, viola and clarinet tossing 'phraselets' to one another like children at play. The trio section's bucolic, burbling Bavarian beer-dance had me grinning from ear to ear – and I thought the movement's sentimental ending was just right. To my mind, if anything the viola liberated the finale, which was vigorous and thrusting, enlivened by some eyebrow-raisingly bold subito fortes. I could sense a toe-catching switching of rhythm within a constant pulse, and a delicious caprice in the many mood-shifts. And what a terrific, hell-for-leather, all-stops-out charge for the line it was, too.
As we know, the viola has long had a reputation as the 'poor cousin' of the violin family, a reputation perhaps born of its lack of penetration relative to the violin and its lack of weight relative to the cello; and borne out by the comparative paucity of its repertoire. This saddens me, because I happen to adore the instrument's warm, almost snuggly 'nut-brown' sound. Now, I am gladdened, firstly to have heard Kay proving, in no uncertain terms, that this reputation is utterly unjustified, and secondly by the Jacquin Trio's thorough and thoroughly invigorating practical demonstration of the – at times devastating – effectiveness of the combination of piano, clarinet and viola. To call this recital refreshing would be an understatement.
Paul Serotsky
For more about the Jacquin Trio click here.