United States Norman, Berlioz, Beethoven: Anne Sofie von Otter (mezzo-soprano), Los Angeles Chamber Orchestra (LACO) / Jaime Martín (conductor). Royce Hall, University of California, Los Angeles, 29.9.2019. (DD)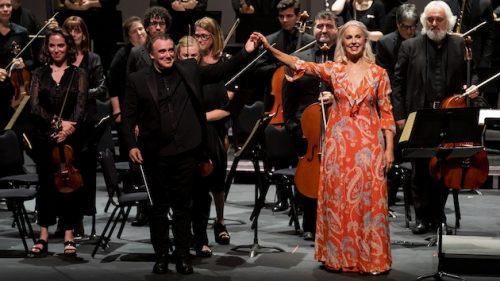 Norman – Begin
Berlioz – Les nuits d'été
Beethoven – Symphony No.7 Op.92
UCLA's Royce Hall has been the venue for as wide a music audience as can be imagined. From ancient through traditional to the most radical and avant-garde, its presentations have ranged from established styles and modes to the most 'avant' of the avant-garde. Patrons at Royce Hall were treated to another eclectic panoply as Jaime Martin made his first appearance as Music Director of the Los Angeles Chamber Orchestra (LACO).
Martín succeeds Jeffrey Kahane, who stepped down after a twenty-year stint in the position. In a pre-concert talk with composers Ellen Reid and Andrew Norman, Martin's warmth and humor shone, and it seemed that he could barely wait to get to the podium and dig in.
Norman's Begin actually begins with a single note – D – in the middle register of the orchestra, and the composition continues for twelve minutes to fill in the sounds. Norman moves the sonic scene first to a denser and then a more placid center, rallying to once again tightly fill in substance and volume, and bringing it to an active, moving conclusion. While the pulse wasn't arrhythmic, Martin paced the orchestra through its course in a decidedly 'fits and starts' manner. While the D was the central tone, the score and players gradually intensified the whole texture while modulating the volume. For the next several minutes, textures would change from insistent to subtle, and sonic consistencies and patterns would modulate while the tonal center remained solid. A wonderful quasi-unison, not in pitch as much as intention, brought the composition to its conclusion. It's an exciting, powerful piece, rich in textures, firm in direction, and it deserves to be heard by a wider audience.
Martín and the orchestra were then joined by mezzo-soprano Anne Sofie von Otter in a performance of Berlioz's exquisite Les nuits d'été, a too-seldom-heard vocal masterpiece, and the presence of von Otter only made the occasion more noteworthy. Her voice maintains its strength and sweetness, and she possesses a deft ability to alter tonal color while maintaining perfect intonation. The Berlioz songs (completed in 1834 in a piano-vocal version and orchestrated twenty-years later) also deserve greater exposure. There is a moment in the fifth song, 'Au Cimetière', where the orchestra is instructed to play at pianissi-issi-issimo (pppp), and I think I may have actually heard a pin drop. That whisper texture was worth the wait: what a singer, what an orchestra!
The concert concluded with Beethoven's much-loved Seventh Symphony. It isn't a symphony that I would ordinarily associate with a chamber orchestra – it is nothing if not a 'big' piece – and yet the LACO performance was strong and sinewy with nothing held back. I can't think of a moment in the work that could be called sweet or gentle (though I would argue that there's a jocund minute-and-a-half between flute, oboe, clarinet and bassoon in a break in the first movement). From the first A-major chord to the last, the symphony confers a sense of dignity, seriousness and play that is singular in Beethoven, and LACO delivered all of these qualities.
How does a chamber orchestra successfully play such dense, monumental music? In that far-ranging pre-concert talk, Martín assured his auditors that this would not be a problem. Without question, his tender moments, especially in Les nuits d'été, were gentle and compassionate, and they stood in sharp contrast with the grandest moments in the Beethoven. His debut as LACO's Music Director bodes well. Stay tuned!
Douglas Dutton