United States Festival O19 [4] – Handel, Semele: Soloists, Chorus, and Orchestra of Opera Philadelphia / Gary Thor Wedow (conductor), Perelman Theater, Kimmel Center, Philadelphia. 28.9.2019. (BJ)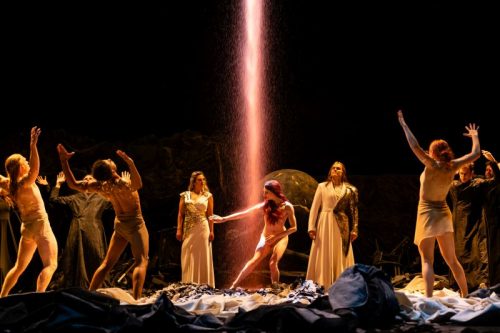 Production:
Director – James Darrah
Choreographer – Gustavo Ramirez Sansano
Scenic and Lighting design – Emily Anne MacDonald and Cameron Jaye Mock
Costume design – Sarah Schuessler
Projection design – Adam Larsen
Chorus master – Elizabeth Braden
Cast:
Semele – Amanda Forsythe
Jupiter – Alek Shrader
Juno/Ino – Daniela Mack
Athamas – Tim Mead
Cadmus/Somnus – Alex Rosen
Iris – Sarah Shafer
Principal Dancer – Lindsey Matheis
This was one of those rare performances that can change your world. I think of myself as pretty well clued up on Handel, who ranks for me – as he did for Beethoven – as the greatest of all composers. Greatness, though, has its gradations. Reviewing a musically superb if dramatically flawed production of Semele in Victoria, BC, ten years ago, I took the view that the work itself might be thought to occupy a place fairly low down in the hierarchy of Handelian masterpieces.
Not any more.
James Darrah's conception of Handel's Ovid-based and Congreve-derived Semele made its debut, with costumes by Sarah Schuessler, in a 2014 workshop staging presented by Seattle's innovative Pacific MusicWorks. His full-scale production first took the stage for Opera Omaha in 2016, the same year in which Opera Philadelphia's public witnessed the formidable range of his directorial talent in Missy Mazzoli's dazzling new opera Breaking the Waves. The 2019 version was thus the third incarnation of his and Schuessler's vision of the work, which continues, he says, 'to yield new discoveries, showing us possibilities that we hadn't even thought to explore the first time around,' and the dramatic coherence and imaginative force it achieved spoke volumes for the results attainable through years of serious and challenging thought.
For once, musical values were ideally balanced with theatrical effects. The stage pictures realized by Scheussler – in collaboration with scenic and lighting designers Emily Anne MacDonald and Cameron Jaye Mock – were at once rich and unfailingly elegant. Darrah's impeccable blocking worked hand in glove with the exuberant darting-about of Gustavo Ramirez Sansano's choreography to ensure that the interplay of characters was always physically clear, while the plethora of acrobatic leaps made a telling contrast with the stillness of the scene in which Somnus – the personification of sleep and according to Virgil the brother of Death – stubbornly refused all cajolements to action and collapsed on top of a heap of nearly motionless figures. There was also a beautiful scene that magically shadowed the singing Ino's eloquent gestures with those of principal dancer Lindsey Matheis – a touch that reminded me of the pairing of singers and dancers in the wonderful production of Gluck's Orfeo staged by Robert De Simone at La Scala in 1989.
What Darrah and his colleagues has drawn from these elements, is the vivid and indeed implacable portrayal of a world where, despite the stately period environment, vain ambition and irresponsible frivolity form a combination that leads inevitably to self-destruction. In a sense, the title character can be called the heroine of the piece – but in all conscience Semele is a perfectly silly woman, who remains dissatisfied by the 'endless pleasure, endless love' afforded by her liaison with Jupiter because he fails to get on with the job of making her immortal, which is what she really wants. Darrah has wisely refrained from injecting any sort of Me-Too-ish glosses into the plot: this Jupiter, though as libidinous as Wotan (and similarly provided with an understandably jealous wife), is in truth too good for the lady, and he goes to some length to shield her from the disaster that an encounter with what he knows to be the terrifying power of his full unveiled godhead is sure to bring upon her.
Every one of the characters was portrayed with subtlety and dramatic strength by the cast. Amanda Forsythe is, I suppose, the biggest star among them, and her lovely singing and potent acting in no way disappointed, but there was not a trace of a weak link on stage. The production follows Handel's practice in the work's 1744 premiere by double-casting Cadmus with Somnus and Ino with Juno, and in voice and gesture both artists were fully equal to their tasks. Sarah Shafer was a lively Iris. Athamas, loved hopelessly by Semele's sister Ino, brought us a superb countertenor in the person of Tim Mead. And Alek Shrader was a suitably authoritative Jupiter.
I have to confess that I was a tad disappointed for a moment – but only for a moment – by a relative lack of the buoyancy we usually enjoy in 'Where'er you walk', which unquestionably belongs on the list of Handel's 100-or-so most sublime melodies. With all its grand effects, the production did intimacy just as well, and this turned out to be one of the afternoon's many instances of diligent thought yielding deep artistic satisfaction. Shrader and his conductor had taken the trouble to notice that the performance direction for the song is 'Largo e pianissimo per tutto' and they accordingly treated it to a reading a good deal slower than usual and indeed of the utmost dynamic restraint and rapt intensity; closer to the introverted world of 'Dalla sua pace' than to the more outgoing 'Il mio tesoro', it vividly revealed the inwardness of a character too easily and too often portrayed as somewhat superficial.
And the conductorial element in this brings me, not before time, to Gary Thor Wedow. This is a maestro who has often impressed me with his feeling for baroque style and his technical assurance. Yet, when the work reached its first big ensemble, I found myself utterly unprepared for the brilliant cut and thrust of chorus and orchestra – a zest and panache, a sheer slancio that proved irresistible throughout the performance. The orchestra, moreover, was at its incisive best, with graceful solo playing on all sides, crisp rhythms, and a couple of timpani breaks by Martha Hitchens of spectacular virtuosity. All this was intensified by the familiar clarity of Elizabeth Braden's chorus's diction: there was practically no need to look at the supertitles, well written by Darrah himself, and cleverly displayed by the side of the stage so as not to distract the eye.
Bernard Jacobson