United States Massenet, Manon: Soloists, Metropolitan Opera Orchestra / Maurizio Benini (conductor). Broadcast live from the Metropolitan Opera House to Cineworld Basildon, Essex, 26.10.2019. (JPr)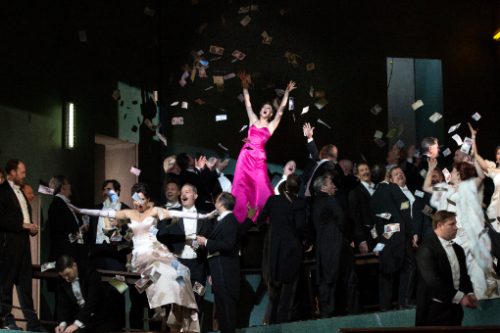 Production:
Director – Laurent Pelly
Set Designer – Chantal Thomas
Costume Designer – Laurent Pelly
Lighting Designer – Joël Adam
Choreographer – Lionel Hoche
Revival Stage Director – Christian Räth
Cast:
Manon Lescaut – Lisette Oropesa
Chevalier des Grieux – Michael Fabiano
Lescaut – Artur Ruciński
Guillot de Morfontaine – Carlo Bosi
De Brétigny – Brett Polegato
Comte des Grieux – Kwangchul Youn
Poussette – Jacqueline Echols
Javotte – Laura Krumm
Rosette – Maya Lahyani
An Innkeeper – Paul Corona
Guards – Mario Bahg, Jeongcheol Cha
A maid – Edyta Kulczak
Live in HD Director – Gary Halvorson
Live in HD Host – Nadine Sierra
Massenet was something of a musical heir to Gounod who had taken on board some of the ideas initiated by Wagner. Massenet composed 25 operas, including Thaïs (1894) – whose symphonic intermezzo is a familiar concert piece – and Don Quichotte (1910) but it is just Manon (1884) and Werther (1892) that are regularly put on today. Manon was hailed as a French work that could truly match the popular versimo operas of the day, as well as, Wagner's music dramas. Even now it is overshadowed by Puccini's even more successful 1893 version of Abbé Prévost's original novel L'Histoire du Chevalier des Grieux et de Manon Lescaut.
So Massenet's Manon just about clings on to its place in the repertory, even though its tale of an alluring young girl from a small town with a fatal attraction to riches and pleasures – who reaps what she sows – has long been an irresistible vehicle for composers, as well as, star sopranos! Manon is a problematic work as it has the 'heroine' centre stage for most of the opera and dubiously 'celebrates' her passion, not only for Des Grieux, but also for a life of luxury. Massenet and his librettists (Henri Meilhac and Philippe Gille) make the story less bleak than in the original novel and give us two very busy outdoor scenes, some moments of intimacy, a church scene, a tense gambling one, with along the way – the almost obligatory – ballet divertissement.
The major issue with Manon is that it is part-operetta – because of the spoken dialogue and some broad comedy – and spends over two hours getting Des Grieux and Manon together, then separates them before a passionate reunion. Then in much less than an hour it rushes through Act IV which is a homage to the gambling scene in Verdi's La traviata followed by a final act that would have inspired Puccini as (spoiler alert!) Manon dies in Des Grieux's arms. Massenet really makes it difficult to connect with the plight of the lovers because of all the shifts in tone and a denouement that is very rushed. Although the composer and his librettists could have trimmed some of the excess, it seemed an even longer evening because of the Met's outdated backstage practises – highlighted by the Live in HD transmission coverage – and the inordinate time some scene changes took.
Laurent Pelly who directed this 2012 Manon – a co-production with some important European opera houses – could do nothing about these flaws unless he cut some dialogue or music which was a possibility. What Pelly and his colleagues have produced – despite its questionable subject matter – is an attractive showcase set during the La Belle Époque, the time when the opera was composed. Chantal Thomas provides rather abstract sets, with their askew floors and angles and a final wonderful perspective for the seafront at Le Havre.
In Act I of this revival (overseen by Christian Räth) we meet Guillot, a lascivious, elderly nobleman (a nuanced characterisation by Carlo Bosi) and the wealthy De Brétigny (the more stolid Brett Polegato), arriving in the courtyard of an inn in Amiens, escorting three lively, hard-to-handle, young women – wonderful vignettes from Jacqueline Echols, Laura Krumm and Maya Lahyani (that were compared during the broadcast to Wagner's Rhinemaidens). The courtyard is surrounded on three sides by tall walls, and a large stairway at the back leads to an upper level, where miniature buildings suggest distant streets. There is no hint of a coach to be seen and starting with this scene – and recurring throughout this production – there is too much rushing up and down stairs which occasionally tests singers' stamina.
Because her parents are disturbed by Manon's fondness for luxuries and frivolity she is on her way to a convent. Lisette Oropesa was far and away the best thing about this performance and brings to life the romantically fickle, slightly gawky Manon. (I suspect it is not a coincidence that she looks like Leslie Caron as the young Gigi.) Most importantly it does not need a suspension of disbelief to imagine this Manon is a teenager; though nobody could believe Michael Fabiano – the infatuated Chevalier des Grieux – was anything less than in his mid-thirties when he is also supposedly a teenager! Des Grieux is a feckless 'youth' who Massenet has fall in love rather too swiftly with Manon when he sets his eyes on her and is instantly able to persuade her to run away with him.
Pelly and Thomas provide an intimate garret for their Paris sojourn in Act II but there is little they can do about Des Grieux's rather perfunctory abduction by his father at the end of the act. The first scene of Act III takes place with the demi-monde promenading (there are lots of top hats and bustles) at the Cours-la-Reine in Paris. There is a zigzagging ramp with metal railings and Manon, having abandoned Des Grieux, arrives on the arm of De Brétigny, in an extravagant gown with a feathered hat. When Guillot presents a small ballet troupe for Manon's entertainment, the dancers have to perform on that ramp. At the end, some of the ogling 'gentlemen' fling these Degas ballerinas over their shoulders and carry them off. In this post-#MeToo world when no day goes by without some report of predatory sexual activity by people in high places – something the Met itself has not been immune to! – I wonder if some second thoughts might have been good here?
Having discovered that Des Grieux is distraught over her rejection, Manon rushes to the seminary of St Sulpice – where he is seeking solace in religion and is to become a priest – to win him back. In the vestry of the church is a small, metal bed on which at the 'climax' of the seduction scene, Oropesa's writhing Manon rips open his vestment and pulls him on top of her and – despite any obvious chemistry between Manon and her Des Grieux – the curtain falls just in time it seems!
After this the remaining acts are rather an anti-climax! There are some inspired arias in Massenet's score, especially for Manon and – citing another Wagnerian connection – Oropesa considers the role the equal of Isolde. A soprano is given a near-impossible task as she must launch straight into an exuberant 'Je suis encor' tout étourdie' in Act I that Oropesa overcomes resplendently. The singer is making a welcome return to the Met after much international success and is singing her first Manon, and memorable she is too. Her voice has a bright sound, a smooth legato, reliable coloratura and pin-sharp top notes. There was a deeply heartfelt rendition of her second act 'Adieu, notre petite table' as she bids farewell to her life with Des Grieux (something that reminded me somewhat of Colline's 'Coat' aria in La bohème).
For me Fabiano was a rather stiff and self-absorbed Des Grieux and – though I am sure others will have differing views – he was much better to listen to than to watch. There is no doubt he has a full-throated, rich and emotional tenor voice that is secure throughout his range but, for me, he is no great actor. Nevertheless, he gave an ingratiating account of 'En fermant les yeux' – with exquisite high pianissimos – in which Des Grieux relates his dreams of future wedded bliss. Also, when duetting with Oropesa there was undoubtedly some impassioned singing from them both.
The role of Lescaut is rather underwritten and the charismatic Artur Ruciński made the vigorous best of what there is. Here he is not Manon's pimping brother of the original novel but rather a bit of chancer and, in the end, something of a 'loser', especially as a gambler! Kwangchul Youn had undoubted gravitas but was a rather dour Le Comte des Grieux, the young Chevalier's father.
Long intervals and scenery changing aside; the performance did not have too many other longueurs and this was thanks to conductor Maurizio Benini. It all sounded – through cinema loudspeakers – as if his orchestra played excellently for him and together they produced a stylish, flexible, fresh-sounding performance, full of Gallic élan and rhythmic verve. There was always an impressive forward momentum with little hint that he ever indulged his singers, which can happen from time to time at the Met.
Jim Pritchard
For more about The Met: Live in HD series click here.