Germany Wolf, Schoenberg, Brahms, Mahler, Wolf, Reutter and Falla: Katharina Kammerloher (mezzo-soprano), Roman Trekel (baritone), Klaus Sallmann, (piano), Ensemble Monbijou: Dana Sturm (piano), Tobias Sturm (violin), Boris Bardenhagen (viola), Hannah Eichberg (cello), Kaspar Loyal (double bass). Apollo Saal, Staatsoper Unter den Linden, Berlin, 2.10.2019 (MB)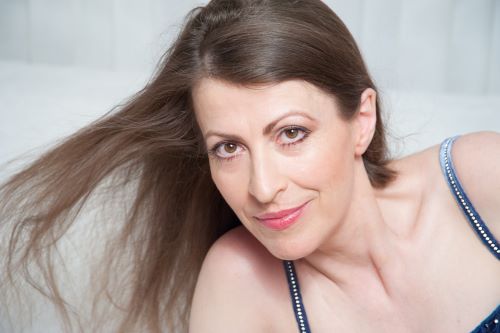 Wolf – Auf einer Wanderung; Verschwiegene Liebe; Begegnung; Nimmersatte Liebe; Lied vom Winde; In dem Schatten meiner Locken: Die Zigeunerin
Schoenberg – Brettl-Lieder: 'Galathea', 'Mahnung', 'Arie aus dem "Spiegel von Arkadien"'
Brahms – Feinsliebchen, du sollst mir nicht barfuß gehn, WoO 33 No.12; Da unten im Tale, WoO 33 No.6; Vergebliches Ständchen, Op.84 No.4; Zigeunerlieder, Op.103: 'Brauner Bursche', 'Röslein dreie'; Liebesglut, Op.47 No.2
Mahler – Des knaben Wunderhorn: 'Trost im Unglück'; 'Verlorne Müh''; 'Aus! Aus!'
Hermann Reutter – Tanz
Falla, arr. Christian Dominik Dellacher – Siete canciones populares españolas (first performance)
With this recital, mezzo-soprano Katharina Kammerloher, joined by colleagues Roman Trekel, Klaus Sallmann, and musicians drawn from the Staatskapelle Berlin under the name of Ensemble Monbijou, celebrated her twenty-five years as a member of the Staatsoper Unter den Linden's ensemble. From the past couple of years or so, I have heard her as the Ariadne Composer, Marcellina, and Eva (Meistersinger), and in a trio of roles from Schumann's Szenen aus Goethes Faust at the Linden opera's reopening, a good number of performances before that too. This, however, was the first time I had heard her in recital. This evening in the Staatsoper's Apollo Saal proved most enjoyable, heightening the sense of a likeable, intelligent, and versatile artist.
The opening set of Wolf songs did not necessarily offer the easiest way to start, yet struck just the right tone. Attention to detail in Auf einer Wanderung was noteworthy: the floating first syllable of 'Nachitigallenchor' indicative of a world of song to come. Pianist, Klaus Sallmann's piano introduction proved skittish and generative, for both parts. A sense of change, of transformation following the song's Wagnerian interlude was palpable, Richard Strauss and his world no longer distant; 'Ach hier, wie liegt die Welt so licht!' A rapt Eichendorff Verschwiegene Liebe, and vividly communicative performances of the two following songs, prepared the way for a dramatic, unmistakeably post-Wagnerian reading of the Mörike Lied vom Winde, Sallmann's nimble, directed fingerwork rendering him at least an equal partner. Here and elsewhere, Kammerloher's collegiality shone through: this was clearly as much an occasion to celebrate the company as a whole as her contribution over the past quarter of a century.
Why Schoenberg's Brettl-Lieder are not performed all the time, I simply cannot understand, although I suppose I would say that. It would doubtless be an exaggeration to say they are as indicative of the composer's subsequent path as his Gurrelieder, but an excellent performance, albeit here of only three, can persuade one otherwise – as this did. One thinks, perhaps inevitably, of Berlin, but a sense of the composer's travelling between Vienna and Berlin is, or should be apparent, and was in this case. (The songs were not, as has sometimes been claimed, written for Ernst von Wolzogen's Buntes Theater, where Schoenberg served as Kapellmeister; Schoenberg had written them in Vienna, before leaving for Berlin.) Whatever Schoenberg may have had to say about style and idea, style is crucial here, and Kammerloher – Sallmann too – captured that Schoenbergian cabaret style, leading to Pierrot and beyond. Driven by words in a different way from Wolf, yet without loss to the melodic line, these witty performances were equally driven or, perhaps better, founded upon a rhythmic lilt it is difficult not to consider Viennese.
Brahms and Mahler concluded the first half, the former in folksong mode, the latter not a million miles therefrom, albeit with a distancing that comes necessarily with the Mahlerian territory. Perhaps there might have been a little more sense of alienation in those Wunderhorn songs, although, by the same token, it might in context have sounded overdone. Joined now by pianist Dana Sturm and baritone Roman Trekel, Kammerloher and her partners again worked with the lilt of dance rhythms, to bring out verbal as well as musical meaning, the lightly worn sadness of Brahms's Da Unten im Tale a particular highlight for me. I was intrigued, moreover, by how Mahler sounded with reference not only to Brahms but to Schoenberg: interesting programming, which paid off handsomely.
Brahms reappeared after the interval, this time accompanied by Wolf (and Sallmann). A lively Brauner Bursche offered perhaps more refulgent vocal tone than we had heard hitherto, yet not at the cost of precision and verbal communication. Brahms's Liebesglut offered a welcome instance of the composer in darker mode: turbulent and determined in both parts, in work and performance. Such richness here in a single song, wonderfully revealed! Wolf's Die Zigeunerin offered an intriguing pendant: much more than a more pendant, of course, but again indicative of intelligent, meaningful programming, as was the inclusion thereafter of Hermann Reutter's post-war Lorca setting, Tanz. One rarely hears Reutter's music, doubtless partly on political grounds. This song suggested, however, that we should. Motoric, after Hindemith, it proved quite thrilling, both as song and scena, Kammerloher not afraid to make a rawer sound, yet within the bounds of song.
An accomplished new arrangement, by Christian Dominik Dellacher, for voice, piano, violin, viola, cello, and double bass, of Manuel de Falla's Siete canciones populares españolas, received its first performance as the final item on the programme: both well prepared and welcome in its contrast. Dellacher's work was not overdone, yet helped lift or translate the songs into a new setting, the instrumental ensemble bringing an atmospheric sense, appropriate in context, of somewhere between the coffee house and the cabaret. In the most overtly 'Spanish' of the songs, such as 'Nana' and the closing 'Polo', the latter imbued with nervous energy by all concerned, Kammerloher seemed both possessed by and to possess the local idioms. The intervening 'Canción' proved, aptly enough, more conventionally songful, harking back to much of what we had heard before. It was a lovely evening, then, and a fitting tribute to Katharina Kammerloher as first among equals.
Mark Berry