United Kingdom Gluck, Orpheus and Eurydice (1774, Berlioz edition: sung in English): Soloists, Chorus and Orchestra of English National Opera / Harry Bicket (conductor). London Coliseum, 1.10.2019. (CC)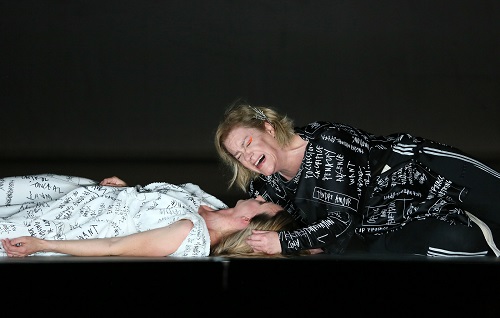 Production:
Director/Choreographer – Wayne McGregor
Set designer – Lizzie Clachan
Costume designer – Louise Gray
Lighting designer – Jan Clark
Video designer – Ben Cullen Williams
Associate Director – Odette Hughes
Cast:
Orpheus – Alice Coote
Eurydice – Sarah Tynan
Amor – Soraya Mafi
Dancers – Luke Ahmet, Joshua Barwick, Rebecca Bassett-Graham, Fukiko Takese, Jordan James Bridge, Izzac Carroll, Jasmine Chiu, Sara de Greef, Sharia Johnson, Chien-Shun Liao, Mathilde Lin, Eileih Muir, Jacob O'Connell, Kyle White
I am sure record collectors will remember John Eliot Gardiner's 1989 recording of the Berlioz edition of Gluck's Orfée et Eurydice with Anne Sofie von Otter, Barbara Hendricks and Brigitte Fournier (reviewed on Musicweb International here; the review points out that is not 'pure' Gluck/Berlioz as Gardiner reinstates some music Berlioz omitted).On the first night of ENO's current set of traversals of the score, Harry Bicket, known for his affiliations with early music, conducted – perhaps inspired – the English National Opera  orchestra; there were moments of grace in this evening's performance that were most affecting, not least the 'Dance of the Blessed Spirits'. One could count moments of string scrawniness, once such a defining part of ENO's sound signature, easily on the fingers of one hand. The excellent chorus is off the stage in the theatre boxes and the pit, leaving ENO's vast stage as the province of the singers and dancers.
The dance element is pronounced, presumably stemming from the fact that dance forms part of the opera's life blood; here, then, that blood is dance-super-oxygenated. Dancers appear in Louise Gray Harlequin-garish costumes (reds and yellows – presumably it's no coincidence that these are associated with the lower, less spiritual chakras; they are ostensibly re-thinkings of Greek draperies). Those colourful costumes contrasted with the black and white of Orpheus's garb and the virgin-white of Eurydice.
A dance troupe colonises the stage at various times, and not just the set pieces; while a dancer shadows Eurydice (at the close of the piece, another solo dancer is added to the mix to make two pairs each of one singer and one dancer for Orpheus and Eurydice). The Orpheus myth has drawn responses previously from the likes of Balanchine and Ashton. Time for Wayne McGregor, who has previously tackled Orpheus 27 years ago as director for Scottish Opera (when Harry Bicket was also at the helm; this was, apparently, dancer-free though). Quoted in the programme booklet, McGregor states that 'Really, I just want it to be an act of beauty'. That, certainly, he achieved, with dancers most often acting as an amplification of the music's emotions. Much was incredibly beautiful and riveting to the eye, although a moment in the final act with cross-legged dancers strewn across the stage did look rather like a yoga class.
One of ENO's great strengths is its stage trickery: the divers in Pearl Fishers immediately spring to mind. Here, an illuminated strip at the back of the stage was used for a huge variety of effects, including strobe. Certainly, the descent into Hell/Hades was mightily effective, with choreography, videography and the music all coming together impressively.
A visual feast, then, and lovers of scenic minimalism will rejoice – I believe the same basic set s to be used for all four of the Orpheus operas ENO is staging this season. We start by seeing Eurydice dead, suspended in a transparent box (the box idea returns on a larger scale when the stage becomes one large inside of a box). Gluck's opera only has three sung characters: Orpheus, Eurydice and Amor. We were greeted, prior to the commencement of the Overture, by an announcement that Alice Coote had been suffering for several weeks(!) from a viral infection. Coote has triumphed previously, not least in a star-studded Ariodante at the Barbican in May 2017 (review). Even with compromised vocal output, she was able to command the stage, although one did feel Bicket had to mute the orchestra's contribution at times. Coote's final scenes with Eurydice were truly touching, while her 'Che farò' was lovely (and lovingly accompanied). The Eurydice, Sarah Tynan, was exceptional in every respect, projecting perfectly, superb diction and affecting in every way. Even in death, she triumphed (her limbs really did look death-malleable).
Soraya Mafi has impressed regularly, here at ENO in G&S's Pirates as Mabel and over in Strasbourg as Cintia in Legrenzi's La divisione del mondo. Here, she seemed to struggle a little early on, not really projecting to the back of the stalls, although she found both dramatic presence and a voice both sweet and strong in the later parts of the opera.
This opera is part of a celebration of the Orpheus myth which also includes Offenbach's Orpheus in the Underworld, Glass's Orphée and, most tantalising of all, the first staged performance since its premiere of Birtwistle's The Mask of Orpheus (this new one will, allegedly, feature 400,000 Swarowski crystals, which is intriguing to say the least). As I am sure was the case for many, that 1980's premiere of the Birtwistle was a defining moment in my appreciation of the composer's genius and indeed of just what is possible on an operatic stage – the telling of two versions of the myth simultaneously struck me as utterly remarkable. Returning to Stockhausen's Donnerstag recently after a similar gap was exquisitely stimulating, and one fervently hopes the same will hold for Birtwistle's Mask. The Swarowski crystals point to a decadence that seems to be at the opposite pole of this Gluck all to the good, then.
If Gluck's Orpheus did not quite live up to expectations, one hopes for a speedy recovery for Coote and for everything to gel together conclusively as the run progresses.
Colin Clarke