Germany Wagner, Tristan und Isolde: Soloists, Leipzig Opera Chorus (chorus director: Thomas Eitler-de Lint), Leipzig Gewandhaus Orchestra / Ulf Schirmer (conductor). Leipzig Opera House, Leipzig, 5.10.2019. (MB)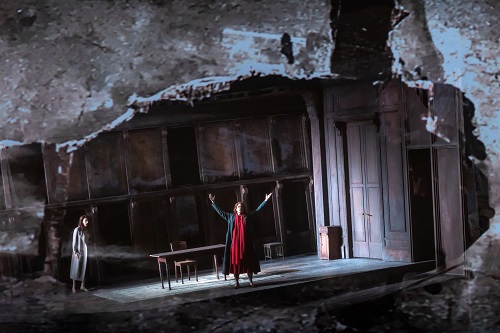 Production:
Director – Enrico Lübbe
Co-director – Torsten Buß
Set designs – Étienne Pluss
Costumes – Linda Redlin
Video – fettFilm
Lighting – Olaf Freese
Dramaturgy – Nele Winter
Cast:
Tristan – Daniel Kirch
Isolde – Meagan Miller
King Marke – Sebastian Pilgrim
Kurwenal – Jukka Rasilainen
Melot – Matthias Stier
Brangäne – Barbara Koselj
Shepherd – Martin Petzold
Steersman – Franz Xaver Schlech
Young Sailor – Alvaro Zambrano
Leipzig's relationship with its greatest son has never been easy, nor should it have been. Wagner, in all his glorious and inglorious contradictions, is too complicated, problematical, and interesting to be reduced to mere hero-worship; or, as Theodor Adorno put it, 'progress and reaction in Wagner's music cannot be separated as sheep from goats'. There has been – arguably, still is – enough of that in Bayreuth, anyway. Many Wagner productions of what we may broadly think of as the Regietheater era have acknowledged that: Rings from Joachim Herz to Frank Castorf and beyond, Parsifal and Meistersinger stagings too. Of the music dramas, however, Tristan has seemed more resistant to problematisation, deconstructive or otherwise. Rare examples with some degree of success have included Peter Konwitschny's old Munich production and, more fully, Dmitri Tcherniakov's 2018 staging for Berlin's Staatsoper Unter den Linden, the latter loudly denounced by most, yet for me fruitful in its alienation. Ultimately, Tristan's problems seem different: more a matter of balance between drama as conventionally understood and that metaphysical drama of the Schopenhauerian Will and representation which Wagner, for one, certainly came to see as the work's true core. Or is it, perhaps, that one needs to look and indeed to listen more closely, more subtly, for the fissures of a modernity that no one has ever seriously been able to deny this most singular of works?
The question remains open, I think. In the meantime – we shall likely ever remain in that meantime – Oper Leipzig has steadily been renewing its Wagner roster. This new Tristan production arises from a welcome Leipzig collaboration with the Intendant at the city's Schauspiel, Enrico Lübbe, and his deputy, Torsten Buss. Fundamental to the staging is a ship(wreck): the location, in a relatively straightforward realistic sense, of the first act, yet also a focus for memories, dreams, psychological states and philosophical ideas brought into being. Each act has the same basic setting, yet is seen from a different standpoint, in a different state of repair, on a different scale, so as to enable the quasi-symphonic emergence of unity in diversity, ultimately cyclical, as perhaps befits a nineteenth-century work, in a final, post-Liebestod return by Tristan and Isolde to a pristine ship, never previously seen – and perhaps never having existed – in that state. In its second-act ruins, we appreciate not only our construction of connections, but crucially, our capacity for imagination.
So too does Tristan, who, during Isolde's initial confrontation with him, soon regresses to the role of a child, even an unborn one, lying in foetal fashion, as if to recapture the essence of a relationship he never consciously experienced first time around, his mother having died during childbirth. Is it his imagination, then, that creates the multiplying Isolde figures during the love duet? What do they signify? There is an aimlessness, an unsatisfactory nature to them, which may hint at dashing of romantic hopes long since foretold, psychoanalytically. There is something, moreover, of the delirium we encounter more fully in the third act, to the way people, settings, thoughts, and even narratives drift in and out of consciousness. Can one, should one, begin to piece them together? Temptation is unavoidable; the production seems to encourage it. A nagging doubt nonetheless remains, like the contemporary, or at least Adornian, nagging doubt concerning Wagnerian totality. It is Tristan und Isolde, of course, not Tristan oder Isolde; the celebrated second-act discussion of 'diese süße Wörtlein: "und"' is often understood to offer a conceptual key to the work. And yet, Tristan will tear off his bandages, will he not? In what sense are the two ever truly united? Is the union we witness at the close of this production noumenal, phenomenal, or a sham?
Oppositions will always play a crucial part in Tristan, above all that between night and day; it would be strange if that did not in some sense feature in a staging. It certainly does here, for instance when the stage turns almost, yet not quite, black – part of the ship may still just be perceived – after drinking of the potion and, again, during the love duet. Night, even then, is a creation: of Tristan and Isolde; of the ship, as foundation and locus of the drama; of Wagner; of the performer; of the audience; and so forth. That we wish the dimly perceptible set to disappear entirely is symptomatic: Romantic illusion and delusion are ours, as well as the character's, as well as Wagner's. Perhaps, then, we did need to watch and listen more subtly. One might think of this as a collaboration between different forms of light: lighting and video, as well as those entrusted with it (Olaf Freese and Torge Møller of fettFilm); Freese in the programme booklet refers to a 'Zusammenspiel [interplay] von Licht und Video'. Film, just as much as set design, creates and disintegrates the ship – at least until the close. Likewise, we might say, there are collaboration and, more dramatically, interplay  between realism and abstraction; between the individual psychological of chamber theatre – often chamber music, too – and metaphysical symbolism; and, of particular importance to this production, between sea-voyage and its fateful, fatal culmination, symbolised by the image of a ship, perhaps as shipwreck, as its own graveyard, somewhere between stagnant and dead. It should move, yet it does not; rather our gaze moves, or is moved for us by the design team, and more broadly, the production. Our soul, similarly, is moved, or should be, by Wagner's great Greek Chorus of the orchestra.
Visual and, more specifically, design values are strongly to the fore, yet not for their own sake, as mere backdrop, but as a portal to the dramatic and conceptual. One may think this a Seelenlandschaft ('landscape of the soul'), as Lübbe describes it, not least when the excellent English horn player, Gundel Jannemann-Fischer, wanders across the stage, a different figure from the Shepherd: a relationship that may perhaps be understood in terms of Schopenhauerian aesthetics and implicit critique or at least (typically Wagnerian) extension thereof. The alte Weise is far more than something the Shepherd plays, yet Wagner would have considered that all the more justification for concealment of the player. Granting the instrument personification, albeit in gentle, non-provocative fashion, both heightens the importance of music and also lightly nods to a twentieth-century world of music theatre, even of post-Holocaust antagonism to idealist totality. Whatever the truth of that – one soon finds one is tied in knots – it is surely the case that even a quasi-Schopenhauerian relationship, however, may only be accomplished by parallel or, ideally, Hegelian-dialectical communication and understanding of, if not its negation, then at least its inversion; that is, by nurturing also a sense of soul in landscape, in Nature. It was a Romantic reading, ultimately, that I gleaned, as befits an ultimately Romantic work.
Much to ponder, then, which is far from always the case in a Tristan staging. Unfortunately, musical fortunes proved patchier, above all from Wagner's aforementioned tragic Chorus, the Leipzig Gewandhaus Orchestra, and its conductor, Ulf Schirmer. The orchestra has a wealth of Wagnerian experience to call upon; this was no vintage night, however, with some strikingly careless and non-committal playing and only intermittent presence of its distinctive, 'old German' tone. Schirmer's direction certainly did not help, especially in the first act, whose form had yet to be mastered. The opening Prelude seemed to go on forever: not on account of tempo as such, but of a lack of unifying 'unendliche Melodie', vertically and horizontally. A striking lack of chemistry between orchestra and conductor may have betokened an off-night; it was nevertheless concerning, given that Schirmer is no visiting conductor, but the opera's General Music Director and Intendant. As is often the case, 'traditional' cuts did their distorting work; neither sole nor even principal responsibility, however, lay with them. Ingolf Barchmann's bass clarinet deserves a mention for its roving, malevolent, harmonically destabilising contributions.
There was more to enjoy vocally, though here the picture was also mixed. Most singers improved as the evening went on, Daniel Kirch's Tristan fully coming into its own in a highly impressive third act. Too much in the way of first-act barking gave way, ironically, to a more lyrical style. Given that many tenors struggle to make their way through the work in one piece, perhaps this was a matter of first-night nerves and issues of pacing; dramatic instinct and technical ability were certainly present. Meagan Miller's lyrical, touchingly human Isolde occasionally sounded overwhelmed, yet for the most part offered – and contributed – much. Barbara Koselj's Brangäne offered the most consistently impressive vocal performance, as unfailingly intelligent as her subtly expressive gesture. Jukka Rasilainen struggled as Kurwenal in the first act, bluff and dry of tone, but recovered markedly in the third. Sebastian Pilgrim made a fine impression as King Marke, sonorous of tone and, again, unquestionably human. Smaller parts were all well sung and acted, Alvaro Zambrano's Young Sailor in particular catching the ear. (He also, unusually, appeared briefly on stage.) Had there been more consistent collaboration with this chamber-drama sphere from 'metaphysical' orchestra and conductor – the opposition is, of course, not precise – the wholeness of the evening's experience would undoubtedly have been furthered. Yet even in that (relative) lack, one was led to think about the desirability or otherwise of totalising intoxication. Nietzsche's opus metaphysicum, its score only to be read when wearing gloves, may not always have been fully realised; in a deeper, yes metaphysical, sense, it remained untamed as ever.
Mark Berry
For more about Oper Leipzig click here.