Switzerland Pärt, Sibelius: Johanna Rusanen (soprano), Ville Rusanen (baritone), Estonian National Male Choir RAM (chorus master: Mikk Üleoja), Zurich Sing-Akademie (chorus master: Florian Helgath), Tonhalle Orchestra Zurich / Paavo Järvi (conductor), Tonhalle Maag, Zurich, 3.10.2019. (JR)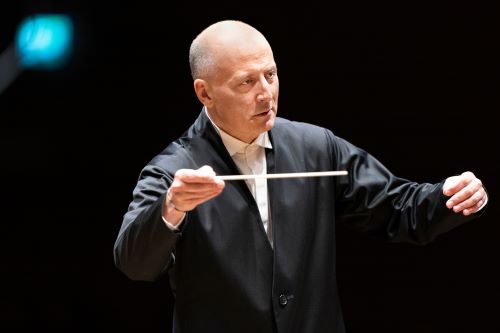 Pärt – If Bach had bred bees (world première of new version) for piano, string orchestra and percussion
Sibelius – Kullervo Op.7 for soloists, men's chorus and orchestra
Posters around the city, featuring a prominent picture of Paavo Järvi, proudly trumpet the arrival of the esteemed Estonian maestro for the start of his official tenure as Chief Conductor of the Tonhalle Orchestra Zurich. A few years ago, it was the turn of a relatively unknown young Frenchman in that post, Lionel Bringuier, but while his arrival was announced with a degree of hope and optimism, Järvi's arrival is stated with palpable confidence and no little excited expectation. Järvi has nothing at all to prove: he can therefore start his programming with a statement of bold intent. (His next concerts, admittedly, feature Tchaikovsky symphonies – but halls do need to be filled).
So, who else to start us off on this journey of discovery but Järvi's fellow Estonian and very good friend Arvo Pärt. Pärt originally composed the piece with the intriguing title If Bach had been a beekeeper or If Bach had bred bees back in 1976 and the work has been repeatedly rearranged by the composer. Originally composed for harpsichord, instrumental ensemble and tape, Pärt then created a second arrangement for piano, wind quintet, string orchestra and percussion. Now, 35 years later, he has returned to the same material and revised the entire score yet again, making it more compact and engaging. The piece was a gift to the orchestra from the composer, not a commission: such is the friendship between Pärt and Järvi. The short (6-minute) work is based on the number four and the notes B-A-C-H. It only took a few notes to recognise Pärt's distinctive sound world. The work is in two separate parts, the first (in which woodblock and buzzing strings play prominent roles) is in Pärt's inimitable tintinnabuli (Latin for bell) style; the second, more melodic section is more expressive and pseudo-baroque. Pärt was present at the première, as was Paavo's distinguished father, Neeme, now in his eighties.
Sibelius was only 25 when he wrote Kullervo, and this was his breakthrough. It was a time when the Finnish people's feelings of national identity and resentment of their Russian overlords were reaching fever pitch. With this work, Sibelius became the cultural figurehead of the nationalist movement.
Kullervo is still a relative rarity in concert halls outside Scandinavia and the Baltics. The work is a lengthy five-movement symphonic poem with soloists in one movement and a men's chorus in two. A first-rate choir with a firm command of the Finnish language is required, plus two preferably Finnish soloists who know the work and a conductor with a strong grasp of, and penchant for, Sibelius. Järvi had, of course, assembled exactly the right team. The work takes 75 minutes and is not generally known to Swiss audiences – so not a sure-fire box office hit; however, three consecutive virtually sold-out performances said it all for Järvi's official debut.
Sibelius was reluctant to have Kullervo performed in later life on two grounds. First, he had intended to revise it, appreciating that it was an immature work. Secondly, he wanted the piece to appear to be uninfluenced by other composers (Grieg often came to my mind) or folk music.
Kullervo was not performed again until Sibelius's son-in-law conducted it in 1958, the year after the composer's death, and the work was not recorded until much later. Paavo's father Neeme, conducting the Gothenburg Orchestra, is just one of the few conductors who have recorded the work.
The rather gloomy story of Kullervo forms just one small part of the Kalevala, Finnish mythology. Kullervo, a young warrior, is on a journey seeking revenge for his father's death, when he encounters three maidens. He tries to seduce all three, but only the third yields to him. Afterwards he discovers the maiden is his own long-lost sister (shades of Siegfried and Sieglinde). She kills herself in shame and tries to drown his own disgrace by fighting wars. Eventually fate leads him back to the place of the seduction, where he kills himself.
The piece is rather bleak, the chorus declamatory throughout. The soloists often sound tormented. It is an epic journey, expressed through galloping or trudging rhythms, interspersed by some beautiful moments. Few in the audience could follow, let alone understand the Finnish text, and the hall was too dimly lit to be easily able to follow the German translation. For some, I suspect, the work was somewhat of a feat of endurance.
How fitting that Johanna Rusanen and Ville Rusanen are brother and sister. Johanna trained at the Sibelius Academy in Helsinki and in Kuopio, her hometown. She has sung Turandot, Ortrud and Isolde in major opera houses and this season she will sing Brünnhilde at the Finnish National Opera. She should be well up to the task. Her solo role in Kullervo is apparently her trademark – she has recently sung it in Prague, Tokyo and Chicago. I cannot imagine it better, or more expressively sung; it was a veritable tour de force. Ville Rusanen's gravelly baritone almost paled in comparison, but he was always commanding. He has sung the role in recent years in Dublin, Sydney, Gothenburg and Savonlinna.
Almost stealing the show were the massive (80-strong) men of the Estonian National Male Voice Choir bolstered by the men from the Zurich Sing-Akademie. They often sang in unison and the effect was shattering. Some read from electronic tablets rather than printed scores, and one, impressively, sang by heart. They were on top of the Finnish language, as far as I could detect.
The orchestra also had their chance to shine, especially the trombones and the hard-working tuba. This was the first time the orchestra had played Kullervo and they clearly enjoyed it. They were also visibly proud of their new catch on the podium: Järvi swayed elegantly with the music, his beat easy to follow, with clear signals to soloists, principals and chorus.
The orchestra and the people of Zurich can now surely look forward to many seasons of exciting music making of the highest quality.
John Rhodes