World premiere performances of The Future by Ralph Vaughan Williams from the RNSO
in Edinburgh and Glasgow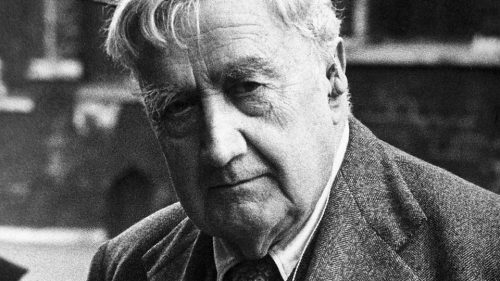 It is a measure of Vaughan Williams' standing that there is so much activity taking the form of finding lost works, of reviving ones the performance of which have for years been discouraged or completing and giving a hearing experience to scores left in incomplete fragments.
Vaughan Williams died in 1958, hardly neglected, but 1972, his centenary year, not only saw the composer featured on a Royal Mail stamp (not then the profuse industry it has since become) but also bore fruit in the shape of recordings and concert performances. Later a Vaughan Williams Society sprang up to promote interest n the composer's works. It issues its own recordings on the Albion Records label, supports and promotes concert events and publishes literature. The recordings have included invaluable vintage radio recordings as well as new projects.
In the last two decades, to affirm that there is not enough Vaughan Williams to hear, a very considerable harvest of revived, reconstructed, arranged and/or freshly completed works have seen the welcoming light of day and RVW scholarship has benefited.
Works to stride out or sidle in outside the 'settled canon' have included the 'other' Norfolk Rhapsody (presumably No.3 to come), incidental music (Mayor of Casterbridge, Richard II (Dutton) and The Blue Bird; the latter gently impressionistic). There has also been the original 1913 version of A London Symphony¸ Dark Pastoral for cello and orchestra, The First Nowell, Death of Tintagiles, a full-calorie early Cambridge Mass, Willow-Wood, The Solent, Harnham Down, Folk Songs of the Four Seasons, Sons of Light, Fat Knight, Henry V Overture, Fantasy for piano and orchestra, full film music re-recordings and an even more expansively cast Scott of the Antarctic from Dutton, not to mention discs packed with early chamber music.
That process continues at the beginning of November, at least in live concert form (surely a recording will follow) in Edinburgh.
Martin Yates, who is no stranger to Vaughan Williams or to completing the composer's unfinished works, said 'RVW was working on The Future during 1908, between writing Toward the Unknown Region (1906/7) and probably alongside A Sea Symphony which premiered in 1910, and I feel the work very much relates to the profound consciousness of both.'
With its themes of time, space and sea, which were to continue to inspire Vaughan Williams' works, Matthew Arnold's poem The Future forewarns of the erosion of the natural world, from a Victorian perspective, as traditional ways become overwhelmed by industrialisation and the growth of civilisation.
BBC Radio 3's 'Music Matters' will discuss the performances and this will include extracts from the choir's rehearsal as well as Martin Yates being interviewed. This on Saturday 2nd November; no doubt carried on BBC Sounds afterwards.
Two performances are to take place in Glasgow and Edinburgh on 8th November (the world premiere) and 9th November 2019 respectively.
For these Scottish performances of The Future, Martin Yates will conduct the Royal Scottish National Orchestra and Chorus, and soprano soloist, Ilona Domnich, who has previously featured in his performances of works by Vaughan Williams (Scott of the Antarctic) and Holst (Mystic Trumpeter).  Edinburgh and Glasgow will each host a performance as part of a programme which pairs two popular Vaughan Williams favourites: The Wasps Overture and The Lark Ascending, with soloist Sharon Roffman; Ravel's Pavane pour une infante defunte and the 1945 version of Stravinsky's The Firebird Suite.
The concerts are being supported by the Vaughan Williams Charitable Trust which was set up to promote knowledge and performance of the composer's works.
Vaughan Williams's The Future – world premiere performances
Friday 8th November 2019 at 7.30pm – Usher Hall, Lothian Road, EDINBURGH EH1 2EA
Vaughan Williams – 'The Wasps' Overture; The Lark Ascending
Ravel – Pavane pour une infante defunte
Stravinsky – The Firebird Suite (1945 version)
Vaughan Williams – The Future (world premiere)
Martin Yates (conductor)
Sharon Roffman (violin)
Ilona Domnich (soprano)
Royal Scottish National Orchestra
RSNO Chorus
For more information click here
Concert repeated on
Saturday 9th November 2019 at 7.30pm – Royal Concert Hall, 2 Sauchiehall Street, GLASGOW G2 3NY
For more information click here.