United Kingdom Donizetti, Don Pasquale: Soloists, Chorus and Orchestra of the Royal Opera House, Covent Garden / Evelino Pidò (conductor). Directed for the screen by Pati Marr and broadcast live to Cineworld Basildon, Essex, 24.10.2019. (JPr)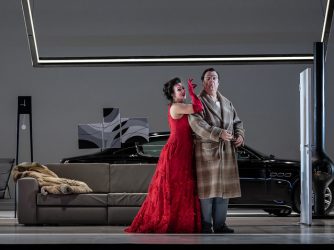 Production:
Director – Damiano Michieletto
Associate Director – Gilles Rico
Set designer – Paolo Fantin
Costume designer – Agostino Cavalca
Lighting designer – Alessandro Carletti
Video designers – rocafilm
Cast:
Don Pasquale – Sir Bryn Terfel
Ernesto – Ioan Hotea
Doctor Malatesta – Markus Werba
Norina – Olga Peretyatko
A Notary – Bryan Secombe
If anyone has never seen an opera, then Don Pasquale — composed by Gaetano Donizetti in apparently 11 days and first performed in 1843 — should be a perfect one to go to first. It is not grand or overblown and is clearly the musical forerunner of the operettas of Johann Strauss II and Gilbert and Sullivan, as well as, many Broadway musical comedies. With opera on the cusp of verismo Don Pasquale is generally considered as being the last great nineteenth-century opera buffa.
Don Pasquale is a miserly 70-year-old bachelor who disinherits and throws his nephew, Ernesto, out of his house for refusing to marry the women he had chosen for him. Ernesto is in love with a poor young widow Norina. Determined to have an heir of his own Pasquale asks his friend Doctor Malatesta to find him a wife. The doctor arranges for him to marry his sister, the demure Sofronia fresh out of a convent, who will be Norina in disguise. This charade becomes a secret conspiracy between Malatesta, Norina and – after some initial confusion – Ernesto. Immediately having married Pasquale, 'Sofronia' becomes a harridan, spurns Pasquale's advances, humiliates him, and due to her lavish lifestyle, the bills begin mount up and eat into Pasquale's fortune. Don Pasquale is at his wits end, but he eventually discovers who this 'Sofronia' really is as Malatesta reveals that his real sister is still in the convent. Norina and Ernesto are now together at last, all are reconciled, and the opera ends with the moral of the story which is not to marry in old age.
My colleague Colin Clarke has reviewed this in the opera house (click here) but perhaps a better way to appreciate Damiano Michieletto's new production was in the cinema with Pati Marr's close-up camera work for the screen. Michieletto uses several visual techniques attempting to breathe life into his Don Pasquale. Set designer Paolo Fantin's has the stage basically empty with lines on the floor that are almost like those used in an opera rehearsal studio marking out the margins of a set. Overhead hangs a skeletal outline of the roof of Pasquale's house; there is some furniture for each different room e.g. a single bed, a bath, a settee, a kitchen table, plus an old car, as well as, four frameless doors. Both the 'house' with its 'roof' can revolve and show it all from differing points of view. At the beginning of Act III, Norina has turned Don Pasquale's world upside down – if not literally – and it is decked out with modern trappings and the latest in luxury including a sleek new expensive car. She takes great glee in the mounting bills Pasquale must now pay for all her minimalist chic, expensive couture gowns, and the jewellery she is now wearing.
Sometimes a green screen is brought on stage right for characters to be projected on the huge screen at the rear with occasionally different images added. Insufficient use is really made of this – from what we saw in the cinema – and it only works well to show Norina and Ernesto in the garden for their final scene duet, 'Tornami a dir che m'ami'. Briefly Michieletto uses Avenue Q-style puppetry to illustrate the story, such as, during the Act II chorus 'Che interminabile andirivieni!' when the servants are gossiping about everything going on in the Pasquale household. Like the green screen these are just there for novelty value and little else. Best of Michieletto's ideas in his updated production is the use of mobile phones and Pasquale discovers about his new wife's apparent affair by reading a message intentionally left for him to see.
In Michieletto's interpretation Don Pasquale is an aged mummy's boy who still lives in the house he grew up in and who craves the affection he once had from his late mother. I don't ever truly believe the director wants us to feel sorry for Pasquale and we have to accept he is rather a pathetic – rather than pitiable – old man who is vain enough to wear a girdle and dye his hair in order to impress 'Sofronia'. That perhaps does changes slightly from the moment in Act III when there is a hint of what Norina is really up to (see below) and during a heated battle of marital wills she slaps Pasquale.
Ernesto is now something of a layabout wastrel and Norina is a photographer's assistant who dreams to becoming successful in her own right someday. Michieletto with his sunglasses and leather jacket is rather an unlikely looking doctor. This Malatesta seems to be someone on the make himself as if he is pimping Norina with whom he has an uncomfortably close relationship. That might go a long way to explain Norina's attraction to the guileless Ernesto and it is probably her that is controlling the purse strings at the end when Pasquale – shown in a wheelchair – appears to have been put in a care home.
Jane Evers deserves a special mention as Michieletto's addition to the cast of a chain-smoking old maid servant. This is a silent role and she is almost ever-present during the opera reacting – often very amusingly – with looks and gestures to the goings on around her.
This is Bryn Terfel's first performances as Pasquale and the role could provide some more towards his pension fund as he enters the latter part of his career: his is a very believable – very human – Pasquale. However, I don't think Terfel found it easy to sing all the patter and the incredibly fast 'Aspetta, aspetta, cara sposina' – with Markus Werba's more stylish Malatesta – almost, if not quite, defeated him. My first Pasquale was Sir Geraint Evans in 1983; Terfel is not Evans, then again, his compatriot never sung Wotan as Terfel has. Ioan Hotea's Ernesto lacked charisma and vocal allure and – with admittedly his voice being heard through cinema loudspeakers – he often sounded strained.
The discovery of this Don Pasquale was Olga Peretyatko as Norina. (Apologies to her that I must write how she looks and sounds remarkably like Anna Netrebko and there can be no higher compliment.) I certainly look forward to seeing and hearing more from Peretyatko in the future. Although this Norina was a woman in a man's world, she knows how to manipulate and ran as many rings round Donizetti's challenging coloratura as she did round her bemused 'husband'. Peretyatko sang with great assurance and an impeccable technique and she appears to have an undoubted flair for comedy.
It was clear Evelino Pidò was respectful of Donizetti's score, but not too respectful, and there was impressive work from both the chorus and orchestra. Beginning with the wonderful overture right through to the spirited ending Pidò never indulged his singers and it was a vibrant account of some sparkling music that was ahead of its time by occasionally delving into some deeper levels of emotion.
Jim Pritchard
For more about what is on at the Royal Opera House and at the cinema click here.