United Kingdom Beethoven, Schumann, Ravel, Albéniz: Jiyeong Mun (piano). Keyboard Trust Prizewinners' Concert at Wigmore Hall London. 27.10.2019. (JB)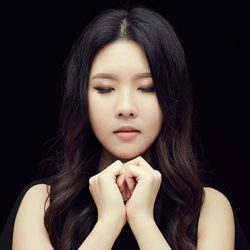 Beethoven – Sonata No.31 Op.110
Schumann – Humoreske in B flat Op.20
Ravel – Miroirs
Albéniz – Almeria and Triana from Book 2 of Iberia
William Blake says He who binds to himself a joy / Does the winged life destroy / But he who kisses the joy as it flies / Lives in eternity's sunrise. Don't miss the Tate Britain Blake exhibition which as his life advances from room to room, so life's mysteries deepen. Just like mythology, so Blake's understanding explains the life force while leaving it unexplained. Last Saturday, some 300plus members of Croydon Philharmonic Choir affirmed the life force in their memorable performance of the Verdi Requiem (review click here).
The 23-year-old South Korean pianist, Jiyeong Mun, winner of the Geneva and Busoni Competitions, played at the Wigmore Hall in the Keyboard Trust's Prizewinners' Concert Series, and showed us that she was an unbeliever in the mumbo-jumbo of eternity's sunrise. And to prove her point – in my opinion – she did to pianistic death almost every piece she played. Studiedly. You couldn't fault her on this last.
I was rather hooked on her playing of Beethoven's Op.110 Sonata No.31. It was certainly unlike any other performance I had heard. But I reminded myself of the probability in Beethoven's mind of serious doubts when he composed the sonata. Death blows? Maybe.
My real protest set in with the Schumann Humoreske. This is indeed a piece which has puzzled pianists and audiences alike. Schumann himself is on record as having doubts about this composition. But the one quality which is never absent from Schumann is charm. Still, Ms Mun's playing had too little of it and destruction seemed her clear aim. And she succeeded in bringing to mind various Russian piano bashers who flourished briefly in the 1990s.
Ravel's Reflections – Miroirs in French – fared better. There is no doubting her finger dexterity. It would be a mistake to call this 'technique' as some pianists in the hall were doing at the interval. Genuine puzzlement was the most common audience response: they wanted to enjoy her playing but they couldn't it seems. The word 'steely' kept on coming up, often complimentary. For what was being called steely I heard an ugly inflexibility. These five pianistic sketches depend for their meaning on nuances. But all five had the same impetuous urgency – hurried and misdirected. Credit where credit is due: there were some cascades of sound in Oiseaux tristes ('Sad birds') which were rather well shaped and not overstated.
The final work on the programme were two pieces from Book 2 of Albéniz's Iberia Suite – a virtuoso challenge to give the essence of Spain through pianism. Ms Mun chose Almeria and Triana, known respectively for flamenco and the gypsy music of Seville. But it is nuances in both pieces which bring out the musical meaning. Yet I never heard any nuances and consequently both sounded the same.
Neither I nor those near me knew the first sedate encore (however I was subsequently told this was 'October' from Tchaikovsky's Seasons). The second was Debussy's Clair de lune and just had the effect of reminding me of Victor Borge's joke about translating the title into the English as Clear the saloon. 
Jack Buckley