Switzerland Verdi, La traviata: Soloists and Chorus of the Opernhaus Zürich / Fabio Luisi (conductor), Opernhaus Zürich, Zurich, 26.9.2019. (CCr)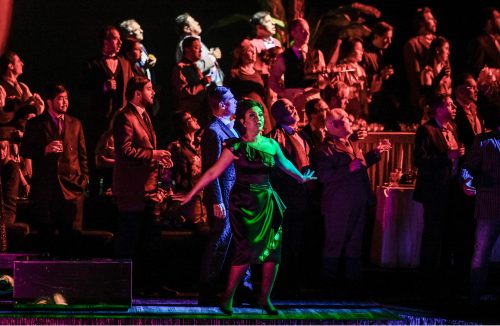 Production:
Director – David Hermann
Set and Costume designer – Christof Hetzer
Lighting designer – Franck Evin
Video designer – Anna Henckel-Donnersmarck
Choir director – Janko Kastelic
Cast:
Violetta Valéry – Kristina Mkhitaryan
Alfredo Germont – Liparit Avetisyan
Giorgio Germont – George Petean
Flora Bervoix – Sinéad O'Kelly
Annina – Justyna Bluj
Gastone – Omer Kobiljak
Baron Douphol – Cheyne Davidson
Marquis D'Obigny – Valeriy Murga
Doctor Grenvil – Ildo Song
Giuseppe – Luca Bernard
Commissionario – Wojciech Rasiak
What a start to the year for Zurich's opera house. First a skeptical interview with General Director Andreas Homoki in the local press, but then the winning of an inaugural prize for best opera house, and then boom: nine full-scale opera performances in seven days, plus a recital from the revered soprano Angela Gheorghiu (who, it turns out, is a terrific performer of art songs) and a children's opera or two. My colleague John Rhodes covered their new season's opening night Věc Makropulos, Janáček's penultimate opera with a MacGuffin plot and music that gets under your skin. Being revived this week are Nabucco, this La traviata, and Der Freischütz (I will report on the splendid Herbert Fritsch Freischütz soon).
John has already reviewed this La traviata – twice, in fact – so I will only say about this production that I find it very smart while I admire its simplicity. Anyone who has seen this opera a number of times over the years will probably share with me the sensation that, during longer periods in between listenings, you start to tell yourself that you are no longer so enthralled by it, that its charms have waned, that you have grown slightly immune to the love in the story – only to discover that the music and the drama still have the power to hit you like a train. So it was for me this time, and Verdi only deserves most of the credit.
We owe Hermann lots of credit too. For moving the chorus members so well across the stage. For always giving them vivid tasks amidst their singing, such as serving themselves from a buffet during a moment of Violetta's anguish. For leaving it ambiguous whether Violetta is dying of physical illness or a mental one, though this is clearly an emotionally plagued woman. For giving us a modern production, the social criticisms of which don't diminish its universality.
The rest of the credit goes to the singers and to the Opernhaus Zürich itself, for investing in such marvellous artists for its revivals, beyond the biggest names for their flagship productions and opening nights (Evelyn Herlitzius sings in Zurich's Makropulos, and excels). Kristina Mkhitaryan, appearing in Zurich for the first time, is an exquisite Violetta. She turned Hermann's portrayal into her own; she was desperate to host a party in Act I without cracking up, she was taken aback by Liparit Avetisyan's Alfredo as he offered unwelcome and genuine love, and she was launched into brief and nescient bliss in Act II in her untenable household.
Be it said that Mkhitaryan's topmost coloratura flirted with harshness on this evening, and that her 'Sempre libera' high E flat was ever so briefly pinged before she eagerly descended back to safety. Yet even would-be blemishes served her portrayal – more vocal confidence would have undercut her Violetta's uncertain rage and tantrums. (This Violetta hits on waiters at her banquet when confronted with her implicit demise.) Mkhitaryan is otherwise sumptuous: lithe Italian, mature control of dynamics, and a way of inhabiting each line and phrase, giving it all real meaning. She managed to deliver three distinct stages of life over three acts by means of subtle stylistic variation. Do I have to mention how hard that is?
All the more striking were her duets with Alfredo. Mkhitaryan and Avetisyan, also debuting in Zurich, as Alfredo were perfectly blended. His tenor was her match in expressiveness, though his voice is on the softer and lighter side, without lacking power, spin, text or warmth. And what a pleasure it was to observe George Petean find his way into the role of Germont, Alfredo's father, over the course of the evening after a less-than-poised beginning. His initial 'Pura siccome un angelo' required him to plant his feet to the floor and square himself as he braced for every ascent, which undermined his manipulation of Violetta as he aimed to dissuade her. By the time of his 'Di Provenza il mare, il suol' – no aria can match its tragic clemency – Petean was utterly in his element and gave a great reading.
Psychologically, I prefer a meaner Germont than the one this production gives, one without a foolish biker costume to boot. Petean looks awkward in overalls toting a helmet, and his interaction with Violetta doesn't quite make sense; first he is telling her she is unworthy of his son Alfredo, then somehow they are affectionate allies with a common cause. I found no foundation for the superlative sweetness at which this Violetta and Germont so hastily arrive, neither in the libretto nor in this staging. But no matter; the music spoke for itself, and the scene holds together.
Fabio Luisi arrived at his usual crisply arousing sound. The Philharmonia's off-stage horns urgently need cleaning up before they cross the line from squeaky to squealy, and the Act III strings crossed from soft into damp. This marred an otherwise senatorial orchestra that knows so well under Luisi's baton how to swell the sound but then despatch the listener through it.
The Italian name la traviata literally means, it bears remembering, something along the lines of 'the woman who got off course' or 'the woman who lost her way'. With revivals of core repertory as good as this, it is the Opernhaus Zürich that is setting the course, leaving others to seem astray.
Casey Creel