United Kingdom Dussek, Beethoven: Stephen Fry (narrator), Stefanie True (soprano), Helen Charlston (mezzo-soprano), Gwilym Bowen (tenor), Morgan Pearse (baritone), Chen Reiss (soprano), Orchestra and Choir of Academy of Ancient Music / Richard Egarr (conductor). Barbican Hall, London, 2.10.2019. (AK)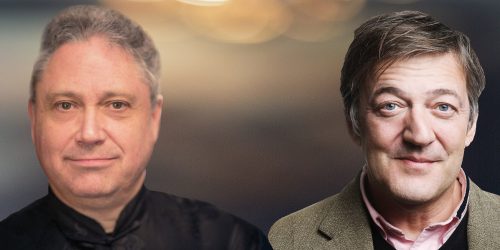 Dussek – Mass in G major (1811)
Beethoven – Egmont, complete incidental music, Op.84 (1810)
Without doubt, conductor Richard Egarr and his AAM forces presented an unusual programme for the opening concert of their 2019-20 season.
Egarr is a great Dussek enthusiast and delights in having found Dussek's Mass in G major. A PhD dissertation by Howard Allen Craw ('A Biography and Thematic Catalogue of Works by Jan Ladislav Dussek', University of Southern California, 1964) mentions Dussek's Mass and places it in a library in Florence. Fast forward a few decades and Richard Egarr located the manuscript. Subsequently Egarr's student Reinhard Siegart edited the Mass which received its second ever performance at this AAM Barbican concert. The first performance took place in 1811: the Mass was commissioned by Prince Nicolaus Esterházy (who was Haydn's last employer) and was performed on his wife's name day, presumably in the Esterháza palace.
The Mass is scored for a four-part choir, four solo singers plus an orchestra of strings, two flutes, two oboes, two bassoons, two horns, two trumpets and timpani. An organ is also likely to have been used in Esterháza as it was also used at this AAM performance.
The introduction to the 'Kyrie' set the tone for the quality of the composition as well as for the artistry of the AAM. Gentle baroque string playing (on gut strings) prepared the choir's entrance, followed by the pair of natural horns. The introduction to the 'Christe' section was played by violas and cellos; the violas are very important and often exposed in this Mass. AAM violas have put all viola jokes to bed, they played heart-warmingly beautifully.
Dussek's music does not always fit the text: for instance, 'Quoniam' (praising the Holy One) was set to a jolly 4/4 dance-like section. Elsewhere there is so much repetition that it is hard to keep up interest. Richard Egarr worked hard to create excitement in 'Cum Sancto' and his choir/orchestra duly obliged; however, in spite of the exemplary delivery, constant repetitions in the music dampened the excitement. Elsewhere I could not help thinking that Dussek was showing what one can do with such forces: at times the music sounded like a masterclass in composing sustained polyphony, grand cadences, counter-point, modulations and so on. What pleased me most was the orchestration throughout; what put me off was the very ending: three loud abrupt staccato chords after a lively but gentle ¾ -time rendering of 'Dona nobis pacem'.
The four solo singers – soprano Stefanie True, mezzo-soprano Helen Charlston, tenor Gwilym Bowen and baritone Morgan Pearse – made an excellent team; their style of singing was unified and so were their body movements. I cannot explain why they were sitting relatively spaced out from each other, yet whenever they sang they moved to the middle of the stage (and then back to their seats). This arrangement created a probably unintended choreography of the four singers coming together and opening up several times. Unfortunately the singers stood in front of the stage while the conductor had his back to them. From time to time this arrangement caused uncertain entries although occasionally Egarr stepped back to the edge of the stage to be seen clearly by the singers. Egarr and the team recorded the Mass; I expect that all entries would be rock solid on their CD. I for one am looking forward to listening to it.
Many of us had encountered the Overture and the final movement ('Siegessymphonie' that is Victory Symphony) from Beethoven's complete setting for Goethe's play Egmont. However, the seven movements in-between were most likely to have been new to most of the audience.
In the orchestral version of the suite the text of the play is presented in a paraphrased version by the poet Grillparzer. At this concert, the Grillparzer text was presented in English by Stephen Fry. He fitted with the AAM team admirably; no hint of any special status (which Fry earned in his distinguished and varied career). Self-effacing and disciplined, Fry delivered the text as if wishing to be subservient to the musical performance. His book was on a low music stand: it was probably best placed while Fry was following the music but whenever he was standing to deliver the text, he was slightly bending down and seemed to have spoken to the music stand. Fry was very measured; his delivery of the heroism of Egmont sounded more factual than dramatic.
There was no lack of drama in the musical delivery of Egmont. From the highly spirited rendering of the Overture, conductor and orchestra gave us beauty and excitement. A very musical oboe solo (fifth movement), exquisite orchestral pianissimos (seventh movement), a sustained timpani solo to allow time for the delivery of the narrative towards the end of the story, and heroic trumpets and horns (final movement) provided extra icing on the musical cake. Soprano Chen Reiss fitted in with her two songs perfectly (first and fourth movement) as well as with her visible team spirit. The real-life military hero Egmont of 16th-century Dutch history as well as of Goethe's play did not fare well. However, conductor Egarr and his AAM team did justice to Egmont.
Agnes Kory
For more about the AAM click here.