United States Rossini, The Barber of Seville: Soloists, Orchestra, Lyric Opera of Chicago / Sir Andrew Davis (conductor). Civic Opera House, Chicago. 28.9.2019. (JLZ)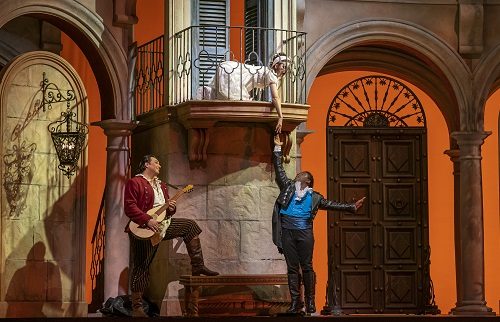 Production:
Original Director – Rob Ashford
Revival Director – Tara Faircloth
Set designer – Scott Pask
Costume designer – Catherine Zuber
Lighting designer – Howard Harrison
Costume master – Michael Black
Cast:
Figaro – Adam Plachetka
Rosina – Marianne Crebassa
Count Almaviva – Lawrence Brownlee
Don Bartolo – Alessandro Corbelli
Don Basilio – Krzysztof Bączyk
Berta – Mathilda Edge
Rossini's 1816 score of The Barber of Seville may be familiar, but to open the season, Lyric Opera of Chicago revived its 2013-14 production with an international cast, which accentuated the opera's details and comic elements.
As Count Almaviva, Lawrence Brownlee commanded the virtuoso passages with remarkable facility. His precise, well-placed resonance was well-suited to each phrase, such as in the opening 'Ecco ridente'  —a tour-de-force — and his subsequent aria was equally strong.
Later, when Almaviva enters Don Bartolo's house as drunken soldier, Brownlee demonsted superb comic timing. In the second act's music lesson, the annoying nasal intonations of 'peace' and 'joy' were a bit distracting, but in the ensembles, his normal voice was clear and prominent. The final scene was a treat. Brownlee's solos carried the production to a satisfying conclusion wih freshness and excitement — stunning all around.
As Rosina, French mezzo-soprano Marianne Crebassa was estimable, especially in 'Una voce poco fà', with soaring, florid lines. Among her attention to details, she avoided the tendency some have to overemphasize the conjunction 'ma' (when Rosina vows to have her own way). At times, the upper register was shrill in louder passages, when the orchesta competed with her vocal line. That aside, listeners unfamiliar with her voice likely enjoyed the rich sonorities during a passage from the fictitious opera, The Useless Precaution. Crebassa has good comic timing, and was most convincing in the dénouement, when she showed the gracious side of Rosina's sometimes willful Rosina and accepted Almaviva's proposal.
In the title role, Prague native Adam Plachetka indelibly etched the scheming barber at the heart of numerous romantic entanglements. The iconic 'Largo al factotum' was enhanced by including several women to show his romantic side. Plachetka gave a valiant reading overall, but his runs were sometimes blurred. Later in the evening he exhibited beautiful clarity and nicely done fioritura, especially the trio with Brownlee and Crebassa, in which characters plot their departure from Don Bartolo's house.
Italian baritone Alessandro Corbelli embodied Bartolo, both vocally and dramatically. As declamatory as the role can be, Corbelli's capacity for lyricism emerged, especially in the music lesson. As Don Basilio, Krzysztof Bączyk was engaging and brought out many details in the familiar aria, 'La calumnia', though at the end, he was overly loud. As Berta, Mathilda Edge gave the audience a good sense of this young soprano's abilities, especially the ensemble passages that benefited from her transparency.
At times, conductor Andrew Davis raised questions with his pacing, when segues interrupted the flow. Tempos were sometimes unpredictable, with some passages in the overture and elsewhere uncharacteristically slow and heavy-handed. Despite these quibbles, overall Rossini's score received appropriate deftness.
James L. Zychowicz