United Kingdom Alwyn, Miss Julie: Soloists, BBC Symphony Orchestra / Sakari Oramo (conductor), Kenneth Richardson (director), Barbican Hall, London, 3.10.2019. (CS)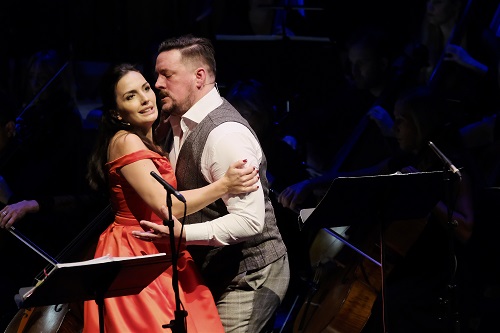 Cast:
Miss Julie – Anna Patalong
Jean – Benedict Nelson
Ulrik – Samuel Sakker
Kristin – Rosie Aldridge
Composed in 1977, William Alwyn's operatic adaptation of August Strindberg's 1888 play, Miss Julie (Frøken Julie), has languished in obscurity since its BBC Radio 3 broadcast that year.  It was recorded during the 1980s (review) but had to wait until the 1997 Norwich and Norfolk Festival for a staged performance, at the Theatre Royal Norwich, since when – much like Alwyn's other three operas, five symphonies, numerous concertinos and chamber music – it has gone unheard.  This concert-staging at the Barbican Hall by the BBC Symphony Orchestra under their Chief Conductor Sakari Oramo was thus a welcome opportunity for reassessment.
"Miss Julie is crazy.  Utterly crazy."  So declares the very 'rational' valet, Jean, in the opening lines of Alwyn's opera.  In Strindberg's play Jean and his fellow servant, the cook Kirstin, think that Miss Julie's family history has made her sick: her man-hating mother has raised her as a boy; she has a mixed class heritage which afflicts her with shame and doubt.  In addition, Julie's repressed and misplaced sexuality has developed into a destructive, degenerative desire which threatens her own sanity and Jean's social ambitions.  Indeed, Miss Julie does at times seem to be a discourse on hysteria: its eponymous tragic heroine ticks all the boxes for such a diagnosis by nineteenth-century clinicians.  But, the play was also rooted in contemporary social and gender conflicts, between a new order represented by the ambitious male servant and an aristocratic noblewoman whose degenerate past determines her tragic fate.
The opera's setting is the estate of a Swedish Count.  It's Midsummer's Eve, a night when, according to pagan lore, the intense Northern summer intoxicates people, driving them insane.  Coquettish and snobbish in equal measure, the Count's daughter, Miss Julie, appears on stage to entice Jean to dance with her, ordering him to kiss her foot.  Jean makes it clear that he has slept with Kristin, thereby introducing an unspoken, tense anticipation into their conversation.  The hypnotic ambiance of Midsummer's madness fuels a feverish desire which drives Jean and Julie into a bedroom.  They share a night of passion, but subsequently Jean and Julie feel, respectively, only hostile bitterness and guilty despair.  If their liaison is discovered, he will lose his livelihood and she will lose her reputation.  Their plans to elope to the Swiss Lakes to run a hotel are complicated by Julie's shame and sexuality, and finally thwarted by the return of her father.  Jean, unable to deny and desist from his servant duties, attends to the Count's commands, coldly compelling Julie towards her fated end.
In the play, when Miss Julie assaults Jean with demands for declarations of 'love', his rejoinder is cruel – and a reminder of Strindberg's own belief in the threat posed by the women's liberation movement: 'For us love's a game, when work allows; but we don't have all day and all night for it, like you do. I believe you're sick, and your mother was certainly mad. We've whole parishes gone mad with pietism, of course, but this is a kind of pietism run wild.'
The problem for Strindberg is that it is Miss Julie with whom we are inclined to sympathise.  And, this balance of sympathy is all the more encouraged by the ravishing sensuality of Alwyn's orchestral score, the gorgeous colours and vital eroticism of which were relished by Oramo and the BBCSO.  For, while Strindberg explained that he had 'motivated Miss Julie's tragic fate with an abundance of circumstances', he also allowed that it was 'more immediately: the festive atmosphere of Midsummer Night […] the intoxicating effect of the dance; the light summer night; the powerful aphrodisiac influence of the flowers; and finally chance that drives these two people together in a room apart, plus the boldness of the aroused man'.  It is this 'aphrodisiac influence' which infuses Alwyn's headily scented and sumptuous score.  Strindberg may have seen Julie as an aristocratic man-hater whose aggressive sexuality had to be tamed, but for Alwyn she was a sort of Blanche DuBois, tormented by her own desires, dreams and delusions, but ultimately a victim of her family history, social change and male sexual brutality.
Excepting a period of post-war experimentation with an idiosyncratic form of serialism, Alwyn (1905-85) persisted with a determinedly Romantic musical language which earned him the disdain of his avant-garde contemporaries, but which was perfectly apt for the more than 70 film scores that he composed.  And, his synthesis of Straussian sensuality and exoticism – plus a few direct echoes from Salome and Rosenkavalier – with musical vigour and transfiguration worthy of Janáček, bound together with a healthy dose of the influence of Bernard Herrmann, certainly wins the listener's compassion.
Though director Kenneth Richardson employed little set on the Barbican Hall stage beyond a table and chair to indicate the kitchen – the domain of the lower classes – a few props (the Count's boots which Jean polishes dutifully, a bottle of vintage wine he has stolen from the estate cellar), and a projected crescent moon, the cast of four created a credible milieu and a maelstrom of emotions that was gripping.
Oramo was totally swept up in Alwyn's musical intensity – he surely mouthed every single line of the libretto in guiding the singers – while retaining a cool head and crisp dancing beat.  The opening scene was a hurtling waltz which whipped up a frenzy of frustrated and feverish passion, and throughout the score was impelled by rhythmic buoyancy, vibrant colours and striking dramatic tensions.  Perhaps at times, in his committed enthusiasm, Oramo gave the BBCSO rather too much dynamic rein, pushing the cast a little too hard, though elsewhere Alwyn's subtle instrumental details made a telling mark.  The beginning of Act 2 was especially moving, the double basses' dark ostinato gradually drawing in the other strings in ominous and troubling circlings.
In the central roles Anna Patalong and Benedict Nelson not only communicated compelling characterisations but also created a strong awareness of the 'roles' that their characters were playing.  This was especially true of Patalong, whose psychological schisms were laid painfully bare: at times she was the disdainful mistress, elsewhere the aggressive seductress, and then the helpless victim.  Patalong's glossy soprano captured Julie's snobbish insecurities, her unstable sensuality and her desperate escapism, in a striking study of emotional collapse.  The ecstatic heights of her Midsummer Night submission to her desires, and her later fantasy of life in Lugano – where the summer is eternal, the trees bowed by oranges and the sky ever blue – served to make the incoherence of Julie's final monologue, in which she promises Kirstin that she will be 'queen' of the hotel kitchen, even more disturbing.
Nelson's Jean was no simple 'brute' but revealed an intellectual sophistication and social presumption – he speaks French and prefers wine to beer – which belied his social station.  Just as she was mesmerised by his magnetism, Julie was damaged by his brutal realism: every word that Nelson sang was sharply carved with cold candour – all the more impressive given that the baritone was a late replacement for Duncan Rock.  Jean's inscrutable calm at the close, when he realises that Julie's behaviour threatens his social advancement and implicitly suggests that suicide is her only option, was chilling.
Marta Fontanals-Simmons had also withdrawn from the performance.  In her place, the role of Kristin was taken by Rosie Aldridge who brought forth the cook's realism – in all senses – her humour, integrity and self-honesty, singing with powerful resonance.  In Strindberg's play, the action is punctuated by the appearance of dancing villagers and farmers whose songs underline the danger in which Miss Julie's indiscretion places her.  Alwyn replaces this peasant chorus with the inebriate gamekeeper, Ulrik – a figure who is perhaps rather too homely, lacking the menace posed by the collective social group.  Samuel Sakker, entering through the audience with his rifle slung across his shoulder, sang the role with a satisfying warmth and confidence.
For all its fine qualities, Alwyn's opera is not a masterpiece.  The vocal idiom – a half-recitative, half-arioso prevails – is repetitive, the style having its origins in the film composer's interest in the relationship between musical and verbal rhythms.  So, the words dictate the musical rhythms, and sung words are echoed by the orchestra.  The voices are embraced by passionate orchestral swellings of passion, but the vocal lines are not memorable in their own right.
Moreover, the pacing and structure are not consistently maintained.  There is a wonderful growing intensity through Act 1 but whereas in Strindberg's play, after the sexual encounter the tragedy moves swiftly to its bleak conclusion, Alwyn's Act 2 is a longer discourse during which the conversation circles around Julie's shame and her desires.  In this way, the driving forces in Act 1 feel less propulsive.
And, Alwyn's libretto considerably lessens the complexity of Strindberg's play with its social, psychological, political and sexual concerns.  The destructive shadows of Julie's mother and father loom much more weakly and Strindberg's dark imagery of blood and death is similarly watered down: the shooting of Julie's pedigree dog after it has impregnated the gatekeeper's mongrel and Jean's grisly be-heading of her pet canary are in the opera reduced to Ulrik's off-stage shooting of her pet pooch.
But, what Alwyn's Miss Julie does have – as Oramo and the BBCSO confirmed in no small measure – is an orchestral score of enormous erotic energy and gorgeous colours.  An English Strauss indeed.
Claire Seymour
The performance will be broadcast by BBC Radio 3 on Saturday 5 October at 18.30 and will be available to listen online for 30 days thereafter.