Kodály, Bruch, Brahms: Simone Lamsma (violin), Hallé / Jamie Phillips (conductor). King George's Hall, Blackburn, 25.10.2019. (MC)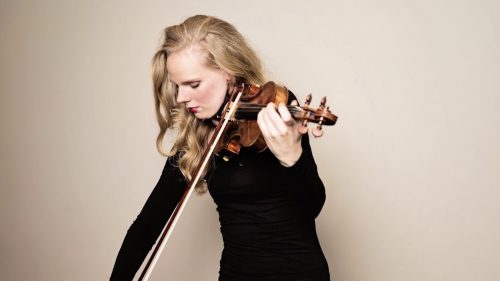 Kodály – Dances of Galánta
Bruch – Violin Concerto No.1 in G minor
Brahms – Symphony No.1 in C minor
Having recently returned from attending outstanding performances by three distinguished Munich orchestras part of me wondered how this Hallé concert at Blackburn would match up or whether it would be an anti-climax. Any doubts I may have had proved unfounded as the Hallé under Jamie Phillips provided a concert that was both exciting and memorable. Phillips knows the orchestra well having served as its assistant conductor and associate conductor.
It is a while since I heard Kodály's Dances of Galánta on a concert programme and it certainly proved to be a thrilling opener. Based on folk dances from the Galánta region of Slovakia where Kodály lived for a time, this is a substantial work overflowing with dance rhythms that Phillips drove briskly and most effectively towards the conclusion, achieving a particularly exhilarating accelerando. Woodwind were conspicuous throughout especially Sergio Castelló López's clarinet solo depicting a tárogató a traditional reed instrument, in a spirited display.
Netherlands violinist Simone Lamsma first came to my attention in 2006 with her album of Elgar chamber works for violin on Naxos Laureate Series. In 2014 I was at the Bridgewater Hall, Manchester when Lamsma made her Hallé debut playing the Tchaikovsky concerto. Lamsma chose to play Bruch's First Violin Concerto. Although one of the most enduring popular concertos in the repertoire it remains a score, I relish hearing, particularly in live performance. From start to finish Lamsma's radiantly Romantic playing contained affirming qualities of strength and sensitivity drawing me firmly in. Standing out in the Adagio, the emotional heart of the score, was the intense level of reflection and yearning she imparted which never became over-sentimental. In the strongly Hungarian character of the Allegro energico: Finale Lamsma provided notable spirit and ebullience, especially in the brilliant virtuoso passages. Lamsma's control over pitch and intonation was impeccable and her 'Mlynarski' Stradivarius (1718) produced a sweet, glorious tone.
Drawing me in from start to finish Phillips conducted the Hallé in an uplifting performance of Brahms's First Symphony that conveyed a late-Romantic expression which felt in total sympathy with the music. The Hallé string sound maybe doesn't have that deep sonorous sound from the basses so typical of German orchestras but there's a characteristic unison and golden sheen to which many orchestras can only aspire. Right from the start of the first movement lodging in the mind are the grave and threatening timpani strokes and Stéphane Rancourt's beautiful oboe playing. This was no run of the mill Brahms performance, indeed it contained plenty of verve and high commitment. Best of all the slow movement felt like looking down onto a charming Tyrolean scene of verdant pastures. With turbulence and dramatic tension bubbling away in the Finale Phillips successfully generated impressive reserves of power together with buoyant rhythms.
Philips was a dynamic figure on the podium, directing with acuity and no shortage of commitment and enthusiasm. My lasting impression is the Hallé breathing life into two war horses of the repertory aided in the Bruch by soloist Simone Lamsma who was nothing short of sensational.
Michael Cookson
For more about the Hallé click here.