United States Haydn, Nyman, Mozart, Gerber, and Schubert: Gabriela Martinez (piano), Chamber Orchestra of Philadelphia / Dirk Brossé (conductor), Perelman Theater, Kimmel Center, Philadelphia, 6.10.2019. (BJ)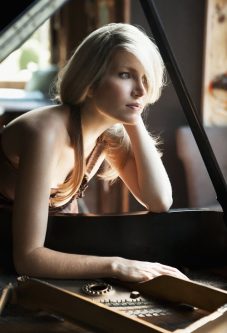 Haydn – March for the Royal Society of Musicians
Michael Nyman – The Piano for Strings
Mozart – Piano Concerto No.21 in C major K. 467
Steven Gerber – Ode for String Orchestra
Schubert – Symphony No.6 in C major D. 589
Fashions in concert programming change frequently, though it's sometimes hard to understand why. In my early music-loving days, Mozart's C major Piano Concerto was always cropping up on programs, but now years can go by in which encounters with it are far rarer than those with its catalog neighbor, K. 466 in D minor. This is a pity, for K. 467, with its ravishing and harmonically daring slow movement that served as the apt soundtrack of Bo Widerberg's lushly romantic 1967 movie Elvira Madigan, is among the most attractive in the canon of Mozart's concertos.
But the C-major Concerto's relative unfamiliarity nowadays brings with it a certain advantage. Twenty years or so ago I would have said I knew the work inside out, but on this recent Sunday afternoon with the Chamber Orchestra of Philadelphia, it sounded altogether fresh, and I found myself enjoying all sorts of details of melody, texture, and instrumentation that I had not thought about in a long time. The performance, crisply directed as is his wont by Dirk Brossé, certainly helped in producing this effect. Gabriela Martinez's playing of the solo part was also a positive factor: seated as I was too near the side of the platform, I cannot claim to judge accurately the quality of the tone she draws from the piano, but after a somewhat tentative beginning, she soon began to relax and offer much lyrical expression and delicate articulation.
The second work on the program has a more specific link with film than the association that has led to the Mozart concerto's being often presented with 'Elvira Madigan' as a rather factitious nickname. The Piano for Strings is one of the versions Michael Nyman has extracted from his score for Jane Campion's 1993 film, The Piano. I did not enjoy the music much at the time I saw the film, but I was surprised now to find it both skillful in technique and often arresting in expression: the opening section, with lucid string textures neatly diversified by cleverly unsettling post-minimalist cross-accents, was particularly entertaining.
Brossé has a knack for unearthing rewarding rarities for his programs. The march that Haydn contributed to the anniversary dinner of the charitable Royal Society of Musicians on one of his London visits in the 1790s was one such, and got the afternoon off to an exuberantly rhythmic start.
The second half of the program began no less enjoyably. I confess I had never previously heard of Washington-born and Haverford- and Princeton-educated Steven Gerber (1948-2015), but I found his Ode — the first movement of his 1990 Serenade for String Orchestra — to be a piece of strongly personal character: sustained stretches of harmonically rich quiet music were repeatedly enhanced by pithy interjections of a more disconnected nature, and the intriguing structure thus created wore its roughly 15-minute duration well.
In conclusion, we were treated to Schubert's 'Little C-major' Symphony, so known informally to distinguish it from the composer's later grand masterpiece in the same key. Little it may be, but the Sixth is a masterpiece, too, with a tuneful first movement that took us back to the world of Haydn, a graceful Andante, and an early example of the scherzo genre that was beginning to supersede the more ceremonial minuet of tradition. The orchestra realized Brossé's conception of the work with winning panache, and in the cheekily rhythmic finale his adventurous interweaving of tempos added a final touch of wit to crown an afternoon of cultured musical pleasures.
Bernard Jacobson