United States Puccini, Turandot: Soloists, Chorus and Orchestra of the Metropolitan Opera / Yannick Nézet-Séguin (conductor). Broadcast live to the Everyman Cinema, Chelmsford, Essex, from the Metropolitan Opera, New York, 12.10.2019. (JPr)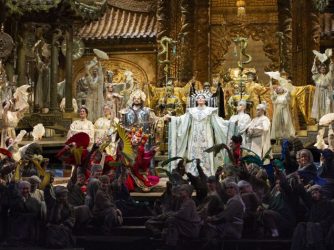 Production:
Director and Set designer – Franco Zeffirelli
Stage Director – Paula Suozzi
Costume Designers – Anna Anni and Dada Saligeri
Lighting Designer – Gil Wechsler
Choreographer – Chiang Ching
Cast:
Turandot – Christine Goerke
Liù – Eleonora Buratto
Calaf – Yusif Eyvazov
Timur – James Morris
Ping – Alexey Lavrov
Pang – Tony Stevenson
Pong – Eduardo Valdes
Mandarin – Javier Arrey
Emperor Altoum – Carlo Bosi
Live in HD Director – Gary Halvorson
Live in HD Host – Angel Blue
As ever, I began this review keen not to repeat myself but in this case I must because the Met's run of Turandot performances is dedicated to its original director, Franco Zeffirelli, who died last June at 96. I have written before how – when the production was new in 1987 – Zeffirelli said: 'A spectacle is a good investment, now the Met will have a good Turandot for the next 25 years.' It was based on his staging at Milan's La Scala of which he said, 'I have taken away a lot of the junk from that one – unnecessary tricks or slips of taste. The spectacle remains, but it is now more refined. It seems my destiny to come to New York with my ideas clear, in full maturity, with the problems worked out'. He went on to explain the OTT Chinese setting we see as being in 'the time of fairy tales' and admitted to not letting historical authenticity cloud his imagination. Also saying, 'The idea for it comes from my own fantasy. Puccini is grand spectacle; it is larger than life … and the Metropolitan Opera offers technical possibilities that no other house in the world does.' Zeffirelli revealed how his Turandot owed much of its grandeur, not just to New York's stage machinery, but to a special use of plastics for set-building developed in Zeffirelli's home country: 'We began experimenting with plastic techniques, we colour it with glass paint, glue, gold foil, mother-of-pearl. I used it in my film of La traviata to create a nightmarish image – walls that really aren't walls, a flimsy vision of reality.'
Zeffirelli – with costumes from Anna Anni and Dada Saligeri and lighting from Gil Wechsler – has muddy-coloured robes for the peasants and for the ruling castes, elaborate headpieces and embroidered silks. To showcase the huge cast of singers, dancers and actors there is much bamboo, pagodas, a throne room of gold and silver, acrobats, colourful dances, moonlit nights, severed heads on pikes, Chinese dogs, lions, and a magnificent dragon. And 32 years on(!) most of the kitsch and chinoiserie remains undimmed although the glitzy – though often static – 'spectacle' is somewhat diminished – because of the closeup camera work for the Live in HD matinee broadcast – by a certain creakiness to the set and some colourful costumes which are beginning to show their age. Nevertheless the cinema audience was brought directly onto the stage, and this created a much greater feeling of visual intimacy that would be unavailable to those sitting in the furthest reaches of Lincoln Center's Metropolitan Opera House.
Turandot is based on Carlo Gozzi's play and has a libretto by Giuseppe Adami and Renato Simoni. It premiered at La Scala in April 1926, two years after Giacomo Puccini died. He had left the score unfinished after the funeral procession for Liù in Act III. Thanks mainly to publishers Casa Ricordi and conductor Arturo Toscanini, opera theatres all these years later use the Franco Alfano ending that wove Puccini's notes and surviving orchestral sketches into music for the final duet. There have been a few further attempts at a completion, but none are regularly performed – if at all – though with the advances in musicology in the intervening years it is surprising that nothing else has found favour. Puccini's difficulty in completing this work was partly due to an inability to unleash the concluding incandescent Wagnerian love duet that the libretto so demanded – and which he obviously was considering – when he annotated his score with 'poi Tristano' (now Tristan)!
Conducting his first performances of the new season, as well as, his first Puccini at the Met after ten years there, music director Yannick Nézet-Séguin clearly brought something a little different to this Turandot. (As ever all my comments about what was heard is tempered by reminding readers how this comes through cinema loudspeakers.) As the Met's chorus master, Donald Palumbo, suggested – in a backstage interview with the charming Live in HD host Angel Blue – the conductor had focussed anew on dynamics, colours and phrasing. When also interviewed, Nézet-Séguin said how 'What we associate with Turandot is the verticality, the big chords [and] loud moments and they are thrilling, especially in this production because there is so much sound from the way the scenery is done. But I want to show more the tenderness, 'Non piangere, Liù' in Act I, also the Act II Ping, Pang, Pong scene where they talk about their place in the country. It is so tender and really true, intimate, Puccini and that contrast really interests me.' Indeed, one highlight – among many of this performance – was that the interruptions of Turandot's three commedia dell'arte ministers were not as interminable as they sometimes can seem and full credit to Alexey Lavrov (Ping), Tony Stevenson (Pang) and Eduardo Valdes (Pong), as well as, Nézet-Séguin and his excellent Met orchestra for that.
Christine Goerke is a singer who is yet to truly impress me and anyway had little to do until Act II and is only (only?) then there to sing 'In questa reggia' and ask her three riddles. There does seem a bit of a disconnect between Goerke's full-bodied middle voice and some hard-won and – rather thinner – top notes. Undoubtedly Goerke's best attribute is that she is an accomplished actor and her performance in the third act duet – after Calaf forcibly kisses her – when ice melts and love begins to burgeon was all too believably human and something quite memorable.
Also, something that will not be easily be forgotten was Yusif Eyvazov's Live in HD debut as Calaf. It is role that even the greatest thespian would have trouble bringing to life, but because the role appeared to have no fears for him, Eyvazov's ardent pursuit of the supposedly unattainable Turandot was quite captivating. Laser-bright and long held top notes were thrilling and his heartfelt 'Nessun dorma' was the showstopper it deserved to be (though, in truth, Nézet-Séguin should have ploughed on at this point and not halted the drama). It was endearing to hear Eyvazov talk at the interval about his admiration for the late Luciano Pavarotti whose 'Nessun dorma' he considered – and who would disagree? – the best ever. Eyvazov said, 'When I'm confused, when I don't know what to do, I just listen to him and everything is immediately clear'. He undoubtedly did the legendary Italian tenor – whose birthday it would have been – proud.
If Goerke and Eyvazov were not wonderful in their different way perhaps the best of the principal triumvirate of singers was Eleonora Buratto as the slave girl, Liù. She was a convincing actress who brought nuance, impeccable phrasing, a brilliant technique – with unforced top notes and gorgeous pianissimos – to her heart-wrenching performance. (Watch this space, I think she might be Turandot herself later in her career.) James Morris is soon to celebrate 50 years at the Met and though his imposing voice has aged significantly he brought considerable gravitas to the blind and enfeebled Timur. Javier Arrey was suitably stentorian in his pronouncements as the Mandarin and Carlo Bosi was a dignified, strongly sung, Emperor Altoum. Final mention must go to the contribution of the chorus during the crowd scenes, which was epic.
Jim Pritchard 
For information about The Met: Live in HD for the remainder of this season click here.