Czech Roots: Dvořák, Suk: Truls Mørk (cello), London Symphony Orchestra / Sir John Eliot Gardiner (conductor). Barbican Hall, London, 24.10.2019. (CC)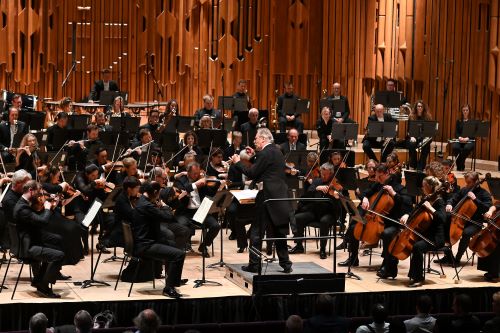 Dvořák – Cello Concerto in B minor, Op.104 (1895)
Suk – Symphony No.2 in C minor, Op.27, 'Asrael' (1905/6)
Superb programming here: one of the most familiar of Czech pieces sitting right next to one that deserves to be far more familiar, in the UK at least. The Dvořák needs no introduction; but the Josef Suk 'Asrael' Symphony might. Special recordings of the latter by the likes of Talich and Kubelík have both held places in the catalogue; It's worth mentioning, also, that my colleague John Quinn spoke glowingly of a performance by Ančerl on SWR Classic back in May 2018 (review: it is indeed awe-inspiring). But it is a work that needs to be experienced live for its full impact to be realised.
The two pieces on the programme are linked by the relationship between the composers: Suk composed the symphony in memory of his father-in-law and teacher Dvořák. He also wrote it in memory of his wife, Otilie Suková – Dvořák's daughter – who died in 1905 at the far too tender age of 27. Herself a gifted pianist and also a composer, Suková, whose surname is sometimes rendered as Suková- Dvořáková, had three pieces published in her lifetime; there is a fourth, too, and they have now all been published by Bärenreiter Urtext. Suk himself quoted from Suková's lullaby ('Ukolébavka') in the ninth of his Op.30 set of pieces, Life and Dreams ('Životem a snem').
Lasting around an hour, Suk's symphony is split into two parts, three movements to the first and two for the second. It was premiered in 1907 in Prague, conducted by Karel Kovařovic. The subtitle 'Asrael' is after an angel that appears in multiple belief systems as an Angel of Death, guiding souls to the Light. In its long journey, Suk's Symphony acts as something of a way to work through multiple bereavements for the composer: it ends with the conversion of its important 'Death theme' into a chorale.
The slow unfolding of the opening panel, an Andante sostenuto, needs careful judgement from the conductor. Gardiner provided the perfect sense of expansion, everything carefully calibrated and phrased; a solo cor anglais (Stéphane Suchanek) sang balefully. No doubting the sense not only of struggle but also denial going on here, as melodic strands compete before collapsing, exhausted. There are understandable elements of nightmare about this, and Gardiner found a sense of grotesquerie about some of the climaxes that hit home. One thing evident from the start and prolonged throughout was the excellence of Suk's scoring. Glorious string lines soar far above lower textures that would not be out of place in Zemlinsky or early Schoenberg (the latter's Pelléas et Mélisande sprang to mind more than once). The LSO rose to these challenges superbly; more, compellingly. Gardiner did not allow the tension to drop even a slither, meaning the gossamer strings of the Andante took on a special, consolatory meaning, the LSO strings' sheen a glory in and of itself. A beautiful, slow outpouring, it includes nevertheless a figure that holds, at first pass, an echo of that grotesque element before its edges are blunted and it is absorbed by the surrounding calm. There is sadness here, but one which holds the possibility of acceptance. The scherzo that ends Part One seems to put paid to that, however, a silvery, phantasmagorical voyage into the more surreal rooms of the psyche. Some passages briefly imply, gesturally, Dvořák heard through the equivalent of a fairground mirror. The LSO's virtuosity was on full display; within this virtuosity is a slower section that moves into a far more interior, tender space, and it was in this portion that there were notable contributions from Carmine Lauri, the LSO's leader on this occasion. Lauri was joined by Principal Cello Rebecca Gilliver as another orchestral soloist in the Adagio that opens the second part of the work, a movement that starts in the depths – pitch-wise in lower strings but also emotionally. Gardiner ensured that harps acted like a palpitating heartbeat. The relentless power of the music is remarkable, as was the strength of this performance.
No missing the onset of the finale, with its emphatic timpani strokes. Anguished whirlwinds of climaxes were but one aspect of turmoil; Suk's remarkable scoring was at once clearer in a remarkable moment of breathless, palpitating flutes. And how well Gardiner judged the structure of this piece, a quiet brass chorale garlanded by subdued strings, a moment of the utmost beauty and able to hold such power precisely because of its place in the whole. Gardiner paced this finale, Adagio maestoso, brilliantly, the opening out of the music into a place of consolation and, at last, some hope.
An intense, unforgettable experience. Surely it is moments like this that concert goers live for. It is surely right, therefore, to give so much space to a consideration of the Suk. In this piece, the composer dares so much: not only to dare to express those most personal of feelings, but to dare to do so over such a vast canvas and to dare to use such huge forces.
And so to that Dvořák, the famous Cello Concerto. This is a work Mørk recorded with the Oslo Philharmonic under Mariss Jansons (review); his tensile sound there, as here, offering an alternative to the generosity of sound of, say, Rostropovich. Gardiner's orchestral exposition was simply lovely, not least in the horn statement of the second subject by Zora Slokar. There is a sort of trimmed-down sleekness to Mørk's reading that is most appealing; occasionally it could veer towards the studied, however. Corners were not always brilliantly negotiated between soloist and conductor, either. Yet there were moments of highest beauty as counterbalance, the three horns acting perfectly as a unit, while a woodwind line against pizzicato strings was a real highlight. The central Adagio, ma non troppo veered more towards Adagio without the 'ma non troppo,' encouraging a sense of stillness that was highly effective, the outbursts later on holding some grandeur. The finale was certainly lithe but made space for the more generously expressive moments. A generally refreshing performance, dwarfed on this occasion by the miracles of the evening's second half.
Mørk gifted us a substantial and expressive encore: the solo cello El Cant dels Ocells, a traditional Catalan Christmas song (well, the mince pies are in the shops after all) and lullaby. Haunting throughout, it begins with an ascending figure that returns at the close to send the music off into the skies. Simply beautiful.
The concert was recorded for future transmission by BBC Radio 3 on November 8 at 19.30. Well worth putting in the diary.
Colin Clarke