Spain Mozart, Le nozze di Figaro: Generalitat Valenciana Chorus, Comunitat Valenciana Orchestra / Christopher Moulds (conductor), Palau de Les Arts, Valencia, 6.10.2019. (JMI)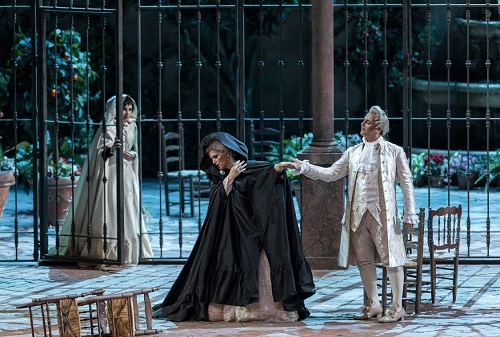 Production:
Director – Emilio Sagi
Sets – Daniel Bianco
Costumes – Renata Schussheim
Lighting – Eduardo Bravo
Cast:
Figaro – Robert Gleadow
Susanna – Sabina Puértolas
Countess – María José Moreno
Count – Andrzej Filonczyk
Cherubino – Cecilia Molinari
Don Bartolo – Valeriano Lanchas
Marcellina – Susana Cordón
Basilio – Joel Williams
Don Curzio – José Manuel Montero
Antonio – Felipe Bou
Barbarina – Vittoriana De Amici
In recent years, Valencia has opened the opera season with a popular title and tickets at considerably reduced prices, thus securing large audiences. That was the case here: a well-known, appealing production, together with fine musical direction and a generally satisfying cast.
The Emilio Sagi production premiered at the Teatro Real in July 2009 and has been revived twice in Madrid, where I have had the opportunity to see it. It is a true Seville staging, from the Andalusian patio seen behind the room of Figaro and Susanna, the full light in the Countess's room and the fandango, to the lush garden which lacks neither the sound of water nor that of crickets.
If the production is aesthetically beautiful, Emilio Sagi's stage direction here is one of his best. The characters are true to their period: a proud Count Almaviva, a Countess aware of her position in the palace, a Figaro full of life and capable of opposing the nobility (isn't this precisely what characterizes Beaumarchais's work?), a Susanna full of life and eroticism, and a Cherubino who does not really understand what happens to him. It is a true 'folle journée', rarely done so well on stage.
Conductor Christopher Moulds, an expert in Mozart and in Baroque music, led a perfectly controlled performance, though one missed a bit more inspiration. I had the impression that either the pit was placed too high or the orchestra played too loud – almost all of the voices had a problem reaching the audience.
Figaro was bass-baritone Robert Gleadow, who was not particularly convincing. His voice is adequate for the part, but he had trouble with projection. Sabina Puértolas was a good Susanna, although she too had problems making herself heard in Act I. Her voice is nicely suited to the part, she knows the character, and she's a fine actress.
The best performance came from María José Moreno as the Countess. She absolutely shone in her two arias, especially 'Dove sono' which she sang with exquisite taste. Clearly, her projection is exemplary, as evidenced by the fact that her voice reached everywhere in the room perfectly.
Count Almaviva was sung by baritone Andrzej Filonczyk who has an attractive voice, but he too had problems making himself heard. Mezzo-soprano Cecilia Molinari as Cherubino had a good presence on stage and sang her two arias properly. Admirable too was Susana Cordón as Marcellina; she sang the almost always suppressed aria 'Il capro è la capretta', and did it more than correctly.
I found Valeriano Lanchas's Don Bartolo somewhat disappointing, especially in the low notes, and his 'La vendetta' went virtually unnoticed. Joel Williams was a good Don Basilio, as were Vittoriana De Amicis as Barbarina, Felipe Bou as Antonio and José Manuel Montero as Don Curzio.
Palau de Les Arts was indeed sold out. The public gave a warm reception to the artists, with the greatest applause for María José Moreno, Cecilia Molinari and the orchestra.
José M. Irurzun