United Kingdom Wagner, Siegfried Act III: Soloists, Rehearsal Orchestra / Anthony Legge (conductor), Henry Wood Hall, London, 20.10.2019. (JPr)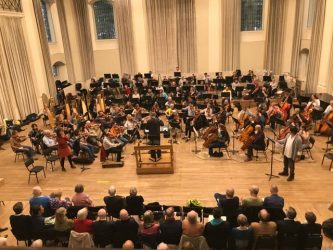 Singers:
Pauls Putnins – The Wanderer
Rhonda Browne – Erda
Jonathan Stoughton – Siegfried
Lee Bisset – Brünnhilde
It is impossible to hear Siegfried Act III in English without being reminded of a great Siegfried/Brünnhilde double act of an earlier generation. They were Alberto Remedios and Rita Hunter who learnt their roles through the tutelage of the doyen of Wagner conductors, Sir Reginald Goodall. His Wagner performances in the 1960s and 70s live on in the minds of those behind the excellent work the Mastersingers does to discover and nurture young talented singers. Looking around me at their annual collaboration with the Rehearsal Orchestra at Henry Wood Hall, several in the audience could have been at the London Coliseum (or even earlier at Sadler's Wells) to see and hear Goodall's Wagner because many were clearly 'of a certain age'.
Having mentioned Alberto reminds me of the anecdote about an English National Opera Siegfried performance on tour to Manchester in 1976. Alberto recalled: 'Siegfried approaches with the usual trepidation the sleeping form of Brünnhilde, dreading that moment of potential comedy when he removes her breastplate and starts back with the words 'Das is kein Mann'. His heroic bearing eliminated any possibility of audience titters at this point, but even his professionalism was strained to the limit when he saw beneath the breastplate a note – 'DO NOT DISTURB, EARLY MORNING TEA 7.30 AM'. (I believe the Brünnhilde was indeed Rita Hunter, if not I am sure someone can put me right.)
The words of Sir John Tomlinson about the Mastersingers are important here; 'The singing of Wagner's great music dramas requires particular qualities of vocal line, text, expression, character, stamina, and great discipline throughout. Enabling the continual development of singers able to take on and thrive in the repertoire is the Mastersingers' mission to which they bring dedication, experience and skill.'
No one exemplifies this 'dedication, experience and skill' more than Malcolm Rivers who after a stellar international career as a baritone – with many memorable performances as one of the best ever Alberichs in Wagner's Ring – works, seemingly indefatigably, for young artists and this includes being 'Head of Casting' for the developing Ring cycle for Longborough Festival Opera (website click here) that is being conducted by another Goodall disciple, Anthony Negus. All the singers heard during this open rehearsal, followed by a run-through, are involved in one way or another in that. Two of them, Rhonda Browne and Pauls Putnins, received the Mastersingers's prestigious monetary awards to help finance their musical studies: respectively, those given in the memory of Peter West and Carole Rees.
This Mastersingers event differs from the usual Rehearsal Orchestra (website click here) two-day course where they say: 'The main purpose of all our activities is, as our name implies, the process of rehearsal. We do not give concerts, but at the end of each course there is an open rehearsal, to which a non-paying audience is invited. During the open rehearsal, we reserve the right to fall apart, play wrong notes, stop, and generally lose the plot completely – but we very rarely do. By taking away the pressure of performance and placing the focus on the process of exploring a piece of music, we are able to enhance players' enjoyment and appreciation of the music while simultaneously achieving a high standard of execution.' As their blurb also says, 'Places on every course are heavily subsidised to enable as many players as possible to benefit from the opportunities we offer.' That a full-sized Wagner orchestra – with each player willing to pay a small fee for the privilege – could come together from far and wide in such an affirmative act of music-making is something truly to celebrate, and an achievement on a par with everything the Mastersingers itself does. I was intrigued to see they had their own artist, Adele Wagstaff, working at her easel to the side of the orchestra seemingly making a sketch of the event (more about this can also be found on the Rehearsal Orchestra website).
The whole occasion was tinged with a certain degree of sadness because it was dedicated to the memory of the distinguished soprano, latterly vocal advisor and coach, Ludmilla Andrew who died in August. The Rehearsal Orchestra's conductor Anthony Legge wrote in the programme: 'I have known dearest Milla since 1971, when we worked on Adriana Lecouvreur for some Campden Festival performances at the Collegiate Theatre in London. Since then I coached her on many roles and songs … Her sense of humour and delight in music (even if she had a tradition of being late for her coaching!) were a constant support and inspiration to me over all these years. We sat on the jury many times for the Wagner Society Bursary and she always had a pertinent, kind positive comment to make to each singer … The Mastersingers company and the Royal Academy of Music have both gained so much from her … Her generosity to so any singers, financial and artistic, will always be remembered.'
I met Milla myself on many occasions when I was chair of The Wagner Society (in what I have elsewhere described as 'its golden years'). However, my special memory of her was when she was a late replacement for Linda Esther Gray in an infamous Scottish Opera Turandot production in 1984 that the director based on the jealousy of Puccini's wife, Elvira, for their young housemaid, Doria Manfredi, who she accused of having an affair with the composer. It also controversially originally ended – as Puccini's unfinished opera had – with Liù's death. However, on opening night the conventional Alfano ending followed after a short interval, but in concert form and with a different cast. That was how this Turandot was still presented when I saw it in Liverpool, and I remember Milla gave an unforgettable performance in the title role.
It does a disservice to all concerned to review the Rehearsal Orchestra and singers in a normal way as if this was a proper concert so please treat my comments as only my impressions about it. Coming together just for the weekend the performance level of the musicians was commendable with remarkably few audible mistakes and only a slight hesitancy in some exposed high strings deflecting from the accomplishment of all concerned. Anthony Legge was a miracle worker for the echt-Wagnerian orchestral palette the orchestra achieved. It was all very well paced even though tempos occasionally floundered during some of the most difficult musical passages. Nevertheless, Legge drew considerable feeling and warmth from those massed around him and brought a frisson to Brünnhilde's awakening music and together with his soloists he ended it all impressively.
Pauls Putnins was a dignified and baleful presence as the Wanderer and clearly bore the weight of the world on his shoulders. Full of righteous anger he almost spat out his words at times. Rhonda Browne was a solemn and anguished all-knowing earth mother Erda who was suitably bemused by what the Wanderer had to tell her. Browne perhaps lacked the voluptuous low register the role requires.
I believe there are no limits to Jonathan Stoughton's vigorous and very bright sounding tenor voice, and he was the singer – of the quartet – who enabled you to hear every word of Andrew Porter's famous English translation. Clearly this Siegfried was an untameable headstrong youth; though Stoughton sounded a little too ardent and full-throated at times and more experience will make him realise that sometimes less can be more. Undoubtedly there was an unforgettable display of Wagnerian vocalism once Stoughton was joined by Lee Bisset's Brünnhilde. Bisset seemed indefatigable as all Siegfried Brünnhildes should since the final duet is their only involvement, not only in Act III, but in the entire opera. Bisset sang accurately and was clearly up to the job. Her Brünnhilde had much evident human passion, though Bisset's gleaming tone sometimes turned steely proving she wasn't entirely at ease on this occasion.
I end this report as I have in the past by writing how the Mastersingers 'are going from strength to strength and who knows what they can achieve in the future?'.
Jim Pritchard