United Kingdom Bax, Shostakovich, Rachmaninov: Vadym Kholodenko (piano), Royal Scottish National Orchestra / Thomas Søndergård (conductor), Usher Hall, Edinburgh, 11.10.2019. (SRT)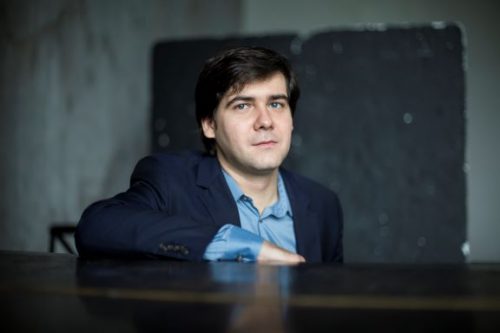 Bax – In the Faery Hills
Shostakovich – Symphony No.9
Rachmaninov – Piano Concerto No.3
We reviewers all have our personal heresies; things we know we shouldn't think but cannot help believing. Mine is my impatience with Rachmaninov. Yes, I know why I should like him, and I am fond enough of the Second Piano Concerto. The problem is that all the things that make him so popular with the public as a whole really turn me off; namely the endless lyricism and the sweeping melodies. Most of the time I wish  he would just get on with it and stop spinning out his lines to so little effect!
This concert's performance of the Third Piano Concerto didn't quite win me over, but it went a fairly long way, and that was mostly thanks to the pretty Vadym Kholodenko, here making his debut with the RSNO. He is a strikingly concentrated pianist, without a drop of ostentation, making him unexciting to watch but gripping to listen to. He turned the concerto's opening into a slow burner, building up a head of steam that I feared would bubble over (like so much Rachmaninov!) when the climax came, but he played the titanic cadenza with stillness and admirable focus, turning it into a showcase of musical argument rather than a meaningless display of fireworks. His finale was then full of quicksilver brilliance, and even the torrent of octaves at the end didn't seem to faze him.
The orchestra responded with playing of great sensitivity, providing a strikingly warm bed of string sound, and conductor Thomas Søndergård gave the musical paragraphs impressive shape, the orchestra sounding notably softer after the first movement cadenza, as though cowed into submission. Unfortunately, the slow movement lost me again. Where others love its lyricism and luxuriousness, I hear elephantine gloop, as though Tchaikovsky had developed a puncture on his way to visit Wagner. My ears pricked up for the faster section, played with admittedly beautiful delicacy, but for now I think Iwill just have to acknowledge that this is one of my musical blind spots. Maybe my problem is that, with Rachmaninov, you always know where you stand.
Conversely, the joy of Shostakovich is that you never know where you stand, and therein lies the fun. The Ninth Symphony is so intentionally schizophrenic that it's a pendulum swinging between euphoria and grief, and this performance embodied those two extremes very impressively. The first, third and fifth movements had a blithe sense of lightness, with tripping strings, parping trombones, gurgling winds and cheeky piccolo, while the second and fourth movements showcased plangent, keening wind solos, most notably from Timothy Orpen's long-breathed clarinet and David Hubbard's bassoon, the saddest clown you will hear outside of a big top. And no, it didn't all hang together; but then, is it really meant to?
Bax's Gaelic tone poem, In the Faery Hills definitely did, but didn't necessarily benefit from that. Inspired by one of the tales of Ossian, with its pastoral flute and harp is resembles a Celtic Prélude à l'après-midi d'un faune, and it is fairly Debussyian in its use of harmony and texture too. Perhaps it chased itself a little too much, but at least it demonstrated that you don't have to go to Orientalism to discover some local mythologizing.
Simon Thompson
For more about the RNSO click here.