Italy Bellini, La sonnambula: Soloists, Coro OperaLombardia, I Pomeriggi Musicali / Leonardo Sini (conductor), OperaLombardia, Teatro Sociale, Como, 24.10.2019. (RP)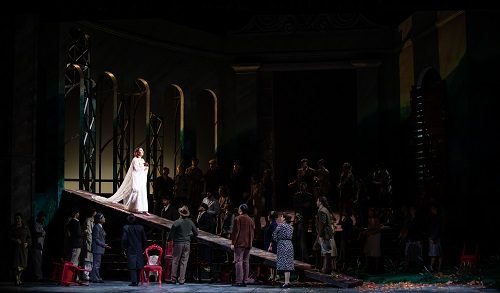 Production:
Director – Raúl Vázquez
Sets – Sergio Loro
Lighting – Claudio Martín
Chorus Master – Massimo Fiocchi Malaspina
Cast:
Amina – Veronica Marini
Elvino – Ruzil Gatin
Lisa – Giulia Mazzola
Rodolfo – Davide Giangregorio
Teresa – Sofia Janelidze
Alessio – Luca Vianello
Notary – Claudio Grasso
Bellini came to Como in the summer of 1830 to rest and restore his ever-precarious health, as well as to work on some newly commissioned operas, one of which was to feature Giuditta Pasta. The singer owned a villa near Lake Como and, given their close proximity to one another, she undoubtedly had some influence on the subject for a vehicle that would showcase her talents. Theater pieces involving somnambulism were fashionable at the time, and Bellini finally settled on the story of a sleepwalker, whose source was a ballet that had premiered in Paris in 1827. The result was La sonnambula, which premiered in Milan on 6 March 1831 and was an immediate success.
Como's Teatro Sociale was the first stop for OperaLombardia's La sonnambula; it will play later in the season in the consortium that includes the Donizetti Foundation of Bergamo, the Teatro Grande in Brescia, Cremona's Teatro Comunale Ponchielli and the Teatro Fraschini in Pavia. After meandering through the Teatro Sociale's austere hallways, I was hardly prepared for the beauty of this jewel box of a theater, which opened in 1813 and appears to be largely untouched by time. For opera historians, Como's Teatro Sociale is important as it was home to La Scala after the Milan theater was heavily damaged by Allied bombing during World War II.
Raúl Vázquez's production provides an effective, efficient backdrop for the melodrama. The set is an amphitheater, which serves to focus all attention center stage, and whose steps provided a convenient platform for the chorus. The costumes place the opera in the early twentieth century – nothing more so than the goggles Count Rodolfo sports as he arrives in the Swiss village where the opera is set. Red ribbons flutter when the townspeople celebrate the on-gain, off-again nuptials of Amina and Elvino, while the trees in Act II's forest scene were a more lurid shade of the same color. For the pivotal final scene, Amina sleepwalked to happiness across a wooded walkway that spanned most of the stage.
A particularly nice touch was Vázquez's introduction of a second love story. A maid, who was having a particularly good time during the festivities celebrating Amina and Elvino's pending nuptials, caught my eye in the opening scene. She would later meet the count's manservant in the woods, and a furtive but tender romance blossomed between these silent lovers. In the opening scene she was waving a white rose and later carried the red one that her beau had given her. Vázquez also introduced a storm to bridge the changes of sets between the final two scenes and a nod, or course, to Rossini. Cast members with umbrellas in their hands whirled about the theater.
OperLombardia's productions feature winners of the AsLiCo, a competition for young singers founded in 1949 that is the oldest in Europe and has been a springboard for the careers of some of Italy's leading singers in recent decades. Soprano Veronica Marini was the 2019 awardee, and a winner she is. Still in her early twenties, Marini's soprano has the spaciousness to spin Bellini's endless melodies and a technique that enabled her to dispatch perfectly executed trills and the most delicate of ornaments. The role of Amina is a roller coaster of emotions, and Marini rode the peaks and valleys with equal aplomb.
If looks could kill, soprano Giulia Mazzola's eyes would be lethal weapons, as would the blazing high notes that she pops out effortlessly. (If you want to hear it for yourself, listen to her 'Der hölle rache' in Italian from The Magic Flute on YouTube. Now, that's a set of pipes.) Her Lisa longed for the chance to snare Elvino after Amina's fall from grace, but it was all for naught. Too bad, she hadn't welcomed Alessio advances from the start, as bass-baritone Luca Vianello had a sparkle in his eye and voice that made me want to hear more from him.
Ruzil Gatin, a previous AsLiCo winner, has it all; he's tall, dark and handsome, possess a fine-grained, silvery tenor, and his high notes are stunning. Elvino is pretty much a cad, dropping both Amina and Lisa at the slightest whiff of scandal, but there is a broader range of emotion than Gatin captured dramatically. It was expressed in his singing but didn't register visually. If he turns up the heat a bit as this production travels about Lombardy, his Elvino will be fantastic.
To a somewhat lesser degree, the same holds true for Davide Giangregorio as Count Rodolfo. He has a warm, resonant voice and effectively expressed Rodolfo's compassion for Amina's plight, but he needed a bit more dash to sell the role. There were no such reservations about either the rich-voiced mezzo-soprano Sofia Janelidze as Teresa, the owner of the mill who had adopted Amina many years ago, or Claudio Grasso in his brief time on stage joyfully bouncing about as the Notary.
Delightful sounds emerged from I Pomeriggi Musicali under the baton of Leonardo Sini, and the woodwinds and horns were especially effective in capturing the drama in the score. Sini was always attentive to the singers, but the phrasing in the overture and introductions to the arias were what impressed me most. Coro OperaLombardia was just as polished and musically vibrant; their diction was lighter than air, adding a wonderful effervescence to everything they sang.
Bellini died at the age of 33 in France, but his remains were eventually interred in the cathedral in Catania, Sicily, where he was born. The opening words of Amina's Act II aria 'Ah, non credea mirarti si presto estinto, o fiore' ('I did not believe that you would fade so soon, oh flower') are inscribed on his tomb.
Rick Perdian