Italy Verdi, Plácido Domingo 50th Anniversary Gala at the Arena di Verona: Plácido Domingo (baritone) and soloists, Ballet, Chorus and Orchestra of Arena di Verona / Jordi Bernàcer (conductor). Recorded on 4th August and shown at Cineworld Basildon, Essex, 1.10.2019 (JPr)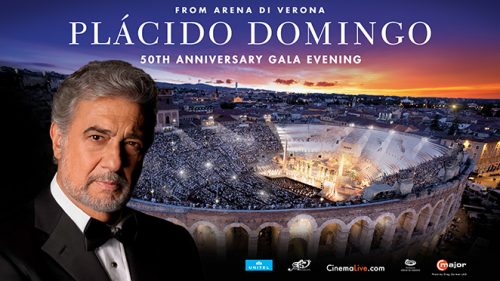 Production:
Director – Stefano Trespidi
Set and projection design – Ezio Antonelli
Costumes – Silvio Bonetti
Choreography – Giuseppe Picone
Lighting – Paolo Mazzon
Chorus master – Vito Lombardi
Nabucco
Overture
Act III – 'Va, pensiero'; 'Oh chi piange? … Del futuro nel buio discerno'
Act IV
Zaccaria – Marko Mimica
Nabucco – Plácido Domingo
Fenena – Géraldine Chauvet
Ishmael – Arturo Chacón-Cruz
Anna – Elisabeth Zizzo
Abigaille – Anna Pirozzi
High Priest of Baal – Romano Dal Zovo
Abdallo – Carlo Bosi
Macbeth (Act IV)
Macduff – Arturo Chacón-Cruz
Malcolm – Carlo Bosi
Lady Macbeth – Anna Pirozzi
A Doctor – Romano Dal Zovo
Lady-in-waiting – Lorrie Garcia
Macbeth –  Plácido Domingo
Simon Boccanegra
Act II – O inferno! … Amelia qui! … Sento avvampar nell'anima'; 'Tu qui? … Parla, in tuo cor virgineo'; 'Figlia? … Vecchio inerme il tuo braccio colpisce?'
Act III – 'M'ardon le tempia …'; 'Chi veggo! … Gran Dio, li benedici'
Gabriele Adorno – Arturo Chacón-Cruz
Amelia – Anna Pirozzi
Simon Boccanegra   –  Plácido Domingo
Fiesco –  Marko Mimica
On 16th July 1969 a young Plácido Domingo – who we are told was 28 years old – made his Italian and Arena di Verona debut as Calaf opposite Birgit Nilsson's Turandot. Remember what happened four days later, yes, man first set foot on the moon! How long ago that all seems, and it must seem even longer now to Domingo with the (extended) twilight to his legendary career blighted by recent allegations of sexual harassment during past decades from several women. This has led to the cancellation of some high-profile concert and opera engagements, most recently, at New York's Metropolitan Opera where Domingo was due to sing Macbeth. He asserts he has now performed for the last time there after 51 consecutive seasons. At the time of writing these claims are being investigated but nothing seems, from what I have read, to have been admitted to or proved thus far. Nevertheless, what was planned as a Gala to celebrate the singer's 50th anniversary of that first 1969 Turandot now became somewhat of a full-stop to what had already become a long goodbye.
In that first late 1960s summer Domingo also sang in Don Carlo opposite Monserrat Caballé (who died last year) and my only visit to Verona was in 1980 when I heard Caballé in a Verdi Requiem (conducted by Riccardo Muti) which was dedicated to those who had lost their lives in the Bologna train station bombing a few days earlier. So, seeing this Gala filmed in Verona last August brought back bittersweet memories of being there almost forty years ago (where has that time gone?). I had first seen Domingo sing at Covent Garden in 1977 as Radamès in Aida with Muti conducting. My only lasting memory of this was a less-than-'Triumphal March' where the same small band of extras moved across and off the stage to rush around the back of the set in order to exchange banners before coming back on. They did this a few times and their 'marching' got wearier each time.
There have been many nights at the opera with Domingo since 1977 whether as a tenor, which was the way he began his legendary career, or a baritone – more realistically baritenor – and conductor in recent years. Why has he been so reluctant to leave the stage after – as he revealed in a brief interval Q&A – more than 4000 performances as a singer and close to 700 as a conductor? Rudolf Nureyev danced on and on probably because he sadly realised his rather hedonistic lifestyle would catch up with him in the end. As for Domingo it is difficult to second-guess – in light of his current predicament – why he never retired gracefully to dedicate himself full-time to opera administration and the search for new talent through his Operalia international singing competition.
Perhaps the answer is in this response from Domingo during the Q&A and how he considered all performers to be 'privileged people because we do something that makes the people happy, makes the people cry, makes the people laugh, makes the people emotional. And the most important thing is that when [there are] 20,000 people, maybe 50,000 people, in the arena, or [whether] in a small opera house, [or] in a television presentation, during the time you are performing the people forget about their own problems and about the problems of the world.' Perhaps the artist can too?
From what I overheard at a well-attended showing at Cineworld Basildon this event was a slight disappointment for those expecting a Three Tenors-style showcase of operatic hits. For me a little Verdi can go a long way and Domingo presented three rather downbeat extracts from Nabucco, Macbeth and Simon Boccanegra focussing mainly on their final acts. Of the three operas it is only Nabucco that is a staple of Verona's summer seasons, indeed, Boccanegra has not apparently been seen there since 1973! Nevertheless, it was all very interesting and often dramatically compelling as staged by Stefano Trespidi on a huge set that matched the monumentality of the surrounding first-century Roman amphitheatre and with Silvio Bonetti's extravagant costumes. Whilst Nabucco and Simon Boccanegra got extremely traditional presentations, Macbeth was updated to the time of the 1940s' Italian Civil War and possibly Mussolini appeared as Macbeth and Malcolm was King Victor Emmanuel III, at least that is how it looked to me.
My only surprise was how long it took Domingo to appear in his own Gala evening. As the sun set in Verona, we heard the Overture from Nabucco and the tutti chords, the repetitions of the main theme, and the nobility of the brass lingered in the memory. The recorded sound from the orchestra under Jordi Bernàcer was excellent for everything we saw and heard. Despite the rather routine choreography for some dancers this was the perfect scene-setter for the highlights of the powerful Biblical drama that were to follow. Then, however, we heard – from an admittedly magnificent chorus – the unofficial anthem for those Italian freedom-fighters 'Va, pensiero' not just once but repeated as the singers vacated the stage and went out amongst the audience. So, after nearly 30 minutes it was time for Domingo to play the ageing king with deeply affecting physicality. Here – as throughout the entire performance – it became that clear how his voice, though shorn of its tenorial top notes, retains much of the burnished sound of earlier years. Perhaps a little breathier than of yore, it was secure, lyrical and expressive with the still intact ability to call upon, when required, some dramatic moments of impressive Otello-like vocal power. Nabucco's last act aria 'Dio, di guida' was impressively characterised. Domingo was given variable support, from amongst others, Géraldine Chauvet's rather insipid Fenena, Marko Mimica's engrossing stentorian pronouncements as Zaccaria and Anna Pirozzi – in the first of her three roles – as a dignified Abigaille.
Pirozzi came into her own during Macbeth Act IV. It had begun with another superbly sung patriotic chorus 'Patria oppressa', and impassioned 'Ah, la paterna mano' from the impressive Macduff of Arturo Chacón-Cruz before Pirozzi almost stole the show with her lost-to-the-world rendition of Lady Macbeth's somnambulistic 'Una macchia è qui tuttora!' revealing a rich chest voice and radiant upper range. After a reflective 'Pietà, rispetto, amore' Domingo showed Macbeth summoning the bravado he needed to confront Macduff before some anguished death throes. It had been here that Ezio Antonelli's huge projected images onto the rear of the amphitheatre came into their own. There was no doubting the atmosphere they added during all the opera excerpts but the pièce de résistance was the advancing Birnam Wood under a full moon.
In what we heard from Simon Boccanegra Arturo Chacón-Cruz brought his expansive tones to Gabriele Adorno, while there were more sumptuous sounds from Pirozzi as the determined looking Amelia he is in love with. As Boccanegra succumbs to poison Domingo allowed the Doge to accept with great dignity that his end was nigh (and it seemed impossible not to read into this more than there was). Marko Mimica as Fiesco revealed every facet of what sounded – through cinema loudspeakers – to be an outstanding bass-baritone voice with broad, dark grains. The scene near the very end where there is a moment of warm, yet sorrowful, reconciliation between Fiesco and Boccanegra was especially moving with both performers making those watching genuinely feel for their characters.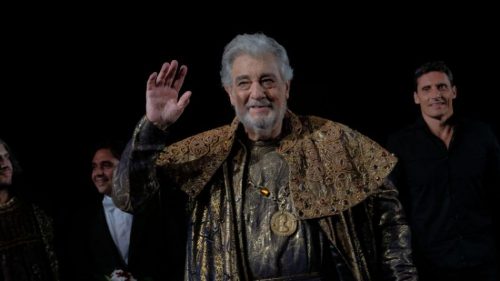 The Gala ended in a suitably festive atmosphere with some glorious fireworks. Whatever the future holds for Plácido Domingo let's be thankful for all the operatic memories he has left us with.
Jim Pritchard
For more about what is on at Arena di Verona in 2020 click here.
For more about CinemaLive events click here.