United Kingdom William Brotherhood, Holst, John Rutter, Grieg, Gilbert and Sullivan, Henryk Wieniawski, Jack Oades: Various orchestras, ensembles and choruses of the three Whitgift Schools (Whitgift, Trinity and Oratory). Conductors: Ms Lorraine Temple, Mr Philip Winter, Mr James Griffith, Ms Liz Regan, Ms Charlotte Orr, Ms Rosanna Whitfield, Mr David Swinson (the designation Ms and Mr is used by the three schools and is followed here). Phoenix Hall at Fairfield Halls, Croydon, 16.10.2019. (JB)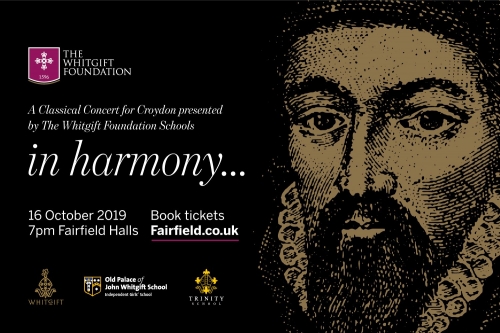 Programme:
William Brotherhood – Fanfare 2019
Holst – St Paul's Suite
John Rutter – Gloria
Grieg – Piano Concerto (first movement)
Gilbert and Sullivan – 'Poor Wandering One/ from The Pirates of Penzance
Henryk Wieniawski – Polonaise Brillante Op.4
Jack Oades – Te Deum
John Whitgift was a wealthy, much respected Cambridge theologian before he became Elizabeth I's Archbishop of Canterbury. Francis Bacon was among his students. There are unpublished Bacon manuscript (Latin) essays in the Whitgift School archive. Even Whitgift's mother was wealthy – unusual for a woman in seventeenth century England. Like most archbishops, John – just like his Lord and Saviour – was an excellent economist. Jesus said, For unto every one that hath shall be given, and he shall have abundance: but from him that hath not shall be taken away even that which he hath. That quote is the Gospel according to St Matthew. In some commentaries of the Gospel story, Matthew the Apostle had been a tax-collector before becoming a follower of Jesus. So ideal for keeping the apostle's books: Paid your subs for this month, boys?
So far as I know, I am not the parent of any living person, so in a very real sense I was an outsider in this concert's audience. I cannot join in the applause at the end of every short movement of Holst's St Paul's Suite. But something in me enjoys this unconventional, spontaneous response to Holst's music. And I feel a spoilsport for not sharing the audience's joys. Whitgift hated spoilsports. Off with their head! Into the tower, then never seen again! And I am proudly with him on the anti-puritan thing. So was Elizabeth. But Archbishop John had more than a fond regard for the Pope. Me too. Elizabeth knew of course and the two of them played the game of don't see, don't tell, rather successfully. It suited her to know that her Archbishop was secretly an admirer of Rome and it suited the Pope too. Peace and admiration all round.
Acquiring wealth to redistribute wealth was so well done by John Whitgift, and by his continuing Foundation, that today the John Whitgift Foundation is far and away the biggest landlord in Croydon – itself the biggest of the London Boroughs, with three MPs. The printed programme boasts that £5.7 million a year is given in bursaries at our three leading independent schools in Croydon. And 48 percent of our students receive financial support with school fees. Whitgift ensured that no boy should ever lack a place by not being able to afford to pay for it. Many of the bursaries are held by outstanding talents from poorer countries, who become boarders.
All the same, ethnic diversity was not much in evidence in the music makers. Not nearly so much as the ethnic diversity that I relish on a daily basis on Croydon's buses, overground railways, shops, cinemas, theatres and eating places. Appearances can, of course, sometimes be deceptive.
Many will be aware of the Trinity Boys Choir, whose excellence in singing and acting is continually called upon by opera house when composers frequently require children's voices. That supreme choir was nowhere audible or visible during the celebrations. They may have been included in a giant chorus of some three hundred plus voices. But my programme didn't indicate the composition of that group. A plea to Trinity School (all boys with girls in the sixth form) before I leave them: please stage Britten's The Turn of the Screw and let me have the dates when you do.
The programme was planned by the directors of music of the three schools. Big and Brief seems to have been their watchword in music choices. But that ends up giving a decidedly bitty feel to the evening. Many of the pieces were less than ten minutes. And many of the gaps between the pieces greater than ten minutes, while new platform combinations were set up. The only way to overcome these gaps that I know is to have a compere to lead the entertainment. It is not easy to find such a person who can educate and entertain in equal measure with a lightness of touch so that they scarcely appear to be either entertaining or educating. Still, there must be such talents around.
William Brotherhood is a sixth form student of Whitgift School who won a competition to compose a fanfare for the opening of this concert. A world premiere then. A twelve-piece brass and percussion ensemble gave a neat and tidy performance conducted by Ms Lorraine Temple, Head of Brass at Whitgift School. The piece is in the usual fanfare ternary form – in this case with outer sections in a major key and the contrasting, more melodic minor key for a middle section. Swiftly and neatly welcoming in the evening.
Ahead of the fanfare, Martin Corney, Chief Executive of the John Whitgift Foundation – thus recently renamed, giving the institution a more human feel from the previous Archbishop Whitgift Foundation – was ever the perfect gentleman in keeping his welcome to a few considerately chosen brief, sincere phrases. At the end of the evening, Christopher Houlding (Chairman of the Court of Governors) was equally gracious in thanking audience and participants for their contributions.
Holst's St Paul's Suite for string orchestra was written for a girls' school. It seems odd then that we should not be hearing it from the Oratory School. Were those girls not up to it? Mr Philip Winter, Director of Orchestral Music at Whitgift School gave a nicely pointed reading to this medley of British folk tunes which continued to influence Holst throughout his life.
I first knew John Rutter (Clare College Cambridge) when he approached me as British Council's Arts Officer, wanting to perform with his choir the Monteverdi Vespers in St Mark's Basilica Venice, placing the divided choir in the Cathedral's galleries to reproduce the original antiphonal effects the composer intended. So, John Rutter's own Gloria had a special ring for me. It was well directed by Mr James Griffith Director of Old Palace of John Whitgift School. But with the full forces of the 350plus choir, whose composition remains unclear to me.
Ellie Wilmer was the charming soloist from the Oratory School in G&S's flighty number, 'Poor Wandering One' from The Pirates of Penzance. Her coloratura was dazzlingly accurate but – although I know Gilbert's words by heart of the piece – I was unable to make out in which language she was singing in a hall which is rightly acclaimed for superlative acoustics and where she used a microphone! Ms Charlotte Orr, Teacher of Music, Old Palace of JWS conducted.
There are so many ways to play the Grieg Piano Concerto as the composer conceded. Amiri Harewood (sixth form, Trinity School) has an unusual but highly effective way – keep out of the way of the music to allow it to express itself. If only he could have conducted himself from the keyboard that would have met with Grieg's approval. But Amiri had Ms Liz Regan, Assistant Director of Music and Head of Woodwind, Trinity School obfuscating his hauntingly subdued playing.
I didn't know that Henryk Wieniawski had made an arrangement for full orchestra of a preferred encore of violinists, Polonaise Brillante Op.4. This adds nothing to the irresistible cheeky charm of the original, much preferred by Joshua Bell and many others as an encore piece. John Lui from Hong Kong delivered with masterly aplomb as required. Ms Rosanna Whitfield, Director of Music, Whitfield School sadly did everything to overwhelm him to prove the version with piano accompaniment is much better. Mr Lui is irrepressible, just as Wienawski requires.
By far my own preferred piece of music in the programme was the finale of Jack Oades (b.1994) Te Deum. I want to hear much more of this hugely talented young Irish composer and organist who has been a frequent visitor to the Whitgift Schools. He was also most ably supported by Mr David Swinson, Director of Music, Trinity School, who drew magic sounds from the huge chorus and orchestra.
Jack Buckley