United States Philip Glass, Akhnaten:  Soloists, Chorus and Orchestra of the Metropolitan Opera, New York / Karen Kamensek (Conductor), Broadcast live to the Dundonald Omniplex Cinema, Belfast from the Metropolitan Opera, New York 23.11.2019. (RB)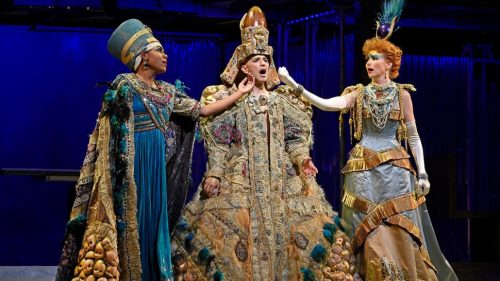 Production:
Production – Phelim McDermott
Set and Projection designer – Tom Pye
Costume designer – Kevin Pollard
Lighting designer – Bruno Poet
Choreographer – Sean Gandini
Cast:
Akhnaten – Anthony Roth Costanzo
Queen Tye – Dísella Lárusdóttir
Nefertiti – J'Nai Bridges
High Priest of Amon – Aaron Blake
Horemhab – Will Liverman
Aye – Richard Bernstein
Amenhotep III/Professor – Zachary James
Live in HD Director – Gary Halvorson
Live in HD Host – Joyce DiDonato
Akhnaten is the last in a trilogy of operas by Philip Glass about real people who altered the era in which they lived.  The first two – Einstein on the Beach and Satyagraha – looked at how the ideas of Einstein and Gandhi impacted on the worlds of science and politics.  Akhnaten (or Akhenaten as he is perhaps better known) looks at the impact this ancient Egyptian Pharaoh had on the world of religion.  Phelim McDermott's new production for the Met was first staged at the London Coliseum in March 2016.
The events depicted in the opera took place around the middle of the 1300's BC.  Akhnaten succeeded his father, Amenhotep III as Pharaoh and announced his intention to form a new monotheistic religion dedicated to the worship of the sun god Aten.  He led a revolt to banish the old religion and set up a new Egyptian capital in a city which he called Akhetaten (the area now known as Amarna).  He married Nefertiti who was regarded by many as the most beautiful woman in the ancient world.  The old guard led a revolt against Akhnaten's rule in the 1350's BC and he was killed, and his son Tutankhamun installed as Pharaoh.  There was an attempt to discredit Akhnaten after his death and to erase his rule from the historical record.
This opera contains many of the essential ingredients of Philip Glass's music.  Arpeggio figurations are repeated endlessly but with minor rhythmic fluctuations creating a hypnotic, trance-like effect.  The music moves from dreamlike suspended sonorities to war cries and moments of martial conflict.  Glass dispenses with violins in this opera and the role of Akhnaten is sung by a countertenor.  The libretto uses Egyptian, Akkadian and Hebrew words together with the language of the audience.  It depicts a series of tableau which condense the seismic events in Akhnaten's short life.
When Phelim McDermott's production opens we see vague impressionistic drawings and more defined geometric shapes projected on to a screen.  Tom Pye's set in Act I was a large imposing structure on three levels:  the bottom level contained all the trappings of power and was reserved for the royal court, the middle tier was reserved for the people looking on at the succession while the upper tier was reserved for Gods or other supernatural beings (who in this case happened to be jugglers).  Kevin Pollard's costumes were visually arresting and highly imaginative.  Akhnaten himself wore a golden robe adorned with dolls' heads with jewelled eyes while at other points he wore sumptuous red and flame like diaphanous robes.  Some of the costumes by the Egyptian nobility were highly unusual:  Aye, for example, was dressed like a Victorian gentleman with a bowler hat and umbrella but he had a large skull embedded at the top of his hat.  The Egyptian people wore dowdy looking costumes and an assortment of head dresses that it was difficult to ascribe to a particular time or place although they certainly did not look Egyptian.
McDermott used the visual image of juggling to reflect the mesmeric but fluctuating pulse in Glass's music.  The troop of jugglers were all wearing spandex suits with grey lattice markings which made them look like mummified figures.  Watching them toss balls into the air repeatedly enhanced the mesmeric effect of Glass's music.  The production contained a number of sumptuous unforgettable tableau.  In Act II we watched as Akhnaten and Nefertiti approached each other with identical scarlet robes with the long trails initially flowing out behind them and then becoming intertwined.  In the same act Akhnaten slowly ascends steps and is silhouetted against a giant orb of the sun.
Glass's opera only contains one set piece aria for Akhnaten himself while the rest of the work is dominated by ensemble singing.  Anthony Roth Costanzo excelled in the role of Akhnaten and he gave a riveting performance.  From his initial entrance where he slowly emerged from a shroud to the final intensely moving death scene, he was a compelling presence on stage.  He blended beautifully with J'Nai Bridges in the Act II love duet his bright and pure sound contrasting beautifully with Bridges's darker vocal timbres.  The Hymn to the God Aten was sung with a sensuous legato line although I would I would have welcomed a little more tone and projection.
J'Nai Bridges brought dark, rich vocal timbres to the role and her voice contrasted beautifully with Dísella Lárusdóttir's radiant soprano.  In Act III Aaron Blake's High Priest had to sing Amen 23 times and he did a brilliant job stoking up his followers against Akhnaten.  Will Liverman's Horemhab and Richard Bernstein's Aye both gave polished performances.  Zachary James delivered his spoken lines with dramatic flair:  (as heard through cinema loudspeakers) his booming voice must have echoed around the opera auditorium in a prophetic way.
Conductor Karen Kamensek is an expert in Philip Glass's music and she and the orchestra of the Metropolitan Opera gave a highly accomplished performance.  The opening prelude was performed with metronomic precision and the fluctuating rhythms delivered with pin-point accuracy.  Glass's extraordinary orchestral effects and colours including the tubular bells in Act I, the chromatic harmonies in Act II and the martial war-like effects were arresting.  There was an excellent balance with the singers throughout and I loved the way Kamensek was able to sustain Glass's mesmerising lines while moving from trance-like states to war cries.
Overall, this was a visually sumptuous and imaginative production which was brilliantly performed by all the cast.
Robert Beattie
For more about The Met: Live in HD click here.
For a review of an earlier performance heard live at the Met click here.