Germany Henze, The Bassarids: Soloists, Vocalconsort Berlin, Chorus (chorus director: David Cavelius) and Orchestra of the Komische Oper Berlin / Vladimir Jurowski (conductor). Komische Oper, Berlin, 5.11.2019. (MB)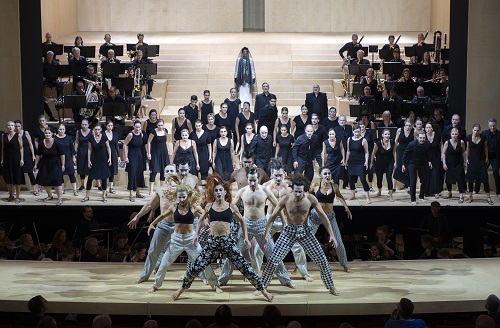 Production:
Director – Barrie Kosky
Chreography – Otto Pichler
Designs – Katrin Lea Tag
Dramaturgy – Ulrich Lenz
Lighting – Franck Evin
Cast:
Dionysus – Sean Panikkar
Pentheus – Günter Papendell
Cadmus – Jens Larsen
Tiresias – Ivan Turšić
Captain – Tom Erik Lie
Agave – Tanja Ariane Baumgartner
Autonoe – Marisol Montalvo, Vera-Lotte Boecker
Beroe – Margarita Nekrasova
Dancers – Azzurra Adinolfi, Alessandra Bizzarri, Damian Czarnecki, Michael Fernandez, Paul Gerritsen, Claudia Greco, Christoph Jonas, Csaba Nagy, Sara Pamploni, Lorenzo Soragni
I have been privileged to see – and hear – three excellent performances and productions of The Bassarids; I have also been privileged to attend many excellent performances and productions at the Komische Oper. In both respects, this new production by Barrie Kosky, conducted by Vladimir Jurowski, was fully worthy to stand amongst any of its predecessors: complementary, in many respects highly contrasted, to stagings from Christof Loy (Munich) and Krzysztof Warlikowski (Salzburg), and perhaps still more highly contrasted in a typically formalist approach from Jurowski, whose relationship to Kosky's staging proved thoughtful and revealing.
One enters to activity already proceeding onstage: not unusual in contemporary theatre, but important in its particularity. There are musicians, much of the large woodwind and brass sections, on stage as well as in the pit. (Alongside it too: even in Henze's 1992 revision, as here, it is a large orchestra for which he calls.) There are others milling around too: later revealed to be chorus and dancers. But the milling around is perhaps the more important thing than who is doing the milling. There, as here (in the audience, that is), patrons, or, as we might prefer, citizens, are preparing for the performance, in whatever roles they might play. For, in this milling before the musicodramatic storm, it is part of an amphitheatre we see: not archaic, not archaeological, but of now – as it was for Euripides; as it is for him, for Henze, for WH Auden and Chester Kallman, for all of us. Attic drama, above all Attic tragedy, the cornerstone for our entire Western dramatic, including operatic, tradition, continues to live, to breathe, to adapt, and above all to enthral. Where Wagner, whether Henze liked it or not – in many ways, he did not – his most important predecessor, had seen decadence in the later tragedy of Euripides, and found greatest inspiration in Aeschylus, Auden led Henze here to a typically modernist conflict between immediacy and the highly mediated, a few turns of the dialectical screw on from Schiller's naïve and sentimental, yet ultimately perhaps not so very different. On the one hand, Auden insisted that Henze, as part of his preparation for composition, attend Götterdämmerung: Karajan gave him his Vienna box. On the other, he and Kallman provided a highly literary, 'poetic', even in Wagner's – and Nietzsche's – terms, 'decadent' libretto, after Euripides, with which to work. All manner of dramatic conflicts in this opera, ultimately rooted in ancient tragedy and our reception of it, may be traced back to that – as well as to Henze's own, personal musical conflicts: Germany and Italy, Schoenberg and Stravinsky, past and present, and so forth. The amphitheatre, of which we see only part, of which we, drawn in, are also part, stands as the arena for all that and more.
What Kosky proceeds to do is largely straightforward: direct, yet mediating between history's various antiquities and today, belying most claims of 'decadence'. The story is largely told straightforwardly, but with as fine a reinvention of the original artistic unity Wagner – and many German idealists – saw in the drama of Athens: a Gesamtkunstwerk, if you will. Every Kosky production, whatever one thinks of it conceptually, reveals him as a master of his craft; this is no exception. Individual and crowd scenes, both on stage and beyond it – around the enlarged pit, in the theatre of the Komische Oper, etc. – are blocked and executed with precision: not as some cold, clinical, 'merely' technical exercise, but so as to permit the drama to emerge. Mesmerising dance, as strange and alienating as it is mesmerising and erotic, heightens the sense both that we might have been 'there', that we might fall prey to Dionysus's call, and that yet we can make sense of it, as spectators. Such is a Maenads' Dance unlike any other I have seen, Otto Pichler's choreography just the thing, as are the energy and sheer proximity of the dancers. The ultimate seduction, Pentheus by Dionysus; the ultimate tragedy, Agave's bestial murder of her son; and her recognition of what she has done: these are presented with all the force and clarity one can imagine, however foolishly, one 'might have' experienced in Athens. Agave's childish delight in the bloody quarry from the hunt is a particularly gruesome moment, but not for the sake of gruesomeness. To an extent I cannot previously recall, everything now seems to have led up to the moment of recognition. Dionysus's self-revelation, intense vulnerability and all as wounded son of Semele, comes as an eminently musical coda to that.
For at the heart of the stage construction lies the orchestra, true locus of the Dionysian rite: for Kosky, just as it had been for Wagner, Nietzsche, and arguably Henze too. In an interview for Die Welt, to mark the first performance of The Bassarids, Henze proclaimed his belief 'that the road from Tristan to Mahler and Schoenberg is far from finished, and with The Bassarids I have tried to go further along it.' That will surely always come through, yet Jurowski's approach also highlighted the countervailing force both onstage and in the pit, clarifying in Apollonian fashion Henze's conception of this 'music drama' – he uses Wagner's term – in symphonic form: four movements, with an intermezzo akin to the ancient satyr play. One could not resist the sheer power of frankly superlative orchestral and choral forces, fully the equal of 'starrier' counterparts in Munich and Salzburg; yet, intriguingly mirroring, even extending the composer's dramatised conflict between Schoenbergian and Stravinskian tendencies in Der Prinz von Homburg, a neoclassical, ordering element came with at least equal power to the fore. With Henze's music, there is often a battle between expression, even over-expression, and the discipline required to express that raw expression, as it were. In this case, the Penthean, the monotheistic put up a stronger musical fight to the primaeval Dionysiac in Henze's orchestral cauldron than I can hitherto recall. Occasionally, I longed for Jurowski to let go a little more, but even that slight frustration had its own dramatic rewards. The heartbreak, moreover, of Henze's sacrificial quotation from Bach's St Matthew Passion registered all the more starkly for being presented almost as an object, something removed from our religious and musical view.
Sean Panikkar as Dionysus offered a performance at least as frighteningly, irresistibly seductive as he had in Salzburg last year: a chilling yet smouldering portrayal of a being beyond good and evil, inhuman and yet palpably human, his movement almost as impressive as his more conventionally musicodramatic skills. This evening only furthered the thought that it is a role he was born to play. Günter Papendell's Pentheus proved a moving, complex, yet ultimately hapless foe: an intelligent and powerful portrayal. Tanja Ariane Baumgartner's Agave initially, quite rightly, kept us at arms' length, before drawing us in movingly for the final tragic outcome, assisted by, among others, an excellent Marisol Montalvo, singing for an indisposed Vera-Lotte Boecker, who continued to act the role onstage, and a rich-toned, richly sympathetic Margarita Nekrasova as the nurse, Beroe. As so often with the Komische Oper, though, a sense of company among all concerned made for a Gesamtkunstwerk in another, related sense. A memorable evening indeed.
Mark Berry