Germany Purcell, King Arthur: Actors, Soloists, Ein Skills Ensemble, Staatsopernchor Berlin (chorus director: Martin Wright), Akademie für Alte Musk Berlin, René Jacobs (conductor). Staatsoper Unter den Linden, Berlin, 8.11.2019. (MB)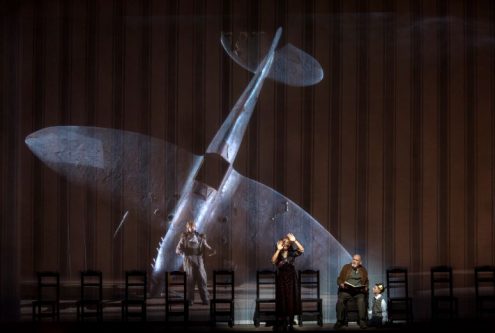 Production:
Director – Sven-Erich Bechtolf
Director, Set designs – Julian Crouch
Costumes – Kevin Pollard
Lighting – Olaf Freese
Choreography – Gail Skrela
Video – Joshua Higgason
Cast:
Anett Fritsch, Robin Johannsen (sopranos)
Benno Schachtner (countertenor)
Reinoud Van Mechelen, Stephan Rügamer (tenors)
Neal Davies, Arttu Kataja (bass)
Arthur – Michael Rotschopf
Merlin – Jörg Gudzuhn
Oswald – Max Urlacher
Osmond – Paul Herwig
Emmeline – Meike Droste
Grimbald – Tom Radisch
Conon – Roland Renner
Aurelius – Steffen Schortie Scheumann
Mathilda – Sigrid Maria Schnückel
Little Arthur – Béla Jim Ottopal
What to do with King Arthur? Rightly or wrongly, a 'straight' performance seems out of the question, even in the case of this, the only case of a Purcell semi-opera conceived as such (by Dryden), as opposed to adding music to an existing play. There are several problems here. Some might say, not without reason, that there are several opportunities too, that those very problems may readily be understood to be opportunities. For our purposes, doubtless too schematically, they may be summarised as: how to conceive of this genre; how to conceive of this particular example of that genre, likely written as an allegory whose meaning we shall never recover or, at best, at which we shall only hesitantly be able to guess, closing with an uncomfortably 'patriotic' final act; what sort of dialogue to use, most likely to write; and, last but not least, how to accomplish any of that for a largely non-English, indeed non-Anglophone audience. I shall not attempt fully to answer those in turn, but they are worth bearing in mind in consideration of what was seen and heard in this performing version by René Jacobs, with a little – or a good deal of – help from various friends, Sven-Erich Bechtolf and Julian Crouch included, in 'updating' a German translation by Wolfgang Wiens and Hans Duncker.
The fundamental conceit is far from a bad one; its framing permits for various standpoints, depending on the spectator, to be taken. Set in wartime, in the 1940s – it seems, though some designs appear, confusingly, to be from earlier in the century – this is a tale of a boy, Arthur, who has lost his father in action. His mother would like to move on with her life, but Arthur is resistant to anyone taking his father's place. Various characters and situations – his mother, his father's father, a puppet show, his father in a dream, etc. – recount to Little Arthur a story from Britain's ancient past, of battle between Britons and Saxons, onto which some issues of the present may be read, and vice versa. Ultimately, the war comes to an end; Arthur's mother remarries; and, both disturbingly and unconvincingly, Arthur learns, seemingly without irony or any of the double reading in which he or we might previously have engaged, that the King Arthur of whom he has learned – in this context, a somewhat odd King Arthur, more deeply engaged with retrieving his love, the blind Emmeline, than the activities for which we know him – should be his model as an English patriot. Almost all of the spoken theatre proceeded in German; Purcell's music was always given in English, heightening a sense of separation.
The doublings of historical standpoint, if sometimes a little confusing, at least to start with, have much to be said for them, their often bizarre accoutrements rather less. I could not help, as an Englishman at present inevitably still more disenchanted with any show of 'patriotism' or nationalism, but wonder at the ideas other, neighbouring, still-friendly – whatever the provocations – countries have of Purcell's 'fairest isle' right now. One is clearly of ongoing obsession with the Second World War: fair enough; one can hardly argue otherwise, however much one might wish it otherwise. Another enduring conception seems to be of a Monty Python-style humour that frankly irritates many of us, but which is certainly enjoyed by a number of my German friends. That combination of something not nearly so clever as it thinks it is with mere silliness certainly haunted a good deal of what we saw.
If, for instance, you had for some reason been longing to see a black-and-white-striped, exaggeratedly priapic version of the creepy 1980s BBC children's television 'character', Wizbit, brought to us once upon a time in association with Paul Daniels and 'the lovely' Debbie McGee, this would certainly have been your night. (I can only presume, indeed hope, that the resemblance was coincidental, but who knows?) If, moreover, you were someone who found threats of rape on the part of that strange conical figure inherently amusing – disturbingly, much of the audience seemed of that persuasion – your dramatic cup would verily have run over. Mishearing of 'Uhren' (clocks) for 'Huren' (whores), farting and other 'smell' jokes (yes, afraid so), and so on and so on were largely suggestive of variety show rather than Dryden. Ribaldry certainly has its place in other works by Purcell, but hardly here. This show – that seems to me the right word – certainly seemed happier with the generalised rather than the particular. Occasional flashes of something wittier, more substantive, for instance a character musing on how the drama might have developed, had postdramatic theatre been yet invented, offered tantalising possibilities. Greater focus would have been no bad thing.
There was much to admire in the singing – in particular – but also the acting, overdone though some of the latter may have been. All singers covered numerous roles to excellent effect: Anett Frisch's stylish and intelligently dramatic soprano, Benno Schachter's hauntingly beautiful countertenor, and Neal Davies's performance in the celebrated 'Frost Scene' – how manifestly superior it is to its likely model in Lully! – were the pick of the bunch for me, but there were no weak links. The Staatsoper chorus, as ever, proved on fine form. Some, I suppose, might have preferred a smaller body of singers; for me, however, it proved rather a wonderful treat. With the best will in the world, a band such as the Akademie für Alte Musik cannot approach the warmth of, say, the English Chamber Orchestra in Antony Lewis's recording of this music, nor its easy way with Purcell's idioms. However, there was fine playing on its own terms, to which my ears became more accustomed as time went on.
Jacobs' tempi and general direction were for the most part unobjectionable, although there were times, doubtless predictably, when the music might have been permitted to breathe more openly. Various other music by Purcell was added, sometimes offering an orchestral background to dialogue: not a Purcellian practice, but in its borrowing from later 'melodrama' unproblematic and a welcome addition of textural variety. Jacobs seems also to have felt the need beyond that to 'improve' on Purcell's scoring. I have no objection in principle to rewriting, re-orchestrating, reordering, to anything really, so long as it works; there was nothing here to which I especially objected, though Jacobs's amplifying choices were highly predictable in practice. On the other hand, the relative intimacy of Purcell's writing here – compare it with, say, The Fairy Queen – was often lost, without sign of any true rethinking in modern terms.
As ever, then, pious talk of musical 'authenticity' proved about as plausible as a Liberal Democrat bar chart. Thoughts inevitably returned to our – Britain's, that is – lamentable political present. There were lessons to be learned, even if far from straightforwardly. On reflection, that is doubtless as it should have been. However uncomfortable this may have been for an Englishman in temporary exile, if ever a failed state deserved to be the butt of 'foreign' humour, it was surely ours.
Mark Berry