Germany Shostakovich, Lady Macbeth of Mstensk: Soloists, Chor der Oper Frankfurt, Frankfurter Opern- und Museumsorchester / Sebastian Weigle (conductor), Oper Frankfurt, Frankfurt, 3.11.2019. (RP)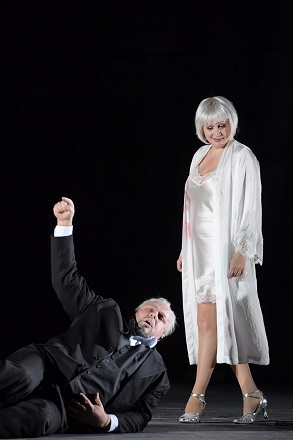 Production:
Director – Anselm Weber
Sets & Costumes – Kaspar Glarner
Lighting – Olaf Winter
Video – Bibi Abel
Chorus master – Tilman Michael
Dramaturge – Konrad Kuhn
Cast:
Katerina Ismailova – Anja Kampe
Boris Izmailov / Old Forced Laborer – Dmitry Belosselskiy
Zinovi Izmailov – Evgeny Asimov
Sergei – Dmitry Golovnin
Axinja – Julia Dawson
Sonetka – Zanda Švēde
Shabby Man – Peter Marsh
Pope – Alfred Reiter
Chief of Police – Iain MacNeil
Administrator / Sargent – Anthony Robin Schneider
Houseboy – Mikołaj Trąbka
Policeman / Sentry – Dietrich Volle
Teacher/1st Foreman – Theo Lebow
Drunk Guest/2nd Foreman – Michael McCown
3rd Foreman – Hans-Jürgen Lazar
Forced Laborer – Barbara Zechmeister
Driver – Alexey Egorov
Worker at the Mill – Yongchul Lim
Katerina Ismailova's life is bleak – a childless marriage, a husband with a low libido, a boorish father-in-law who constantly berates her and a life of isolation in the midst of brutish laborers who think of rape as a sport. She can, however, escape reality: magic glasses transport her to a happy place where gentle breezes caress cherry blossoms against the backdrop of a blue spring sky. The glasses are director Anselm Weber's deftest directorial touch in Oper Frankfurt's new production of Shostakovich's Lady Macbeth of Mstensk starring Anja Kampe.
Set designer Kaspar Glarner devised a barrel-like enclosure for the stage that serves the action well. The stage is bare except for the few props necessary to the plot, such as the rat traps in Act I and a plate of poisoned mushrooms in the second. A door opens to the cellar where Katerina Ismailova and Sergei stash her husband's corpse. In the final act, when the prisoners rest for the night en route to Siberia, the stage is evocatively lit in soft shades of orange. A rectangular hole appears downstage in the final moments of the opera, to which Katerina Ismailova drags Sonetka to kill her and end her own life.
In Act II, Katerina Ismailova's bed – part-shrine, part-cage – dominated the stage. Earlier, when she and Sergei had sex on the floor, her ecstasy was depicted visually with a profusion of flowers bursting into bloom like fireworks. No magic glasses were needed. The structure later becomes the church in a lush forest where Katerina Ismailova and Sergei are married. It is first revealed by the magic glasses, this time worn by the family servant, Axinja, who strolls along blissfully, enchanted by the images that she sees.
Weber's comedic touch was neatly displayed in the slightly goofy characters of Axinja (mezzo-soprano Julia Dawson) and the Shabby Man (tenor Peter Marsh). He went off the rails, however, when he inserted the Pope into the action to preside over the marriage of Katerina Ismailova and Sergei. It provided Alfred Reiter as the Pope an opportunity to indulge in a bit of cross dressing; he took such delight in his pumps that he showed them off at his solo bow. Really, boys, get a grip, it's Lady Macbeth of Mstensk not La Cage aux Folles.
Musically, however, the performance was magnificent throughout. Kampe's voice was never less than beautiful, and she sang her quieter, folk-like arias with an exquisitely lustrous tone and touching simplicity. At first, Kampe's Katerina Ismailova was numb, almost sleepwalking through life, and her voice had a white, distant quality to it. Later, after Katerina Ismailova's erotic awakening, Kampe's voice blazed as she begged him to 'kiss me so it hurts my lips . . . and the icons fall from their shelves'.
Dmitry Golovnin's virile Sergei, whose tenor had a compelling thrust to it, was an opportunistic cad who loved an easy life and pleasure more than any woman. In contrast, Evgeny Asimov's Zinovi Izmailov was an unkempt bear of a man, made even more so by the massive fur coat that he wore in the first act. His attractive tenor was well equipped to express some semblance of affection for his wife as well as his puffed-up pride. As his father, Boris Izmailov, Dmitry Belosselskiy was ruthless and virile, with a scintillating, dark bass voice. Second only to Kampe in vocal allure, Belosselskiy provided some of the most memorable singing of the evening.
Sebastian Weigle whipped the orchestra into frenzied torrents of emotion ranging from the obscene thrusts of the brass and percussion to scintillating passages that caressed the ear. The orchestral interludes were particularly evocative and spellbinding due to their clarity, transparency and intensity. In the drunken songs of the laborers and wedding guests, the chorus sang with gusto, but the final choruses of the prisoners as they trudged to Siberia were stunning and resonated with profound emotion.
Rick Perdian