Germany Chaya Czernowin, Heart Chamber (world premiere): Soloists, Ensemble Nikel (Brian Archinal [percussion], Yaron Deutsch [electric guitar], Antoine Françoise [piano], Patrick Stadler [saxophone]), SWR Experimentalstudio (live electronics), Orchestra of the Deutsche Oper, Berlin / Johannes Kalitzke (conductor). Deutsche Oper, Berlin, 15.11.2019. (MB)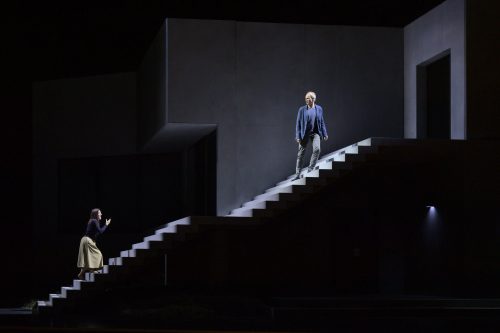 Production:
Director – Claus Guth
Designs – Christian Schmidt
Lighting – Urs Schönebaum
Video – rocafilm
Dramaturgy – Yvonne Gebauer, Dorothea Hartmann
Sound designs – Joachim Haas, Lukas Nowok, Carlo Laurenzi
Cast:
Her – Patrizia Ciofi
Her Inner Voice – Noa Frenkel
Him – Dietrich Henschel
His Inner Voice – Terry Wey
Soprano – Robyn Allegra Parton, Micaëla Oeste, Jana Miller, Rachel Fenlon
Mezzo-soprano – Verena Usemann, Anna-Louise Costello, Verena Tönjes, Jennifer Hughes
Tenor – Hans-Dieter Gillessen, Lawrence Halksworth, Wagner Moreira, Martin Fehr
Bass – Philipp Schreyer, Christoph Brunner, Simon Robinson, Andrew Munn
The Voice – Frauke Aulbert
Double Bassist – Uli Fussenegger
The day prior to seeing this, the world premiere of Chaya Czernowin's fourth opera, Heart Chamber, I had completed in draft a short introductory article on the music of Schoenberg. That was doubtless part of the reason why various works of Schoenberg came to mind both during and after the performance of this fascinating new work; but I do not think it was — at least I hope it was not — only on that account. An unnamed man and woman: one might think first of Verklärte Nacht, not least since Heart Chamber, subtitled 'An inquiry about love', addresses, according to the composer, a 'transformative path', namely 'the elements of falling in love that expose us to our most intense beauty but also to our most intense vulnerabilities and insecurities'. It was really, however, Schoenberg's first two operas, Erwartung and Die glückliche Hand, which provided some context or framework for my response. Czernowin's conception, whilst far from breezily romantic, is nowhere near so dark, nor so expressionist, as either. The sound of a surrounding vocal ensemble suggested as much distance from Die glückliche as affinity; that opera nonetheless afforded a reference point of sorts. Moreover, unlike either of the Schoenberg works — though like, I suppose, his third and final one-act opera, Von heute auf morgen — both man and woman have a voice, here further amplified, in addition to actual electronic amplification, by further solo parts for their inner voices.
It was less in subject matter than in overall conception that Erwartung helped frame my response. In letter to Busoni, written just before beginning work on that score, Schoenberg presented a physiological understanding of what he was about to portray: 'For a human being, it is impossible to feel but one sensation at a time. One has thousands at once. … And this variegation, this multifariousness, this illogicality which our senses demonstrate, this illogicality presented by their interactions, set forth by a soaring wave of blood, by some sense- or nerve-reaction, this I should like to have in my music.' In Heart Chamber, Czernowin — and I felt this with considerable, sometimes well-nigh overwhelming force before reading a word about it—attempts 'to create a true multisensory experience, an experience of music in its sensual fabric, where music becomes smell, touch, cutting pain, extreme vulnerability, pure joy, or euphoria. The transitions and shifts between these states are uncontrolled and unpredictable.' Reinventing the operatic wheel, then? Perhaps, but is that not what any opera composer worth his or her salt will be engaged in at some level? There is certainly here a strong, even unusually strong, sense of aural and visual, compositional and performative elements coming together dynamically yet also structurally — this is perhaps more knowingly sectional, if undoubtedly interconnected, a work than a post-Romantic piece such as Erwartung — to create something we might yet know, if we must, as a Gesamtkunstwerk.
An double bass solo (Uli Fussenegger), nervous and wide ranging, eventually settling on a narrower bad of pitch oscillation – a minor second, if I remember correctly – is the way in, an overture of sorts. Is this the heart or the physical and metaphysical chambers within which it is confined? There seems no reason to choose. Listening and watching, one registers different speeds, sometimes successive, sometime simultaneous, of experience; a bowing as much as an electronic modification, the spatial relationship between the excellent Ensemble Nikel to the side of the auditorium and the orchestra in the pit as much as that between conductor Johannes Kalitzke and electronics, or voices on and offstage. Nevertheless, at the structuring, animating heart, if one may put it that way, of this opera there stand voice and voices, singular and plural, generic and particular. One may say that such is the case for any opera—and yes, in many ways of course it is. However, I think it is probably fair to say that it is still more so the case for some operas, and some types of opera, than others, at least vis-à-vis the orchestra, or whatever stands in its place. For me, Heart Chamber took one back, with an effect not entirely unlike — whatever the differences in means — a work such as Pascal Dusapin's Passion, to the earliest, Monteverdian days of opera: not in the sense of pastiche, nor even, as with Dusapin, of reference, but, to quote Czernowin, of 'being about the voice, about using the voice, about communicating with the voice.' That is, I know, what some, more responsive to its charms than I, say of bel canto opera too; I shall leave it to them to comment on any such affinity. Vocal colour, both through singing, prior recording (sometimes set against the present), and complex yet meaningful sound design, multiplies, not least in its potentiality for meaning.
Doubling or more, whether of 'real' or electronic voices, invites reflection, just as will any number of retellings of, for instance, the Orpheus legend. Vocal externalisation of inner voices, often more the affair of instruments, of harmony — and it is certainly not the case that there is none of that here—adds further layers not just of meaning, sometimes of a daily contradiction we all know, yet do not always acknowledge, but of experience both highly immediate and mediated. Such conflicts take place, related and unrelated, between song and speech, stage and film too. Incomprehension and frustration play roles as important as understanding and satisfaction. This is often, then, the realm of the unconscious, as further suggested by a number of dream sections, not always so readily distinguished, but which both for Schoenberg (again to Busoni) — music as 'an expression of feeling, as our feeling really is, which connects us with our unconscious, not a changeling born of feelings and "conscious logic"' — and for Czernowin, more vocally, less orchestrally — 'an additional singer (an internal voice) who reveals the protagonists' deep subconscious … The internal and external voices do not always agree' — are perhaps the ultimate source of drama, even of 'reality', whatever that may be. In neither is narrative straightforwardly the point, probably still less so for Czernowin than Schoenberg. How one reacts to countertenor (Terry Wey) mirroring and contradicting baritone (Dietrich Henschel) and contralto (Noa Frenkel) doing likewise, yet never in anything so banal as mirror image, for soprano (Patrizia Ciofi) is part of the way one structures and indeed creates one's own response.
This landscape, however, is no forest, enchanted or disenchanted. It is unrepentantly urban, quotidian, even in contrast with such settings. It could be anywhere; it might even be one of the roads outside, just off Bismarckstrasse. Video work (rocafilm) treads with excellence that thin line between specificity and non-specificity, just as it does differently, elsewhere, in nightmarish, invasion of ants, as psychological as it is physiological; for what is 'reality' here? So too, more broadly, do Claus Guth's direction and Christian Schmidt's designs, indeed the production as a whole. A highly resourceful revolving stage creates and delimits spaces, urban and physiological, perhaps even metaphysical too. That is more a question for us, I think, than for the work and production as such. My first reaction was that I should need to see and hear the opera again to be able to say anything about it; sadly, that was not immediately an option and, in retrospect, time for reflection was undoubtedly a good thing too. The experience, conscious and unconscious, would doubtless be very different — just as it would with Così fan tutte or Tristan, and their treatments of a not entirely dissimilar theme. I should nevertheless be keen to see and hear it again, especially given such committed performances, and have no hesitation in recommending it to anyone for whom opera is both what it was for Monteverdi, Mozart, Wagner, or Schoenberg and something necessarily different.
Mark Berry
For more about the Deutsche Oper Berlin click here.