United Kingdom Acosta Danza – Evolution: Sadler's Wells, London, 19.11.2019. (JPr)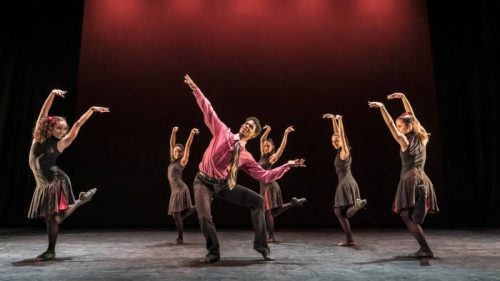 Satori
Choreography – Raúl Reinoso
Music – Pepe Gavilondo
Costume design – Angelo Alberto
Paysage, soudain, la nuit
Choreography – Pontus Lidberg
Music – Leo Brouwer and Stefan Levin
Costume design – Karen Young
Scenography – Elizabet Cerviño
Faun
Choreography – Sidi Larbi Cherkaoui
Music – Claude Debussy (with additional music by Nitin Sawhney)
Costume design – Hussein Chalayan
Rooster
Choreography – Christopher Bruce
Music – Songs performed by The Rolling Stones
Costume design – Marian Bruce
Carlos Acosta's Cuban dance company returns to London with a programme of four short works which does much to celebrate how Acosta Danza has evolved – as Sarah Crompton writes in the programme – 'in the space of four years from a dream and an aspiration, into a fully-fledged troupe of 20 dancers, who have an extensive repertory and their own particular style, which melds – as Acosta always wanted to – all styles of dance, from classical to hip hop, in one technique.' As Acosta himself adds: 'This is our second UK tour and you will already be able to see the development of the dancers. Before there was a distinction. You could see who was classical and who was contemporary; but now everybody is everything.'
As often happens with a mixed bill such as this, the result is distinctly mixed and it is the more established works – Faun and Rooster – which are the most successful in showing Acosta Danza at their very best, either as individual dancers or an ensemble.
There are two UK premieres; and the first, Satori, is apparently inspired by Zen Buddhism where the word refers to spiritual illumination. It was created by company dancer Raúl Reinoso to folkloric music by the Cuban composer Pepe Gavilondo. After an intriguing start as topless male and female dancers emerge from a – nearly ominpresent – billowing stage-wide blue cloth there is diminishing returns. Strong repetitive movement suggests tribalism and ancient Cuban religious practices. The long-limbed and languid Zeleidy Crespo is captivating as the high priestess, with the choreographer himself, Raúl Reinoso, excelling as her whirling dervish-like devotee.
Slightly better is Pontus Lidberg's Paysage, Soudain, la nuit described as 'a celebration of youth between twilights and dawns' involving an exploration of Cuban culture 'through rumba, a genre of traditional Cuban music, with African roots' from Leo Brouwer and Stefan Levin. Elizabet Cerviño's spare setting evokes a golden pastoral scene with some crops growing in the background. Danced with brio by all concerned there is a party-like feel to the proceedings as boy meets girl (or possibly boy) with much posing, flirting and laddish high jinks, as well as, witnessing that not everyone will 'hook up' as they would wish.
Even better is Faun – which I was seeing for the first time – Sidi Larbi Cherkaoui reinvents the sensuality of the original Debussy/Nijinsky ballet employing extra music by Nitin Sawhney. Carlos Luis Blanco's faun twists and turns through – what reminded me of – intricate yoga poses, with his movement being compellingly animalistic throughout. When the remarkable Zeleidy Crespo appears, to Sawhney's new music, her oddly 'feline' faun now becomes the centre of attention. As Crespo and Bianco entwine the eroticism intensifies as they seem to fuse into a single multilegged organism. It is an atmospheric work set against a forest backdrop and is a supreme test of the two dancers' technical skill, strength, flexibility and balance, and Blanco and Crespo prove to be dancers of the highest rank.
Last, and best of all, is Christopher Bruce's Rooster first seen – though not be me – in 1991. I have only seen Rooster once and then it was rather lost in the barnlike Royal Albert Hall, so now the greater intimacy of the Sadler's Wells Theatre brings all its controlled exuberance vividly into focus. We are in the more innocent 1960s and 70s, several decades before #MeToo. Starting with The Rolling Stones's 'Little Red Rooster' the programme note tells us we see 'preening cockerels that symbolise the stylish but chauvinistic young men of this period' whilst the girls 'for the most part … look on with ironic amusement at the male posturing.'
Cock of the walk in the 60s and 70s – and still to a degree now over 50 years later – was Mick Jagger and it is his voice we hear, as well as his presence we imagine, throughout Rooster. What we see occasionally matches the lyrics of all the iconic songs, whilst at other times, it is all just high spirits with the charismatic Acosta leading the flock of strutting roosters. If called upon the movement of the girls is equally enticing and there is even some twerking and go-go dancing during 'Paint it Black'. In that particular 'battle of the sexes' it is obvious who gets the upper hand … and it isn't the boys! Much fun is had by all and the enthusiasm of Acosta and his company is a pleasure to see.
A frequent topic of the audience's conversation – that I overheard – concerned how old Carlos Acosta now is. What he went on to prove with this guest appearance is that in 2019 being in your late 40s can mean very little to anyone with a skill or talent. Throughout Rooster Acosta showed he still had the stamina of those around him who were mostly half his age; his movement was fluid, spins still fast, leaps fine, and stagecraft second to none. He faces challenges ahead and it will be interesting to see if dancing takes a further backseat in coming years when he will continue to oversee Acosta Danza whilst becoming director of Birmingham Royal Ballet next January. Carlos Acosta has overcome a lot in his life thus far and I am certain all this will not faze him.
Jim Pritchard
Dance Consortium's spring 2020 tour of Acosta Danza's Evolution opens at the Mayflower Theatre, Southampton on 3 and 4 March. For more details click here.