United States From Mozart to Monk: Chick Corea (piano), presented by San Francisco Symphony Great Performers, Davies Symphony Hall, San Francisco. 10.11.2019. (HS)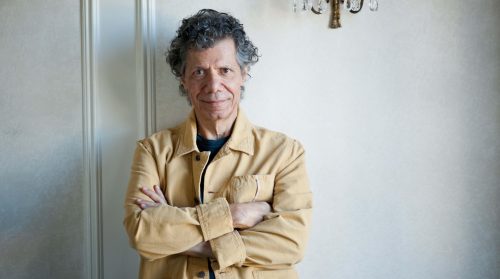 Chick Corea wandered onto the Davies Symphony Hall waving tentatively to a near-capacity audience eager to hear what he meant by the solo program's title: 'From Mozart to Monk'. His dark suit over a t-shirt of multi-colored stripes — and red-swoosh-adorned, yellow-soled blue sneakers to apply to the Yamaha piano's pedals — accurately reflected what the evening was about.
Neither a classical recital nor a jazz concert, this evening blended elements of both. There would be no striding purposefully to the piano at center stage for a solemn bow before sitting to play. Instead, Corea waved and bowed casually to all points on the compass before picking up a microphone. He reminisced about playing in San Francisco — from jazz clubs in the 1960s and 1970s, to his 1995 subscription concerts with Mozart's Piano Concerto No.20 with the San Francisco Symphony, conducted by fellow jazz artist Bobby McFerrin.
'It's my only solo concert of the year,' he told the audience, differentiating it from gigs with other jazz artists that make up most of his schedule. 'We're going to be winging it'. With that, he created instant rapport. Is it possible that something like this can take enough starch out of the prevailing format to make younger audiences more comfortable with classical musicians? Certainly the demographics on hand cut across generations and races, eager to discover some remarkably talented musicians. Corea also explained the idea behind this program (all of it announced from the stage). In studying familiar keyboard scores by Mozart, Scriabin, and Scarlatti, he found 'a direct line' between the notes on the page and music by such twentieth-century composers as Gershwin, Bill Evans, and Antonio Carlos Jobim — all fertile wellsprings for jazz improvisors.
Once at the piano, Corea played the first movement of a Mozart sonata straight through (as he did with the concerto in 1995). But when the main themes returned he some added frills. At first the glosses were entirely era-appropriate, but soon Mozart paved the way for a jazz improvisation that segued seamlessly into a complex version of Gershwin's 'Someone to Watch Over Me'. Corea's playing, as always, relied on complex articulation. He elaborated on phrases that somehow fit both Mozart and Gershwin — a fascinating exploration more than an emphatic statement. As he set aside the Mozart score he remarked, 'Thanks for letting me warm up with this'.
Scriabin's Prelude in E minor Op.11 No.4, an encore used by many classical pianists, connected to Evans's 'Waltz for Debby'. In his day, Evans's own playing owed much to Scriabin's writing for both melodic exoticism and harmonic complexity. There's more than a dollop of Evans's approach in Corea's style, making this connection especially resonant.
Pairing a Flamenco-infused Scarlatti keyboard sonata with 'Desafinado', by the Brazilian samba/bossa nova artist Jobim, made perfect sense. The influences came though more clearly — the rapidly repeated notes and octave leaps, and distinctly guitar-like phrases. Corea's improvisations settled into a Latin mode reminiscent of his own 'Armando's Rumba' and 'Spain.' Pushing the tempos, Corea created a dazzling moment.
As he walked offstage for intermission, he stopped to chat with audience members in the front row below and the chorus balcony above.
The second half dropped the linked-composer idea, and focused on Corea's own works. He began with a solo version of 'The Yellow Nimbus', a 1982 duet with the renowned flamenco and jazz guitarist Paco de Lucia. The program concluded with seven of the pianist's 'Children's Songs' (1984), inspired by Bartók's Mikrokosmos but much more lyrical.
In between he invited members of the audience to join him on stage for what he described as games that he and his musician family and friends played when he was growing up. For 'The Portrait Game' Corea improvised a short description — much as a sketch artist might try to capture an interesting face — with volunteers facing him on a chair next to the piano. Music for a woman was lyrical and sweet. The man's 'portrait' strode more heavily. Both were charming and demonstrated Corea's ability to conjure complexity seemingly out of the air.
Turning the chair to face the keyboard, he got two musicians in the audience — introduced as 'Chad' and 'Kimberly' — to come up and improvise with him, one at a time. He would play a short phrase, which the other pianist could echo or render with a different twist. Clearly some accomplished musicians steeped in jazz had made the pilgrimage to hear this venerated artist, and not surprisingly the results were stunning. Chad picked up his end with verve, and Kimberly followed with deft elaborations on Corea's rhythmic and harmonic suggestions.
Although Corea may have not been as his most riveting for this concert, his efforts were enough to earn a well-deserved standing ovation.
Corea introduced the encore as the '7,930th time' playing his most famous piece, 'Spain', written in 1971 for his jazz fusion band, Return to Forever. First he pointed out that, no, he did not compose the introduction — a setting for electric piano of the Adagio from Rodrigo's Concierto de Aranjuez — and even admitted that he did not steal it from the guitar concerto, but from Gil Evans's iconic jazz arrangement for Miles Davis on their Sketches of Spain recording. Either way, this solo piano version packed together all the elements that make Corea so compelling. Delicate and detailed melodic gestures danced on air against pulsing rhythms. Amazingly complex and coherent improvisations somehow retained the essence of the original. At one point in the encore he got the audience to sing along in a call-and-response to a series of improvised piano licks, and got them clapping in perfect time as 'Spain' swung into its signature samba rhythm.
Returning to the stage for a final bow, he pulled out his mobile phone to snap pictures of the standing audience. I was left wondering only what happened to the second half of the concert title. Which classical composer would he have paired with Thelonious Monk?
Harvey Steiman