United Kingdom Conor Mitchell, Abomination: A DUP Opera: The Belfast Ensemble / Tom Brady (conductor). Lyric Theatre, Belfast, 8.11.2019. (RB)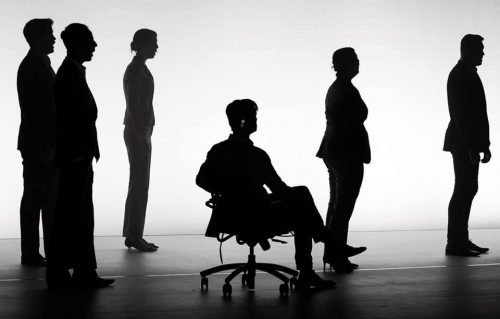 Production:
Director/Design – Conor Mitchell
Video designer – Conan McIvor
Lighting designer – Mary Tumelty
Sound designer – Ian Vennard
Cast:
Iris Robinson – Rebecca Caine
Stephen Nolan – Tony Flynn
DUP 'Voices' – Dawn Burns/Matthew Cavan/Christopher Cull/John Porter
'Lover' Dancer – Richard Chappell
Ulster's Democratic Unionist Party (DUP) has been in the news quite a lot recently because of their confidence and supply agreement with the previous Conservative government and their pivotal role in the Brexit negotiations.  This new opera by Conor Mitchell focuses on a radio interview by the former DUP MP, Iris Robinson, on BBC Radio Ulster's Stephen Nolan Show in 2008.  It fuses opera with cabaret and political satire to create a powerful and compelling new music drama.
In the now notorious radio interview, Iris Robinson offered to refer gay men to psychiatric counselling.  She called homosexuality 'an abomination' (a reference to the Old Testament Book of Leviticus) which made her feel 'sick' and 'nauseous'.  Mrs Robinson made these comments shortly after a particularly vicious homophobic attack in Northern Ireland.  When the radio presenter, Stephen Nolan, pressed her on this, she condemned the attack but declined to moderate her views or language on homosexuality.  Her comments caused uproar and were condemned by many of the other political parties in Northern Ireland. Most politicians would at this point have stopped digging a hole for themselves but not Mrs Robinson.  Speaking at a 17 June 2008 Northern Ireland Grand Committee session on Risk Assessment and the Management of Sex Offenders she said: 'There can be no viler act, apart from homosexuality and sodomy, than sexually abusing innocent children'.   During this period, Mrs Robinson was having an extra-marital affair with the 19-year-old Kirk McCambley.
These comments by Iris Robinson and the events surrounding them form the backdrop to this new opera.  Conor Mitchell also weaves in statements made by DUP politicians over the last 18 years.  The most recent is by Jim Wells who explained to the Belfast Telegraph in April 2017: 'Peter shall not marry Paul in Northern Ireland'.  (This statement has of course now been overtaken by events!)  Not to be outdone, Ian Paisley Jnr MP told a magazine in 2007: 'I am pretty repulsed by gay [sic] and lesbianism'.  Last but not last least there is Sammy Wilson MP's statement from 2002 when he was Lord Mayor of Belfast: 'They are poofs.  I don't care if they are ratepayers.  As far as I am concerned they are perverts'.  There were a number of other statements quoted during the production but I think these three give a flavour of the language which Conor Mitchell is clearly objecting to in this work.
When the opera opened the word 'abomination' appeared on the back wall together with the dictionary definition i.e. a thing that causes disgust or loathing.  The production kept staging and props to a minimum but a succession of images (newspaper articles, grinning DUP politicians, the Reverend Ian Paisley holding up placards) were projected on to the back wall.  Conor Mitchell's libretto quoted all the key figures verbatim and at various points the phrases being sung were visually highlighted in contemporary newspaper articles.  Rebecca Caine, as Iris Robinson, was dressed in a conservative grey suit and wig which conveyed the character perfectly.  The various DUP 'voices' in the cast were all wearing grey suits and at one point lighting was used to turn them into shadow monochrome figures.  Mrs Robinson's young lover, Kirk McCambley, was portrayed by ballet dancer Richard Chappell.  Angel wings mischievously opened up behind them as they were making love.
The grey suits worn by the cast portrayed the pressure to conform to a perceived norm while the powerful choruses conveyed the baying, bullying side of the DUP.  At one point Matthew Cavan transformed from a grey suited DUP 'voice' into his drag alter ego, reminding us that homosexuality is prevalent among all social groups including DUP members.  The overriding feeling from the production was of the corrosive effect of the language used and its impact on other people.  This was made explicit when Stephen Nolan asked Iris Robinson if there was any connection between the language she was using and the recent homophobic attack.  Conor Mitchell's technique of holding up a mirror to the language without commenting on it ensured the audience felt the full impact.
Mitchell's music is tonal and he used a variety of different styles as the opera progressed.  The work opened with atomised rhythmic fragments which gradually came together in rich textures.  I was interested to read in the programme that Mitchell wrote cabaret songs in celebration of Benjamin Britten's 100th birthday which were performed at Aldeburgh.  The opening scene reminded me of Britten's music in its vocal and harmonic patterns.  Mitchell also used Broadway-type numbers (Britten does the same thing in Peter Grimes) before moving from the high camp one finds in Rossini's operas to dark timbred arias before ending with dissonant music counterpointed with a rendition of 'Jesus Loves Me' (this section reminded me of Charles Ives).  I was very impressed with the way in which he was able to fuse so many different styles so seamlessly while coming up with such a highly inventive and engaging score.
The production was well served by the cast and the small band of instrumentalists who make up The Belfast Ensemble.  Rebecca Caine sang with power and conviction and she dispatched the top notes with bell like clarity.  Tony Flynn's Stephen Nolan was a non-singing role and he did an excellent job propelling the dramatic narrative along.  The four DUP 'voices' were highly adaptable, moving from strident denunciation to florid lyricism when singing about Mrs Robinson's psychiatrist.  The rendition of, 'They are poofs' was dispatched with elegantly shaped Classical lines.  Tom Brady kept a tight grip on the 13-strong band of instrumentalists and he and the players proved adept at conjuring the required textures and tone colours.  There were a few very minor balance issues and occasionally some of the diction could have been a little clearer in the choruses although these are quibbles.
Overall, this is a highly imaginative production – staged as part of the Outburst Queer Arts Festival – which packs a political punch.  It was deservedly greeted with a standing ovation by the capacity Lyric Theatre audience.
Robert Beattie
For more about The Belfast Ensemble click here.