United Kingdom Shakespeare, Measure for Measure: Royal Shakespeare Company, Barbican Theatre, London, 27.11.2019. (CS)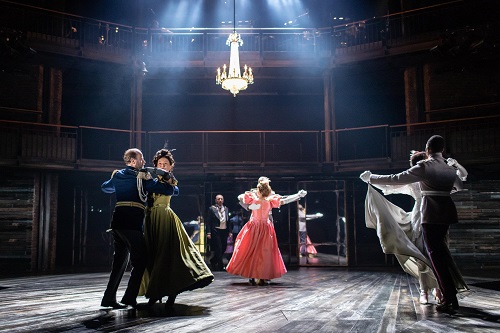 Creative team:
Director – Gregory Doran
Design – Stephen Brimson Lewis
Lighting – Simon Spencer
Music – Paul Englishby
Sound – Steven Atkinson
Movement – Lucy Cullingford
Fights – Rachel Bown-Williams, Ruth Cooper-Brown
Cast:
Duke Vicentio – Antony Byrne
Angelo – Sandy Grierson
Isabella – Lucy Phelps
Claudio – James Cooney
Escalus – Claire Price
Lucio – Joseph Arkley
Pompey –David Ajao
Provost – Amanda Harris
Marianna – Sophie Khan Levy
Juliet – Amy Trigg
Mistress Overdone/Barnadine – Graeme Brookes
Friar Thomas – Patrick Brennan
Kate Keepdown – Melody Brown
Elbow – Michael Patrick
Froth – Tom Dawze
Angelo's Secretary – Hannah Azuonye
Sister Francisca – Karina Jones
Gentleman – Alexander Mushore
 "Who will believe thee, Isabel?"
Angelo's dismissive response to Isabella's threat to publicly "proclaim" his "pernicious purpose" – after he has offered to spare her brother Claudio, who has been sentenced to execution for fornication with the pregnant Juliet, if she herself will offer him her own body – might have been penned in 2019, not at the turn of the seventeenth century.  In cases of sexual exploitation, harassment and abuse, when women do speak out the words of accuser and accused are still pitted against each other, and, as #MeToo and other recent events have shown, women are no more likely to be heard and believed today than they were in 1603.
Measure for Measure is a troubling play, exposing mankind's proclivity for hypocrisy, vice, political and sexual corruption, and the abuse of power.  Shakespeare might have been writing 400 years ago but, looking at our contemporary social and political landscape we surely might judge, plus ça change.  However, the play also explores moral questions, perhaps irresolvable, about how justice can be balanced with mercy, the nature of grace, and of creation and death.  Gregory Doran's production presents a clear narrative – no mean feat given the liberties Shakespeare has to take with the audience's credulity (both beds and heads are fortuitously swapped) in order to ensure a 'happy' conclusion – but Doran seems less concerned with the latter ethical dilemmas than with the simpler presentation of a city whose sophisticated veneer is a façade hiding moral vacuity and sleaze.
Such is the fin de siècle Vienna where Doran sets the action.  It's the Vienna of Freud, Klimt, Schoenberg and Schiele, and Stephen Brimson Lewis's beguiling projections – cloisters, chapel, grand railway station – offer persuasive snapshots of a city whose majesty masks malaise: as Hermann Broch put it in his book, Hugo van Hofmannsthal and his Time: 'The city was a dream, and the emperor a dream within the dream …'
In the brothel, prison and low-life scenes, as assorted disreputables and grotesques cavort and engage in criminality, there is a sense of a waltz spinning towards apocalypse, leaving the Duke who has abdicated responsibility to his deputy, Angelo, in order to move among his people, shocked and bewildered in equal measure.  Graeme Brookes relishes Mistress Overdone's drag-spiced double entendres and David Ajao is a smooth-talking, smart-suited bawd, Pompey, whose breezy banter with the audience is surely in keeping with the spirit of the first Elizabethan performances.  The malapropisms of Elbow (Michael Patrick) epitomise the moral disorder through grammatical disintegration, although there is a tendency to overdo the Keystone Cops capering.
Tall and elegant, Joseph Arkley's Lucio brandishes his cane, polishes his brogues and kneels down on his decorously flourished silk handkerchief with the debonair self-entitlement of Arthur Schnitzler's Anatol, the wealthy young Viennese man-about-town whose amorous antics made the author's name following his eponymous 1893 play.  In one scene, Vincentio is literally left 'holding the baby', as Kate Keepdown charges after her child's errant father, Lucio, and the Duke is required to rock the outsize perambulator she has abandoned in her pursuit, to calm the restless infant.
Antony Byrne's Duke is himself a restless, agitated ruler.  The ceremony of office is eschewed in the opening scene in which power is transferred to Sandy Grierson's coldblooded Angelo and Claire Price's anxious Escalus: this Duke can't wait to make his getaway and can scarcely be bothered to instruct or explain, so keen is he to disguise himself as Friar Lodovico and mingle among his citizens.  His motivation is not clear – and the text certainly retains its ambiguity – but the results of his meddling are undoubtedly poisonous.  Indeed, this Duke's manipulations and stratagems, often seemingly improvised and opportunistic, cause almost as much pain, anguish and potential tragedy as his neglect of his civic duties has done previously.  Never has Lucio's description of the "old fantastical duke of dark corners" seemed more apposite.
This Duke lacks, and avoids all paths to, self-knowledge.  The angled mirrors at the rear of the set remind us of Escalus' advice to the authoritarian and repressive Angelo to consider whether, in condemning Claudio, "you had not sometime in your life/ Err'd in this point, which now you censure him,/ And pull'd the law upon you."  And, of Isabella's perspicacity: "authority, though it err like others,/ Hath yet a kind of medicine in itself,/ That skins the vice o' the top. Go to your bosom; Knock there, and ask your heart what it doth know/ That's like my brother's fault/."  But, just as Angelo, self-assured and self-deluding, replies, "'Tis one thing to be tempted, Escalus,/ another thing to fall.", so there is no danger of Byrne's Duke acknowledging his own 'fault' and gazing at his mirror image with honesty.
This is a weakness of the production for it means that when Vincentio is increasingly confronted with the consequences of his actions – the failure of the bed-trick (for Angelo declares that, despite 'Isabella's' compliance with his demands, Claudio's execution will go ahead); his inability (as Friar) to advise Barnadine "for a better place" – he shows no awareness that there might be moral lessons to be learned.  The words of both Amanda Harris' self-composed and professional Provost and Brookes' belching Barnadine actually communicate some of the clearest moral messages of the play.  When the Duke declares that Barnadine is a "creature unprepar'd, unmeet for death;/ And to transport him in the mind he is/ Were damnable" he exposes an ethnical dilemma that thwarts his purpose.  Barnadine is "unfit to live or die!": only the serendipitous death of the pirate Ragozine saves the day.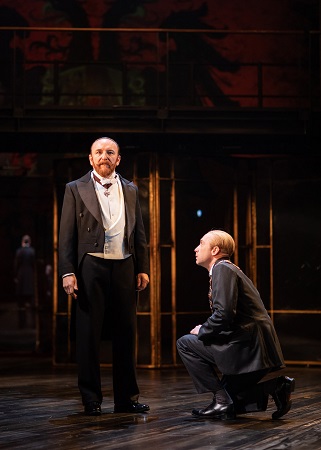 Many aspects of Byrne's Duke convince: his self-deception, his lack of foresight, his opportunism.  But his failure to acknowledge, let alone resolve, some of the moral quandaries that confront him in the latter parts of the play is problematic, turning the later scenes into either comic antics or discomforting assertions of patriarchal self-presumption.  The lack of nuance was evidenced, I felt, by the lack of poetry: how disappointing it was to hear the Duke's scale-weighing balances, "An Angelo for Claudio; death for death […] Like doth quit like, and Measure still for Measure" pronounced so prosaically.  And, having intimated homoerotic leanings when offering Christian consolation to the condemned Claudio, this Duke seems to turn sexual predator, aping Angelo's sins, when – as Isabella embraces her 'restored' brother – he glibly quips, "Give me your hand and say you will be mind".  The following line did not really make a mark, but it is important as it suggests that the Duke realises that he has been too forthright and inappropriate in his proposal: "but fitter time for that."  Instead, presumptuous and predatory, he thrusts his hand at the repulsed Isabella in the closing moments of the play: "What's mine is yours, and what is yours is mine."  Understandably, she cringes and withdraws.
Lucy Phelps' Isabella is severe and self-righteous, but not unsympathetic – though she has a tendency to use volume rather than tonal nuance to convey meaning.  Grierson's Angelo is certainly a man who, according to the Duke, "scarce confesses/ That his blood flows, or that his appetite/ Is more to bread than stone", and whose, "blood is very snow-broth" and "urine is congealed ice".  Grierson ingratiates and grovels, sneers and scorns; when it is impossible to ignore his own depravity, he resorts to 'purging by self-flagellation'.  But, I remained unconvinced that this snivelling, oleaginous Angelo could have commanded a city and imposed tyrannical rule on its formerly lawless and licentious citizens.  And while Brimson Lewis's beautiful dappled grove, a confection of consoling impressionistic light and colour, was one of the evening's visual highlights, Mariana (Sophie Khan Levy), like Juliet (Amy Trigg) seemed to make less of a mark than they should in this production … though James Cooney's Claudio – branded with a neck-placard, 'Lecher' – was a welcome and persuasive human soul amid the hubris and hypocrisy.
Doran constructs a well-paced, clear narrative.  But, by the close I had somehow lost focus on the play's essential questions.  "To whom should I complain? Did I tell this,/ Who would believe me?" Isabella laments, concluding that her brother would surely consent to die to preserve her honour: "
Then, Isabel, live chaste, and, brother, die:/ More than our brother is our chastity."  Such questions and assertions require more serious and probing interrogation than Doran offers.
Claire Seymour