United Kingdom Andrew Norman and Bruckner: Los Angeles Philharmonic Orchestra / Gustavo Dudamel (conductor), Barbican Hall, London 20.11.2019. (CSa)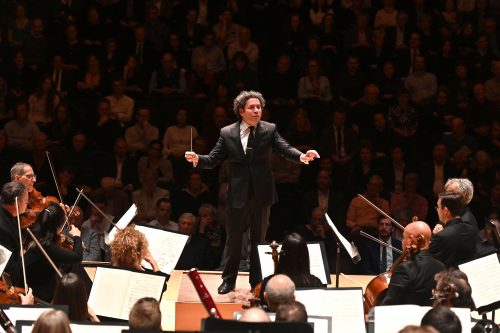 Andrew Norman – Sustain (2018) (European premiere)
Bruckner – Symphony No.4 in E, Romantic (1874, rev. 1878-80 ed. Nowak)
The players of the Los Angeles Philharmonic sounded like a hive of angry bees as they warmed up fiercely for the final concert of their short Barbican residency. They appeared oblivious to the chilling presence of six black suited, grim-faced security guards who faced them but who quickly departed once Gustavo Dudamel had safely assumed his place on the podium. The programme note informs us that the orchestra's 38-year-old conductor and principal music director is 'driven by the belief that music can change the world'. He is looking older and more careworn these days. He has been a vocal critic of the current political regime in his native Venezuela, following the death of a young violist from the El Sistema Youth Orchestra during anti-government protests in 2017. Yet, as demonstrated in this choice of works by Andrew Norman and Anton Bruckner, the youthful energy and musical genius which propelled Dudamel to superstardom have not diminished.
The decision to couple Norman's powerful orchestral piece Sustain with Bruckner's towering Fourth Symphony, the Romantic, was astute. Through Sustain's achingly sad and startlingly imaginative soundscape, Norman seeks to address the fundamental issue of our time, namely humanity's relationship to the earth, and the future consequences of mankind's failure to protect the planet from environmental disaster. The world Norman envisages one hundred, one thousand or a million years hence is one of cosmic beauty but utter desolation. In stark contrast, Bruckner's mighty work, which so powerfully evokes the forests, murmuring streams and warbling birdsong of the Austrian countryside, is a glorious hymn to nature in all its rich fecundity.
Sustain is a substantial piece which runs 45 minutes. It is written for large orchestral forces, not least two pianos and a percussion section which boasts a number of rarely seen instruments. The orchestration is precise and brilliantly textured. Waves of delicate strings ebb and flow in tidal wavelets, while a scrubbing brush is passed over an eco-friendly hanging sheet of plywood to suggest icy gusts of wind. Contracting spirals of sound are repeated at different speeds which, according to the composer, indicate 'geologically unfolding sonic processes – the movement of tectonic plates', while chimes and triangles chart the 'birth and death of stars'. Without wishing in any way to detract from the inventiveness of Norman's score, one detected in his gorgeous range of orchestral colours, the influence of composers such as Ligeti, Messiaen and Bartók. Dudamel's steady beat navigated the orchestra through a complex web of rhythms ensuring fluidity and cohesion as this mysterious and beautiful work unfolded.
Bruckner's Romantic Symphony has often been likened to a Baroque cathedral of sound. Dudamel's structured but scoreless reading of the 1878-1880 Nowak edition was nothing short of a spiritual exploration. From the work's first moments – in which a reverberant horn solo floated mystically above shimmering string tremolandos to the monumental, blazing finale – Dudamel drew from his West Coast players a riveting performance in which washes of raw but controlled power alternated with moments of utmost delicacy. In a particularly thrilling account of the third movement – the so called 'Hunt' Scherzo – the orchestra's accomplished brass thrilled with breath-taking fortissimos while the woodwind enchanted in a charmingly bucolic Ländler trio. After this performance, it is hard not to subscribe to Dudamel's belief that music can indeed change the world.
Chris Sallon