United Kingdom Verdi, Rigoletto: Soloists, Chorus and Orchestra of Welsh National Opera / Alexander Joel  (conductor). Theatre Cymru, Llandudno, 30.10.2019. (RJF)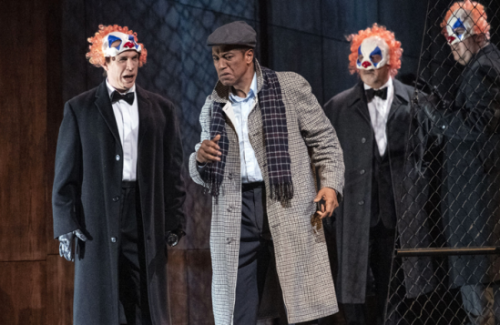 Production:
Director – James Macdonald
Revival Director – Caroline Chaney
Designer – Robert Innes Hopkins
Lighting designer – Oliver Fenwick
Cast:
The Duke – David Junghoon Kim
Gilda – Haegee Lee
Rigoletto – Mark S. Doss
Monterone – Eddie Wade
Countess Ceprano – Paula Greenwood
Sparafucile – Wojtek Gierlach
Count Ceprano – Martin Lloyd
Borsa – Simon Crosby Buttle
Marullo – Alastair Moore
Giovanna – Sian Meinir
Maddalena – Emma Carrington
Page – Francesca Saracino
Usher – George Newton Fitzgerald
Based on Victor Hugo's play Le roi s'amuse, Verdi's seventeenth titled operatic work, Rigoletto, changed Italian opera forever. It was the first of three that were to launch the composer into international stardom and secure him fame, financial security, and with it an estate, a wife as well as later serving as a member of a united Italy's first parliament. Premiered at Venice's La Fenice theatre on March 31, 1851. It was followed by Il trovatore, delayed by the untimely death of his librettist Salvatore Cammarano, and premiered at Rome's Apollo on the March 19, 1853 and which in turn was followed by La traviata six weeks later back in Venice. It is not too presumptuous to suggest that this trio of operas changed the course of Italian opera, a genre that was world dominant at the time, forever. This staging of the work, directed by James Macdonald, was first seen in 2002 and was last seen in Llandudno in 2010. It is an updated staging featuring a background of America's White House featuring frequently. The senators harken to the demands of their Chief whether moral or otherwise. The opening act, with a lot of single- and double-breasted suited politicos acting as politicians do, is rather tedious and tiresome to view. The good news is that the succeeding staging, particularly that of Rigoletto's home and that of Sparafucile is, I suggest, more in tune with the story as we know it.
Several of the major soloists were new to me and I am pleased to report that their singing was up to the demands of Verdi's music. In the eponymous role Mark S. Doss walked with a paralysed leg, but no cyphosis (humpback). His lean baritone had not much Italianate squillo, or colour, about it. If ever a singer needed a costumed identity he did in this role. As his daughter Gilda, Korean Haegee Lee, a Jette Parker graduate, sang with an appealing light soprano, looked perfect for the part and acted well. Fellow Korean David Junghoon Kim, likewise also a Jette Parker graduate – and with an impressive growing repertoire – sang the licentious Duke with a strong and expressive lyric tenor. Among the proliferation of lesser other roles Eddie Wade's Monterone and Wojtek Gierlach's cavernous Monterone impressed me as did the work of the chorus in singing and acted portrayals.
So much of the three Verdi compositions I mention above, depend for their full realisation on the orchestral backing of his music, which needs a very confidant and secure hand wielding the conductor's baton. Some – even a few deemed great – often miss out realising the drama to be found in Verdi's mid-period and later creations. I was more than happy to sit and luxuriate in the sound realised under the baton of Alexander Joel. He could well be the ideal counterbalance to the more Teutonic skills of WNO's new musical director.
Robert J Farr