United Kingdom Adolphe Adam, Giselle: Dancers of Birmingham Royal Ballet, Royal Ballet Sinfonia / Koen Kessels (conductor). Sadler's Wells, London, 1.11.2019. (JO'D)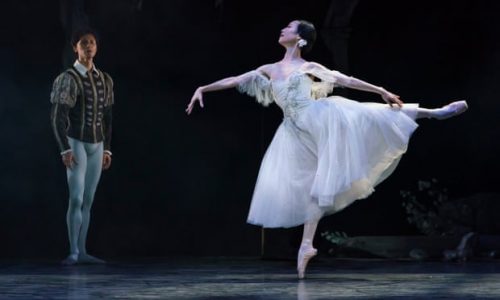 Production:
Choreography – Marius Petipa, after Jean Corelli and Jules Perrot, with additional choreography by David Bintley
Music – Adolphe Adam (revised by Joseph Horovitz)
Production – Galina Samsova and David Bintley
Design – Hayden Griffin
Lighting – Mark Jonathan
Cast included:
Giselle – Momoko Hirata
Count Albrecht – César Morales
Hilarion – Kit Holder
Berthe – Marion Tait
Harvest pas de deux – Beatrice Parma, Tzu-Chao Chou
Myrtha, Queen of the Wilis – Samara Downs
Principals, First Soloists, Soloist, First Artists, Artists and Apprentices of Birmingham Royal Ballet
As an article in the programme explains, this 1999 production of Giselle for Birmingham Royal Ballet was an attempt by David Bintley and Galina Samsova to 'capture the spirit of the Romantics and restore the poetry of the original ballet' of 1841. Last performed in 2013, it is David Bintley's first collaboration with the company since he stepped down as Director in July of this year.
A waterfall, instead of a distant castle, as the backdrop to Act I; the ruins of a cathedral, instead of a forest, as the setting for Act II; children among the Villagers; Bathilde's arrival on a white horse: these are some of the ways in which the production differs from, say, Peter Wright's for The Royal Ballet. And where that production has Wright's peasant pas de six, Galina Samsova re-created from memory the peasant pas de deux in Mary Skeaping's 1971 production for London Festival Ballet (in which the role of Giselle was danced by Samsova herself).
From its urgent, troubled, opening chords under the baton of Koen Kessels, Adolphe Adam's 'revised' musique dansante carries the action swiftly forward. Act I may show Rhineland villagers celebrating the grape harvest, but Albrecht is a count masquerading as a peasant and Giselle has a heart condition: their love is doomed.
César Morales is an elegant, ardent Albrecht. Momoko Hirata is an expressive Giselle, but one who seems a little distant from the music in Act I. A hard quality to Hirata's dancing makes her better suited to the Giselle of Act II, the spirit of the dead Giselle. Kit Holder gives a rounded interpretation of Hilarion, the forester who wants Giselle to love him and who takes pleasure in revealing Albrecht's true identity.
The peasant, or 'Harvest', pas de deux is preferable to a pas de six in that it focuses on the happy, peasant couple Giselle and Albrecht can never be. Beatrice Parma's movements are soft and musical and assured, those of her partner (Tzu-Chao Chou) only a degree or two less assured.
In the 'longer, more exciting' variation for Myrtha, Queen of the Wilis, at the start of Act II, Samara Downs manages to be sufficiently ethereal in the bourrée, sufficiently steady in the arabesque-penchée. Veiled and implacable, their eeriness enhanced by the ruined cathedral setting, the Wilis force Hilarion to dance to his death under her command.
They would do the same to the remorseful Albrecht, if Giselle, as one of them, did not intervene. She intervenes by dancing for him and with him. César Morales and Momoko Hirata make them as heart-breaking as you could want them to be, the duets by dancers who inhabit different worlds: the living and the dead.
The only false note, if it is a false note, comes at the very end. After the bell heralding dawn has sounded and Giselle has returned to her grave, she reappears floating upwards but looking down benignly at the supine Albrecht. Waterfalls, horses, Gothic ruins: none of them seems as big, as questionable a change as this shift in focus from Albrecht to Giselle (ascending to Heaven) at the ballet's close.
John O'Dwyer
For more about Birmingham Royal Ballet click here.