United States Jake Heggie, Dead Man Walking: Soloists, Orchestra, Lyric Opera of Chicago / Nicole Paiement (conductor), Civic Opera House, Chicago. 16.11.19. (JLZ)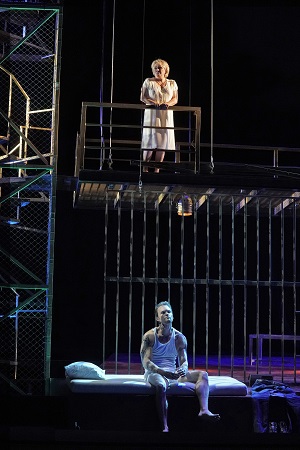 Production:
Nicole Paiement – Conductor
Leonard Foglia – Director
Katrina Bachus – Associate Director
Michael McGarty – Set Designer
Jess Goldstein – Costume Designer
Brian Nason – Lighting Designer
Elaine McCarthy – Projection Designer
Michael Black – Chorus Master
Cast:
Patricia Racette – Sister Helen
Susan Graham – Mrs. De Rocher
Ryan McKinny – Joseph De Rocher
Whitney Morrison – Sister Rose
Clay Hilley – Father Grenville
Gordon Hawkins – George Benton
In Chicago magazine's November 2019 article about the future of opera, Lyric Opera of Chicago's general director Anthony Freud alluded to the intention to resume contemporary works. In the spirit of this commitment, Jake Heggie's Dead Man Walking (2000) received its premiere here after two decades of international exposure.
The libretto by playwright Terrence McNally shapes its source—the book by Sister Helen Prejean—into a compelling narrative, akin to the one used for the screenplay of the 1995 film. Heggie's score amplifies the text by illuminating the story of mercy transforming violence. It is a credit that Lyric presented this powerful work on its own stage. Usually, alternate venues have been used for contemporary operas, such as the Athenaeum for Gregory Spears's Fellow Travelers (2017–2018), and An American Story, by Jack Perla & Jessica Murphy Moo, last year at the Harris Theater. This decision brings Heggie's opus to an even wider audience, who can experience its challenges to capital punishment, and the issues surrounding society's sometimes violent response to crime.
The two-act presentation of the story holds together, and conductor Nicole Paiement led with appropriate drive. She appropriately emphasized certain ideas that connect the opera's 18 scenes. For example, the spiritual-style hymn 'He Will Gather Us Around,' which Heggie composed for the opening, serves as a recurring motif, and Patricia Racette's delivery of it in the first scene is starkly different than its later appearance.
Racette, familiar to Lyric audiences for many roles, brings the character of Sister Helen to the stage with believable acting and a fine sense of line. Her vocal nuance created a sympathetic and sometimes headstrong character, not always evident in the two-dimensional world of a score. Some of the memorable moments were her duets with other characters, including the scene in the second act, where she interacts with Whitney Morrison as Sister Rose. The two worked especially well together when their entrances overlapped to suggest a spontaneous conversation.
Racette elicited a similar effect with Ryan McKinny as Joseph De Rocher, in the scene when Sister Helen's enthusiasm for Elvis Presley allows the two characters to break their formal distance. The allusions to some of Presley's most famous tunes underscored the clever text, to create a sense of intimacy. As De Rocher, McKinny made his character believable through his command of line and phrasing. In some of the more passionate moments—like the scene in the first act when he asks Sister Helen to be his spiritual advisor—McKinny's clear diction at a piano level spoke more loudly than a histrionic plea, along with his full vocalizing of the fleeting arioso-like moments.
As Mrs. De Rocher, Susan Graham was particularly effective. She acted and sang the part as if it were written expressly for her. Her pleas for treating her son with mercy were passionate, coupled with a rich vocal range that filled the hall with quiet power. Heggie's score is unusually effective in its presentation of ideas, and Graham's acumen—coupled with the talents of the other principals—made a memorable evening.
James L. Zychowicz